A hand-made future - Swedish couple teach hand-weaving craft to students in Seychelles
Retired Swedish arts teacher Gunila Lodhi and her husband Mohamed, who have been visiting the archipelago for the past thirty years, have passed on some rare skills to visual arts students in Seychelles. (Joe Laurence, Seychelles News Agency)
Send to Kindle
(Seychelles News Agency) - It's a hot day at the School of Visual Arts campus in Anse Royale, an south-eastern district of the Seychelles main island of Mahe. It's raining up in the north of the island, but down here the sun is out in full force, and coupled with some intense humidity, it makes the task at hand for this group of students all the more taxing.
The big room that houses the students currently engaged in learning weaving skills has ceiling fans, but it doesn't do much other than move the hot air around, leaving students and teachers dripping with perspiration, but neverthless a group of students and two lecturers all sit around a large table, patiently threading colourful glass beads onto a wooden frame that holds their beads together.
Up against the walls sit two huge wooden handlooms, and at one sits Gunila Lodhi, a retired Swedish arts teacher, patiently preparing brightly-coloured threads in a wide row on the loom.
Her husband Mohamed welcomes me and takes me around the room, showing me the looms, introducing me to the students and proudly demonstrating their handiwork.
The couple have a long and heart-felt connection to the 115-island archipelago of Seychelles, nestled in a serene and isolated part of the western Indian Ocean, some 1,500 kilometres off the eastern coastline of Africa.
The Lodhis first came to the islands on holiday in 1977, five years after the Seychelles International Airport was first opened. Mohamed, who is originally from the Tanzanian semi-autonomous islands of Zanzibar, first made his way to Norway where he worked as a marine engineer, then moved on to Sweden where he met Gunila.
Since the seventies, the two have visited the Seychelles regularly, as often as twice a year, and regard the archipelago as a home away from home, noticing how the country of 90,000 people has steadily changed and developed over time.
Painstaking concentration: a group of visual arts students in the final year of their diplomas weave glass beads onto a wooden frame to make a pattern of their own. (Joe Laurence, Seychelles News Agency) Photo License: CC- BY
"Did Mohamed tell you that we have more friends here than in Sweden?" demanded a smiling Gunila, when I went to talk to her at the loom. "That's why we love this place."
"We get so much out of this country, I wanted to give back," agreed Mohamed. "But how should we give back? I said we could either give money to these institutions like the children's home and whatnot. But when we came here, because we knew one teacher who was a friend of ours, a music teacher, we said 'we want to see your school'."
In 2013, the Lodhis visited the School of Visual Arts and met with the Director, Christine Chetty Payet. It soon became clear that Gunila had a very valuable resource to share with the students at SVA: the increasingly rare skill of weaving textiles by hand.
Gunila was exposed to weaving early in life, as her grandmother used to weave at home on a traditional Swedish handloom made by her father, Gunila's great-grandfather. The very same handloom now stands proudly in Seychelles at the SVA weaving room as one of the many items donated to the school by the Lodhis.
The Lodhis donated the looms, a winding spindle, classroom furniture and applicances, small frames for teaching the weaving principle as well as all the raw materials needed such as coloured yarns, glass beads, and material offcuts.
A tiny version of the handloom helps students to learn how to weave patterns with different colours of yarn (Joe Laurence, Seychelles News Agency) Photo License: CC- BY
A workshop for a new subject
The looms are typical Swedish handlooms for cottage industry and school training, but most people who weave on a commercial basis use slightly more mechanised looms that cut down on labour time.
The Lodhis will be returning to Sweden next week, leaving all the equipment behind for students and teachers alike to hone their weaving skills.
Although the School of Visual Arts previously taught students to work with textiles, such as screen-printing, designing and dressmaking, it had never before been able to include a section in the curriculum on creating or weaving textiles.
"This is kind of a workshop to introduce a new subject into the curriculum," explained Mohamed. "So we are here to empower them and help them with capacity-building."
"They get more skills, they are better-equipped to face the world and the labour market, because in today's world you require more and more skills. The more we give them, the easier it will be for them to find their way; they may go into this business if they so choose," he added.
"I find them very interested, they're very keen," he said of the students. "They don't waste time. They beat me today, they came before us, so we have to rush [to class] tomorrow to be in time before them."
A labour of love
Explaining the intricacies of hand-weaving, Gunila says it is a long process of learning the techniques, particularly learning how to prepare and arrange the threads in patterns before the actual weaving is done.
"I enjoy it, it's a long journey but when you are ready and you have made whatever you like then you feel a lot of happiness," she said. "But it takes a lot of patience, terribly much, but also it's fascinating... when you are working, you don't really know... you have an idea of what it will be like, but when it's ready you feel 'aaahh, look how beautiful it is'. Well mostly... sometimes you just look at it and say 'urgh!'," she laughs.
"I also like the beading, it's very nice. you can make a lot of things. I think they enjoy it. I feel very happy when I can see that they are interested in this, and interested in learning," she said.
"The teachers know now how to struggle and have a lot of patience, and sweat a lot in this classroom! It's difficult to concentrate in this heat, because you're sweating the whole time!"
A lecturer from the School of Visual Arts sits at the traditional Swedish handloom, preparing the threads for weaving (Joe Laurence, Seychelles News Agency) Photo License: CC- BY
Encouraging creativity
Gunila and Mohamed have been teaching first-years, second-years and now this week the third-year students completing the final year of their diploma got the chance to learn how to weave.
They first learn beading skills on small wooden frames to understand the concept of weaving, then move on to a slightly larger frame to learn how weave with thick yarn. Finally, they will progress on to the loom to learn how to weave thinner threads into a finer material.
With their beads, they are shown how they can be applied in fashion design, to things like belts, necklaces, bracelets, hairbands and even onto clothing.
"If they want to do weaving, the best thing for them to do is to start a cooperative, get together and start something," said Mohamed. "Because if every individual is going to have to buy their own loom, it will require a lot of space and money. In the beginning of course, it takes time."
Pointing to one of his student's factory-made bracelets, he said she was now going to make and wear her own beaded bracelet.
"And when she's walking around in town, everybody will be asking her hey, where did you get that? Who is selling this? And she will be proud to say 'I made it myself'. And that is satisfaction," he said.
And it seems that all the students, despite many of them still being young and unsure of what they wanted to do for a living, were really enjoying themselves, displaying a wide array of creative designs.
37-year-old Elvina Brutus, who was already a creche teacher before she began her diploma at SVA, said she wanted to be able to pass on her skills to her own students.
"I'm already a mature student. So I was working before, and when I'm finished with all my studies, I'll be working at creche level, maybe primary school, helping them to learn [fine motor skills] and manipulation," she said as she completed work on a colourful Masai-patterned bead bracelet.
Elvina Brutus, a mature student at the School of Visual Arts, works on a Masai-style design. (Joe Laurence, Seychelles News Agency) Photo License: CC- BY
Challenging the misconceptions about visual arts
Janese Jules, who was one of the SVA lecturers learning at the table with her students, says it is important for the lecturers to learn the techniques and skills so that if the students got stuck, the lecturers would be able to help them.
"It is valuable for them to learn this, especially for students in D3, these are the students doing their diploma, their last year. This will help them, especially in creating new ideas, being innovative, even learning new techniques," she said.
"Now we can tell them to design a collection and give them a project to do, because before there was something missing for them to understand how these things are made," she added. "Now instead of telling the students to just go and buy material for a project, we can tell them to create their own material... it may not be perfect, but it will be their own creation that they can be proud of."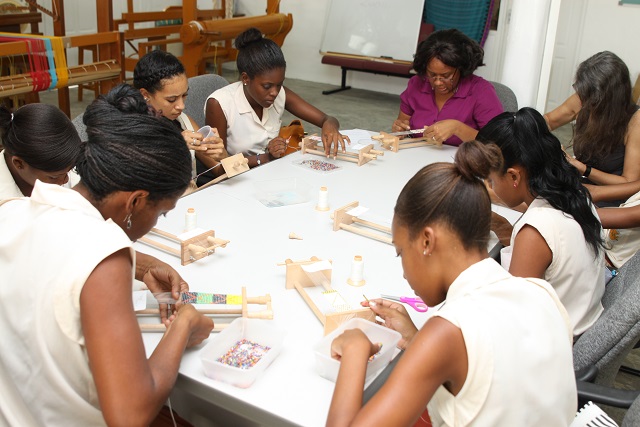 Janese Jules, a lecturer at the School of Visual Arts learns the beading skills alongside her group of students so that she may go on to teach the subject herself after Gunila and Mohamed have left Seychelles. (Joe Laurence, Seychelles News Agency) Photo License: CC- BY
Jules said that she hoped that learning a rare skill such as weaving would help to change the mindset others had about students who choose to study visual arts.
"They view the students who attend the School of Visual Arts as those children who were the bottom of the class in secondary, those who have no brains," she explained, arguing that it takes talent and creativity to study the arts.
"So we would like to challenge some of these misconceptions in the minds of people and parents... even teachers, career guidance teachers in secondary schools have a tendency to discourage students from choosing visual arts."
"This is why you see that all our textiles and printed materials have to be imported, because we are not helping the students to develop their creativity, and they want to learn."
Arts & Culture
» Be a reporter: Write and send your article
» Subscribe for news alert