A wallet for a phone! Airtel introduces mobile money transfer in Seychelles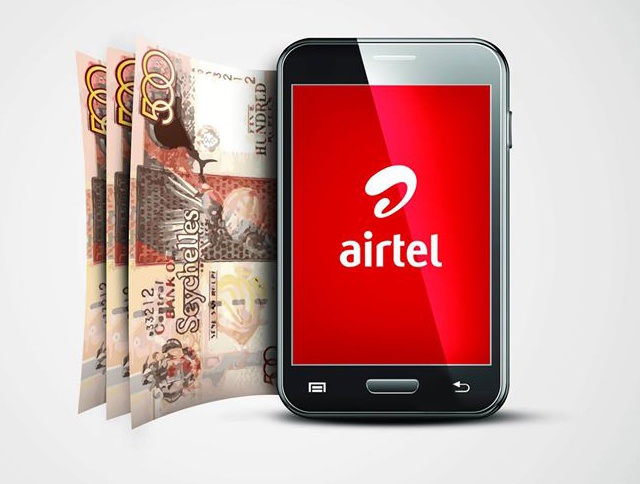 Airtel money allows people to store any money they have on their mobile phones to pay for goods and services. (Airtel/Facebook)
Send to Kindle
(Seychelles News Agency) - Seychelles has joined several African countries that have embarked on the revolutionized way of paying bills using mobile phones.
This follows the recent launching of the 'Mobile Wallet' known as 'Airtel Money' by one of Seychelles' telecoms providers, Airtel Seychelles.
It allows people to store any money they have on their mobile phones to pay for goods and services without the usual direct exchange of cash, writing a cheque, transferring money from one account to another or swiping their debit or credit cards.
This new service allows customers to use their mobiles to pay bills, send money to another person's phone and even withdraw money; all without the need to carry any money around in their pockets or having to go to any financial services to withdraw the money.
Mr Money, the cartoon character promoting the service. (Airtel/Facebook) Photo License: CC-BY
Airtel Money, which does not require internet or an SMS or call balance to work, can be effected through any kind of phone, from a basic one to a smartphone.
Airtel's Director for Airtel Money and Prepaid Sales and Distribution, Navneet Singh Mehta, explained to SNA that only Airtel Money registered customer can initiate transactions but that other network users can receive money even though they cannot make a transaction.
"In this case, they will receive an SMS containing a password. They just have to take the password to the nearest Airtel Money Agent. The Agent will do the transaction and the money will be debited from the sender's wallet and credited to the Agent's wallet. Once this is done, the Agent will hand over the cash to the receiver," said Singh Mehta.
He explained to SNA that there is a difference between an outlet like a shop that is willing to receive payment as part of Airtel money and someone who is an agent, whose role is to make a payment on behalf of a customer or top up his/her 'wallet'.
Singh Mehta confirmed that at least 15 outlets mostly shops as well have signed settlement agreements with Airtel agreeing for them to accept payments from people registered to Airtel Money and to then claim their money from Airtel and the same amount that have agreed to be an agent.
"We are trying to get all shops that currently sell e-fasil [top-up facility for Airtel prepaid customers] to also become money agents and accept to top-up customers wallet but as this is a new service we are still negotiating. We are also negotiating with more outlets and utility providers to also use this service and in the future we also plan to introduce this service for online payments but in Seychelles only," said Singh Mehta.
Airtel says there will be notices available at various outlets across the country specifying which of the Airtel Money services are available.
Someone wishing to use Airtel Money first needs to register for the service by applying for the mobile application which requires a passport photo, an identification card and proof of address.
Once done, the person has to dial *400# where they will be prompted to get the process started," Singh Mehta told SNA.
An Airtel money account can store up to five thousand Seychelles rupees [almost $400] and a small fee of less than $1 is applicable for each transaction.
Customers will have their own personal identification number (PIN) to access their 'virtual account'.
Seychelles has become the 12th out of the 17 countries where Airtel operates to launch this service and it comes around 6 months after launching 4G technology in the island nation.
Airtel Seychelles is part of global telecom services provider Bharti Airtel's network of 20 countries across Asia and Africa in total.
According to an article published in daily newspaper TODAY in Seychelles on Monday, the Managing Director of Airtel Seychelles, Chadian national, Amadou Dina said the company had been working on this new project for the last 18 months.
Dina was speaking at the launching of Airtel Money at Savoy Resort and Spa, in the northern district of Beau Vallon, on the main island of Mahé on Friday last week.
As the project involves money transfer and telecommunications other stakeholders were also involved, including the Central Bank that has issued Airtel with a license, and the department of information communications and technology (DICT).
Vice President Danny Faure also responsible for ICT (second from left), Jenifer Sullivan, second deputy governor of the Central Bank of Seychelles (first from left) and Amadou Dina Airtel Seychelles' Managing Director pictured at last Friday's launch of Airtel Money. (Seychelles Nation) Photo License: CC-BY-NC
In 2013, the International Telecommunications Union assessed that the Indian Ocean archipelago with a population of around 90,000 people has 100 percent mobile coverage in spite of having only two telecom companies; Airtel Seychelles and Cable & Wireless Seychelles.Kokonet and Intelvision, two other local companies also provide internet services. 
The ITU reports also stated that 47 percent of the population uses the Internet, and there is 12% fixed (wired)-broadband penetration. 
Seychelles was also ranked as 2nd best in Africa and 74th worldwide in the Networked Readiness Index (NRI) 2015 compiled by the World Economic Forum.
The ranking is based on based on the country's capacities in the information and communication technology (ICT) sectors in comparison to 143 other countries.
ICT
» Be a reporter: Write and send your article
» Subscribe for news alert