Encouraging Indian Ocean partnerships: Seychelles trade expo combines trade with FetAfrik culture
Visitors to the expo inspect an assortment of colourful jewellery made in india (Joe Laurence, Seychelles News Agency)
Send to Kindle
(Seychelles News Agency) - For the first time ever, the cultural celebrations of the annual FetAfrik and the business-oriented Seychelles International Tade Expo have been combined to showcase the products of Seychelles, African countries and Indian Ocean Rim nations.
On a hot and humid Saturday morning, around 80 exhibitors filled the National Sports Council (NSC) Hall at Roche Caiman, located on the east coast of the Seychelles' main island of Mahe, with a variety of wares from different countries around the Indian Ocean region.
FetAfrik officially launched at expo
The FetAfrik cultural festival itself, which celebrates the cultural heritage of Seychellois people, was officially opened on Friday evening by the Minister for Finance, Trade and the Blue Economy, Jean Paul Adam, at the exhibition hall, in the presence of the Seychelles Vice President, Danny Faure.
The 115-island archipelago situated off the eastern coastline of Africa, has 90,000 inhabitants of mixed descent, mainly from Africa, Europe, China and India.
Wooden furniture and art at the expo drew plenty of interest from visitors (Joe Laurence, Seychelles News Agency) Photo License: CC-BY
Minister Adam noted in his remarks that Seychelles had played a key role in Africa as a "champion of African tourism", adding that in order to ensure the rise of the African continent there was "no time for rivalries" in tourism.
"In celebrating FetAfrik, we are celebrating what it means to be a Seychellois and we celebrate our cultural expressions through art and craft exhibitions, musical and dance performances as well as culinary arts," he said, according to a report in local daily newspaper the Seychelles Nation.
The chairperson of the Seychelles chamber of commerce, Marco Francis, speaks at the opening ceremony on Friday evening (Joe Laurence, Seychelles News Agency) Photo License: CC-BY
Encouraging south-south trade
The expo, which was organised in collaboration with the Seychelles Chamber of Commerce and Industry (SCCI), is designed to help Seychellois business owners, along with African exhibitors who were taking part, to create business contacts and partnerships from across the Indian Ocean region.
Countries such as Mauritius, India, the United Arab Emirates and Sri Lanka were among the exhibitors, looking for wholesalers to connect with and in some cases to sell directly to the public as well.
Marco Francis, the chairperson of the Seychelles Chamber of Commerce and Industry, told SNA in a phone interview on Saturday afternoon that the main aim of the expo was to promote trade partnerships within the Southern Hemisphere.
"There is a push now to have south-south cooperation, which means that all countries in the Southern Hemisphere should be trading with each other. So this is why we have India, Sri Lanka and all these countries because it is part of the South-South cooperation, they are part of the Indian Ocean Rim Association which we are also a member of, so we are trying to merge together and do business with each other."
Seychelles Vice President Danny Faure goes on a tour with Francis after the opening ceremony to inspect the goods on exhibition (Joe Laurence, Seychelles News Agency) Photo License: CC-BY
"I have received feedback from the visitors, people were very happy, they said they were buying some stuff, they are buying quickly because they know that if they wait for the last minute it might be all gone, because most of these exhibitors, especially the foreign exhibitors, they have come with a limited amount of goods," he told SNA.
On the exhibitors' side, Francis said that although they found it to be a bit slow in terms of the numbers of people coming to the expo on Saturday morning, he told them that it was likely to pick up later in the day and continue into Sunday.
"But they told me the sales have been very good and constant. And for them it is not only about making sales but also about building contacts, and they told me they are making a lot of contacts, and they said a lot of Seychellois people have approached them for them to represent these companies," he said.
How about a quick manicure? Visitors to this stall get 5-star treatment (Joe Laurence, Seychelles News Agency) Photo License: CC-BY
Making the most out of COMESA
For most of the 40 or so international exhibitors, the heat and humidity was an experience in itself after some unseasonal heavy rains the day before, but many seemed to be doing well to attract the attention of passers-by.
One of the many Mauritian companies exhibiting was Ebramjee, a family-owned company which manufactures wrought-iron gates, staircase balustrades and decorative items in Mauritius.
"When we sell this to the Seychelles, it's completely duty-free because it's made in Mauritius due to a COMESA trade agreement. So we send you all the certificates so you have nothing to pay at customs," Zakiya Ebramjee told SNA.
This trader sells ornate Indian textiles, wooden furniture and antiques from the Indian state of Rajasthan (Joe Laurence, Seychelles News Agency) Photo License: CC-BY
Ebramjee has been doing business in Seychelles for the past three to four years.
"It's a big market, because we have the facilities to do the hot-dipped galvanization as well, which you don't have here in Seychelles, it's good because it doesn't rust, and with the humidity here, it's very popular," she explained.
"It's not just gates, a little bit of everything that's wrought-iron made, because it tends to be very popular with Creole houses, it's a very Creole style, which is very popular in Mauritius as well, and it's very solid compared to wood for instance."
Other international exhibitors were offering a range of products, including food items, textiles, fresh produce, furniture and clothing.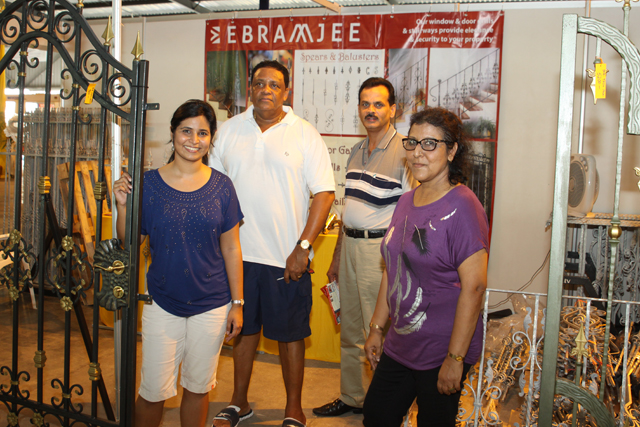 The Ebramjee family and a customer stand next to the imposing wrought-iron gates at the entrance to their exhibition stand (Joe Laurence, Seychelles News Agency) Photo License: CC-BY
Innovative thinking paves the road to success
Two young Seychellois entrepreneurs, Jean Paul Labonte and Jean Paul Toulon, owners of a company called Out of the Box, were doing a roaring trade promoting just two of their products; an air-fryer that uses little or no oil to fry chips and an ice-cream maker that crushes frozen fresh fruit into an ice-cream-like pulp.
"The response has been very good, lots of people like it, especially there are people who are saying they have diabetes, some are lactose intolerant, and we are also getting interest from parents, because their children like chips and ice-cream, so we have converted these dishes into something very healthy," Labonte told SNA.
"We are actually out of stock in the second day of the exhibition... first we brought the products in by air freight because we brought in small quanities but now it will be by container."
Marco Francis is snapped waiting for a healthy fruit-based ice-cream sample from young entrepreneurs Out of the Box (Joe Laurence, Seychelles News Agency) Photo License: CC-BY
Labonte and Toulon do not yet have a retail store, and have started out small by marketing via social media and door-to-door.
"To start a business you have to be innovative, in terms of products, the way you are approaching your clients and the way you get your clients... you have to be determined, as Seychellois we have to adapt to different situations, but at the same time it's a very fun way of working, going door-to-door, you have to speak to clients at the same time... and you get better feedback about what they want, and this helps us to identify new markets for our business," said Labonte.
The young entrepreneur added that the expo had been useful as it presented the opportunity for a lot of people to come to see them instead of the other way around.
Seychellois artist James Agricole stands in front of some of his colourful paintings (Joe Laurence, Seychelles News Agency) Photo License: CC-BY
Encouraging the arts
Apart from a variety of stalls promoting locally-made souvenirs and traditional Creole items, a number of Seychellois artists are displaying their works of different artistic genres at the expo.  
37-year-old artist, James Agricole, told SNA that although his original works drew a lot of appreciation from tourists and locals alike, his strategy now had to change.
(Joe Laurence, Seychelles News Agency) Photo License: CC-BY
"With Seychellois I would say they are interested but for them to afford it they find it a bit hard, but the appreciation is there. This is why I say to them that it will be much better if some of my paintings I make prints so that people can afford to have them," he said. "I haven't done any prints, I only work on original, but now I will have to start doing prints."
"The difference that I have compared to other artists, people look at my work and say I use two or three different techniques. Some people specialise in realistic painting and some in abstract but I'm more general because I have a plan for the future to have my own shops," he added.
The expo will continue to run at the NSC Hall until Monday, May 25.
Investment
» Be a reporter: Write and send your article
» Subscribe for news alert