Not just for the birdies: golf instructors focus on driving the sport in Seychelles
Aerial view of the impressive 18-hole golf course at the Constance Lemuria Resort on the Seychelles second most populated. (Constance Lemuria) 
Send to Kindle
(Seychelles News Agency) - As in many countries around the world, football remains one of the most popular sports among the Seychelles archipelago's small population of around 90,000 people, with others such as volleyball, basketball and even athletics following suit.
Nevertheless, a number of people seem to have taken a liking to other less mainstream sports in recent years. This includes golf – a sport that does not require as much physical effort but does demand precision and mental concentration.
"Year by year it's increasing, people and companies… are becoming more aware of it..," the Chairperson of the Seychelles Golf Association, William Tirant-Weidner told SNA.
While those who have taken a liking to the sport have chosen to participate in various competitions organised by the golf association, there are others who are choosing to teach the sports to others.
One such individual, 33-year-old Dominique Bastienne, recalls starting out as a caddie [a person who carries a golfer's bags and clubs on the golf course] at the tender age of 13, something he told SNA was not so easy.
"When I started, the equipment were really expensive so I became a caddie to earn a pocket money to go to school, then I started to play and I found it fun…" said Bastienne in an interview with SNA.
Recently, with the support of his employees at Constance Lemuria Resort, Bastienne completed a training with the South African Golf Teachers Federation, SAGTF, to become a qualified golf instructor.
The Constance Lemuria Resort boasts the only 18-hole golf course of the Indian Ocean archipelago of 115 islands which is perched on the far end of the Seychelles second most populated island of Praslin.
With a view of the clear blue sea of the Indian Ocean, camouflaged by coconut trees, dotted with ponds and endless green meticulously kept grass, the championship course was voted as one of the 10 best 18 holes golf course in Africa by one of the world's most popular global television networks, CNN International in 2013.
The golf course, which is described as challenging, features six holes rising up into the hills and has also won multiple World Travel Awards as Seychelles Leading Golf Resort and Indian Ocean leading Golf Resort since its opening in  2001.
Designed by American architect Rodney Wright and influenced by French champion Marc Farry, the 5,827-yard, par-70 course is the second golf course in the Seychelles with a smaller 9-hole course located at Anse Aux Pins, on the eastern coast of the Seychelles' most populated island of Mahé.
"What I love about golf is the lack of physical contact; it is more a calculating game of which experience and finesse, as well as good coordination of the legs and arms, can make the difference between a good player and a not-so-good player…," Bastienne explained to SNA when highlighting his recent success.
With this training Bastienne joins several thousand members of the SAGTF teaching golf around the world.
"It is a great achievement. Without the certificate, I could still teach… [but] now I can say that I am part of thousands of qualified instructors in the sport."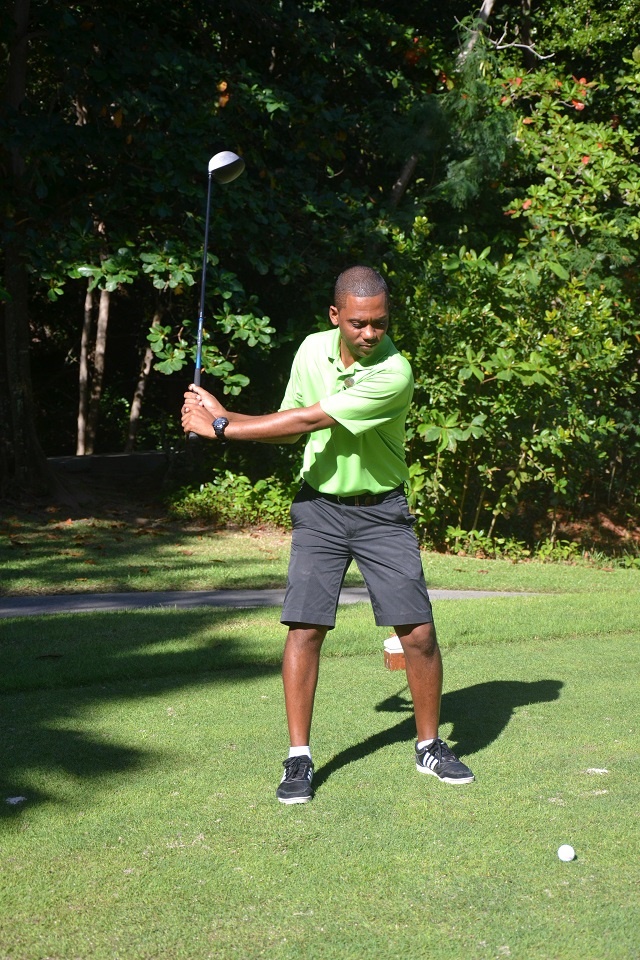 Recently qualified golf instructor 33-year-old Dominique Bastienne, in action at the Lemuria Golf Course on Praslin. (Constance Lemuria) Photo License: All Rights Reserved
Being a qualified golf instructor means Bastienne can now participate in various international games including the European Senior Tour season's MCB Tour Championship, an annual event frequented by international golfers in the likes of Englishman Paul Wesselingh and South African, David Frost.
The competition is hosted by the Constance Belle Mare Plage in neighbouring Indian Ocean island of Mauritius.
"The Seychelles presence there keeps on increasing year after year…," the Manager of Constance Lemuria, Bruno Le Gac told SNA.
"From one pro, we now double the number of pros. We now have two pros on our golf course and that is excellent news for Seychelles and for the sport itself."
Bastienne has in fact followed in the shoes of the Golf Director at Lemuria's Golf Club, Gary Pouponneau who also obtained a certificate as a golf instructor from SAGTF in 2010.
According to the Chairman of the Seychelles Golf Association William Tirant-Weidner, the first Seychellois to become a professional in the sport was Raymond Morin, who is now based in Sweden.
Others include Tirant-Weidner himself who turned professional in 2007 after a three-year degree course at the Birmingham University which he obtained through the British Professional Golf Association in United Kingdom as well as Yves Emond another golfer with Seychellois origin now teaching the sport in Belgium.
Tirant-Weidner told SNA that although he still engages in professional golf by participating in some events in the Indian Ocean he is now more focused on helping the sport to grow adding that the association is facilitating training courses at local schools in order to entice more young people to join the sport.
"At present, I am more focused on pushing golf in Seychelles, although I will be going to South Africa in January 2016 to attempt in gaining playing rights for the Sunshine Tour Professional Circuit."
The desire to promote the sport seems to be one shared by other golf instructors as well.
Lemuria's Golf Director, Pouponneau explained to SNA that although golf is an activity which is proposed to visitors coming to spend their holiday at the resort there is also an effort to promote the sport among the local population where competitions are sometimes organised bringing in players from the main island of Mahé.
"A lot of people when they hear the different terms used like par, birdie, under-par, eagle, putt etc..they get scared but when initiated to the sport they see that it is not so complicated," he told SNA.
With a number of people in Seychelles taking a liking to other less mainstream sports including golf in recent years, instructors are keen on driving the sport in the Indian Ocean island nation. (Romano Laurence, Seychelles News Agency) Photo License: CC-BY
The golf instructor confirmed that at least 30 percent of Lemuria's guests which last year amounted to more than 6,000 tourists choose to indulge in golf while on their stay some of which have never played the sport and want to learn while others want to improve on what they know.
"We also try to organise on Saturdays lessons for young children on Praslin from 7 to 8 years to get them interested in the sport, but we find that as they grow older they find other interests…currently, we have only one who started at the age of 7 and 8 and is now 15 years old who is still coming around" he said.
Golf can be quite an expensive sport to practice but according to Pouponneau they charge 'a reasonable fee' so that the youngsters can afford.
According to Constance Lemuria, last year they recorded more than 8,000 golf enthusiasts including the resort's guests, amongst whom over 700 are Seychellois members and some 700 tourists holidaying in other hotels on the islands of Praslin.
March to April during the easter holidays and November are the busiest months for the golf course.
Sport
» Be a reporter: Write and send your article
» Subscribe for news alert