Vision improved: four day eye-camp clears 155 cataract patients in Seychelles
Some 290 Seychellois patients have had cataract surgery in two separate eye camps this year as part of an MoU signed between Lion's Club of Seychelles and the Ministry of Health. (Joe Laurence, Seychelles News Agency)
Send to Kindle
(Seychelles News Agency) - Eye clinic records of the Seychelles health ministry show that out of the archipelago's population of around 90,000 people, an average of 200 to 250 cataract cases are detected each year. And according to the ministry at least 10 to 15 patients have surgery per week to remove their cataracts while eye camps are organized  when the need arises based on the number of patients.
This was the case for over a hundred Seychellois patients who experienced a sense of relief this week as they had eye surgery to do away with the cataracts which were affecting their vision.
The surgeries performed at the Seychelles hospital at Mont Fleuri on the outskirts of the capital of Victoria lasted four days from Monday June 8 through to Thursday June 11.
81-year-old Celine Lesperance told SNA that she wore glasses but that lately she could not see properly because of the cataract.
Lesperance, who had her surgery on Tuesday, had come all the way from the archipelago's second most populated island of Praslin which is located 15 minutes away by plane and around an hour by boat.
"Last year I had surgery for the right eye and now they have done the left eye," she said.
For 77-year-old Robert Pool, who also had surgery on Tuesday had been suffering from blurred vision.
"It's been two years since I was waiting to have surgery… I have done the left eye now, the other one also requires surgery and this will be done later," Pool told SNA while waiting to be examined on Wednesday to see if the surgery had been successful.
Interestingly, most of the patients SNA talked to needed cataract surgery for both eyes.
Marie-Paule Max said she had been seeing the eye specialist for a while now as the cataract had started to cover up her eyes, preventing her from seeing properly, especially when it comes to small writing.
"I had surgery for one side now and the other eye will be operated on later on," explained the 65-year-old.
"Have just done the surgery so it's still a bit painful. I've been given medicines and also have prescription for new glasses, so I'm sure it will be better in the coming days."
Dr. Madhavi, an ophthalmologist working at the Seychelles eye clinic check up on Celine Lesperance a day after she had her cataract surgery. (Joe Laurence, Seychelles News Agency) Photo License: CC-BY
A cataract is a clouding of the transparent structure of the eye that focuses light onto the back of the eye, allowing a person to see properly.
Cataracts, which are not preventable, affects mainly the elderly, normally from the age of 60 onwards, causing them to have dimmed or blurred vision.
Treatment for people whose cataracts affect their daily lives usually involves what is described as a "painless and quick" surgery where the affected lens is replaced with an artificial one.
The four-day eye camp was conducted by Dr. Jyotee Trivedy, an eye surgeon from the Lion's Club eye clinic of Nairobi assisted by Seychelles' own resident eye surgeon, Dr. Roland Barbe.
The surgeries were performed as part of a Memorandum of Understanding (MoU) signed earlier this year between the Seychelles health ministry and the Lion's Club of Seychelles, which is part of an international charity network - Lions Clubs International.
And it's also the second eye camp after a similar exercise was conducted in April this year.
MoU being signed between Lion Club of Seychelles and the Ministry of Health in April this year. (Seychelles Nation) Photo License: CC-BY-NC
In a press conference on Friday at the end of the eye camp, the consultant in charge of the eye department, Dr Barbe, who is also Seychelles' only ophthalmologist working for the Seychelles Ministry of Health at present, said that before April there were over 300 people on the list waiting to have cataract surgery.
A total of 290 patients have had surgery as part of the two recent eye camps.
"…It does not mean the backlog has reduced, because some patients were not able to have surgery and we have new cases every day. So we may have some 100 to 150 remaining on the backlog but it's more manageable," said Dr. Barbe.
Dr. Jyotee, an Indian national who has been working in Kenya for the last 20 years, noted that she had been coming to Seychelles since 2008.
"The first time I operated on 234 cataract patients… Second time in 2011 we did 96…. In April, we did 135 surgeries and now this week I have done 155 cataract surgeries. We had 210 on the list we had 50 to 60 patients who didn't come," she told journalists.
Dr. Jyotee also consulted some patients from the Seychelles main island of Mahe as well as the second and third most populated islands of Praslin and La Digue that presented some complicated cases for a second opinion.
She also operated on four other patients which included two children, including one suffering from cataracts.
Dr. Jyotee told SNA that while cataract is a condition which 90 percent of the time affects elderly people, there are other causes for the condition including development cataracts, which are sometimes recorded in children. 
An average of 200 to 250 cataract cases are recorded by the eye clinic at the Seychelles hospital each year. (Joe Laurence, Seychelles News Agency) Photo License: CC-BY
The MoU which the Lion's Club of Seychelles signed with the Ministry of health in April does not only make provision for eye camps or for patients with eye problems to be treated at the club's hospitals overseas. It also includes a programme to have free eye tests done for children from all state as well as private schools in Seychelles.
The programme, which has already started, has seen some 3,000 students from 11 schools in the northern region of Mahe have eye tests, of which around 100 have been found to need glasses or other treatment.
"By the end of the year all schools across Mahe, Praslin and La Digue would have been covered and all will receive treatment including glasses free of charge," said Barbe.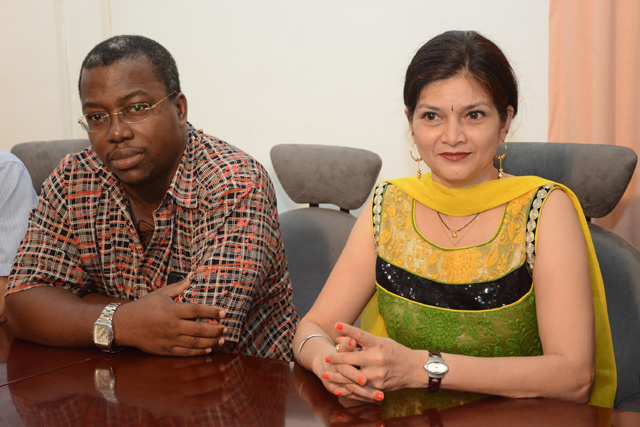 the two ophthalmologists, Seychelles Dr. Roland Barbe and Dr. Jyotee from Nairobi who worked alongside each other to perform the cataract surgeries last week. (Joena Bonnelame, Seychelles News Agency) Photo License: CC-BY
Aside of the MoU the ministry of health has said that it is working with the Lion's Club of Seychelles on other projects.
One is to screen patients for cardiovascular diseases in the near future. Mortality due to cardio-vascular diseases is the leading cause of death in Seychelles according to several reports compiled by the World Health Organisation.
One other important project for the health ministry is the planned introduction of a vaccine against Rotavirus, which the President of Lion's Club of Seychelles Dr Valentina Seth, also a pediatrician said affects small children. 
Rotavirus is known to cause severe or bloody diarrhea.
According to the Deputy CEO of the Seychelles Health Care Agency, Dr Danny Louange they are working with the World Health organization to introduce this vaccine as part of the Seychelles immunization programme for children as of next year.
"We are monitoring and we have seen that some 300 children are admitted with diarrhea and we discovered that a good percentage of them have this Rotavirus, that is why we are working on a plan to introduce the vaccine," said Louange.
"It's global, all countries are adopting this vaccine so we are also working towards this so we can reduce this infection among the children." 
Health
» Be a reporter: Write and send your article
» Subscribe for news alert