Seychelles hospitality management training gets added boost as STA gains international recognition
STA students putting their skills into practice. (Patrick Joubert, Seychelles News Agency)
Send to Kindle
(Seychelles News Agency) - Seychelles, an Indian Ocean archipelago of 115 islands which relies heavily on tourism has moved a step forward in its endeavor to have more qualified Seychellois professionals join and work in the industry at the management level, particularly in the hotels.
This is now that the Seychelles Tourism Academy, STA's faculty of hospitality management has received international recognition in becoming a recognized academy of the Shannon College of Hotel Management. 
The institution is a recognised college of the National University of Ireland.
A collaborative agreement to that effect was signed in the Indian Ocean island archipelago's main island of Mahé last week by the STA's Principal, Flavien Joubert and the Registrar of Shannon College, Kate O'Connell.
The hospitality management courses offered by STA, which was launched in 2008, welcomed its first cohort of students the next year. The course entails three years of study at the STA for an advanced diploma in hospitality management after which the students move to Ireland for one year to obtain their bachelor's degree.
Previously the students were being accepted by the Shannon College on an exemption basis, but now the new agreement is expected to bring a wide range of benefits, and not only for the academy.
Speaking on national television on Tuesday in SBC's News Extra programme, the Principal of STA Flavien Joubert said the process to obtain the international accreditation had taken around four years. 
This entailed the collaboration of Shannon College officials who lended a helping hand and performed academic auditing, Seychellois professionals who agreed to do part-time lecturing and the island nations' qualifications authority who ensured the course was meeting the required standard.
"The four groups that have passed through this course on an exemption basis, they have qualified... and have received their certificates with one even emerging as the best academic student at Shannon College. It shows that even when we were on exemption our Seychellois students were very good," said Joubert.
"Now we are no longer on exemption, we are a recognized academy of the National University of Ireland and Shannon College. When they [STA students] go to Shannon for their bachelors' degree they will be seen as a Shannon student. They will be able to continue for their Masters at the National University of Ireland without any cooperation because we are part of them now... [the students] can obtain work experience in all the places where Shannon college students are sent," he said.
The partnership is also expected to benefit STA lecturers who will be able to obtain their Master's degree.
According to Joubert when STA is ready Shannon College will also be able to use the academy as one of its faculties, meaning that students from other countries wishing to study at the Ireland hotel management training institution can be sent to the Seychelles, as it is offering the same course with the same accreditation.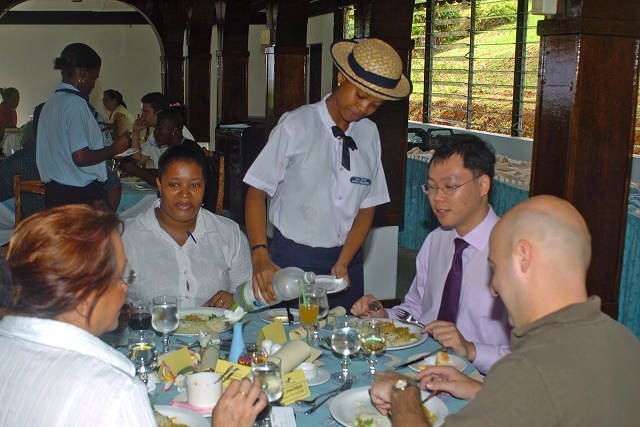 The Hospitality Management course is designed to obtain qualified Seychellois to join the tourism industry in managerial positions. (Patrick Joubert, Seychelles News Agency) Photo License: CC-BY
The initial agreement is for a four-year period where the Seychelles' academy will be constantly monitored by officials from Shannon College and the National University of Ireland. 
A permanent representative of Shannon College will also be based in the Indian Ocean island archipelago of 90,000 people to guide STA and ensure that it remains on course so that the agreement can be renewed.
"There will be a lot of academic auditors coming in from Shannon and they have appointed a professor, Dr. Stuart, who is based at the Emirates academy [the Dean of the Emirates Training Academy, Dr. Stuart Jauncey] and he will be our academic auditor and quality assurance person representing Shannon coming for random visits without advising us," said Joubert.
To date, there are 40 Seychellois students that have qualified to join the Seychelles tourism industry as trainee managers after having obtained their degree and spent 18 months on internship either in Seychelles or abroad.
STA's Principal told SNA that a fifth cohort of 15 students will be graduating from Shannon College next year, while there is the same amount currently in their second and third year of studies at the STA for their advanced diploma before moving on to Ireland for their fourth and final year of studies.
"In Seychelles we need 150 qualified Seychellois in management cadres, I'm not talking about General Managers but manager of the different services including food and beverage, housekeeping, executive chefs, etc... and this is what this are aiming for with this programme," Joubert told SNA.
Out of the 40 students who have completed their studies, the majority of them - 36 - are currently still working in hotel establishments, which Joubert said is the main aim of the training course.
"The Seychelles authority now has the challenge to ensure that the qualified Seychellois are able to work their way through from being in trainee management positions to be able to take up managerial posts after they have gained sufficient experience replacing some of the expatriate workers in the Seychelles hotels."
Tourism
» Be a reporter: Write and send your article
» Subscribe for news alert