Going back in time to create a modern fish trap! New restaurant with a seafood touch opens on Seychelles island of La Digue
Fish Trap Restaurant and Bar - a venture by two brothers with a passion for the tourism industry. (Romano Laurence, Seychelles News Agency) 
Send to Kindle
(Seychelles News Agency) - The somewhat heart-shaped looking fish trap, known locally as kazye, commonly made out of bamboo, is one of the traditional means of fishing employed by fishermen in the Indian Ocean archipelago of the Seychelles.
Although not many young people nowadays know how to weave the bamboo into this unique fishing gear, the traps are still commonly used for artisanal fishing.
Strategically placed under the sea and kept down firmly with boulders; after a few days in the shallow reefs, the traps are retrieved and their catch of fresh fish is mostly sold in the local market while a few are shared or kept by the fishermen.
The Mills family on the Seychelles third most populated island of La Digue, have recently laid their own 'fish trap'.
Not found among the shallow reefs but rather onshore within walking distance from the island's main jetty, the white and blue building located at La Passe is hard to miss.
The owners of the new 'Fish Trap Bar & Restaurant' is aiming to lure in both the locals and the thousands of visitors to the island, which is renowned for its tranquillity and laid back way of life.
Reviving a family legacy
"My uncle Kersley St Ange started the 'Fish Trap Restaurant and Bar' at Baie Ste Anne, on Praslin [Seychelles second most populated island]. That was late 1960's to early 70's. As the 'fish trap' burnt down in the early 80's, we decided to re-launch the family name that he created at that time," Sydney Mills, one of the two brothers behind the project told SNA in a phone interview.
The aim of Sydney and his brother Carl was to break away from the traditional model of hotel restaurant, opting instead for a stand-alone restaurant where clients can appreciate their meal and enjoy some good music without having to venture too far on the island.
A traditional 'kazye', or fish trap and colourful painting of fishermen bringing ashore their catch of fresh fish feature among the interior design of the restaurant. (Romano Laurence, Seychelles News Agency) Photo License: CC-BY
The benches with parasols set out on the seafront property provide a 'feet in the sand' experience to customers while they watch the early fishermen come ashore with their catch and residents riding around on their bicycles; the main mode of transportation on the island.
"We wanted something different from what everybody else was offering. We wanted something 'Seychelles' with that little extra touch of La Digue," Sydney Mills told SNA in a phone interview.
A refined product for a small island
The fish connotation is not only in the name of the restaurant as the Mills brothers are focussed on having seafood specialties such as fish and prawns as the main ingredients in most of the items on their menu.
A wide choice of meals from small snacks to heavier dishes for lunch and dinner are already available on the menu although the prices according to Mills are a little higher than what is charged in other places.
"We are not looking for quantity but instead we are focusing on quality. Giving out the best food on the island and attracting the high-end clientele that deserves the 'haut-de gamme' treatment every once in a while."
"We also specialize in cocktails and that on its own has attracted a lot of guests into the restaurant as well as fresh juices which nobody was doing around in the area..." says Mills, adding that cocktails are served with snacks made of local products such as breadfruit and cassava.
Fish Trap aims to offer seafood as one of the main products on their menu. (Romano Laurence, Seychelles News Agency) Photo License: CC-BY
Apart from the beautiful architectural design, the owners have also gone a step further by 'opening' their doors to the locals.
"I am quite surprised with the response so far….La Digue being small with a small population, you don't normally see a lot of Diguois going out for dinner…but I've found that since we have opened on a regular basis, I have been seeing the same faces coming for dinner, same faces coming in for a drink, so I think for them it's something which wasn't there and now they've actually got a choice of places where they can go to have a good meal and a good ambiance and I think that is a plus for everybody…" said Mills.
The sea front setting of the new restaurant allows customers to have some sort of Pied dans l'eau experience. (Romano Laurence, Seychelles News Agency) Photo License: CC-BY 
The construction on the new restaurant which will have over 20 staff started in 2014 and ended in March 2015.
The Fish Trap restaurant officially opened its doors on June 15 after a one-month soft opening to see how the new venue would be welcomed by locals and tourists alike.
"From the way you are greeted at the door and taken to your table… those who serve you and the food that we give you…all should be different from what a visitor or a local expect from a restaurant in Seychelles or on La Digue. We want to make that difference that so many people are seeking in good service and good food."
A passion for the tourism industry
Born and raised on La Digue the Mills brothers have been working and investing in the tourism industry for many years.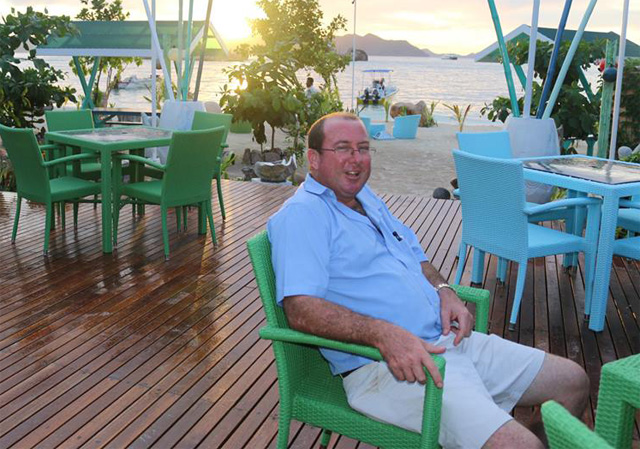 The Mills brothers, Sydney (above) and Carl (below) who are behind the new Fish Trap Restaurant. (Romano Laurence, Seychelles News Agency) Photo License: CC-BY 
"We started off with Chateau St Cloud, then, La Digue Self-Catering, then we re-launched Cabane des Anges [house of angels], which is something we used to have in the old days… we've just opened another one called 'Maison Charme de l'ile' [charming house of the island], that's actually a small guesthouse," Sydney Mills told SNA.
"It's our native island, so at the end of the day, we're trying to diversify the products… first and foremost, in everything that we do, La Digue must come first… so in everything that we do we've been doing it with La Digue at heart."
La Digue offers a laid back atmosphere which is appealing to thousands of tourists who choose to holiday on the island each year. (Romano Laurence, Seychelles News Agency) Photo License: CC-BY 
La Digue is considered a haven for bicycles and is also famous for its ox-carts, there having been many efforts made to keep the island with its population of around three thousand people, free from traffic congestion and noise, where only a handful of cars are allowed.
The island which is accessible mainly by boat is well-known and appreciated for its tranquillity among the tourists, who the islanders rely on heavily for their livelihood.
With crystal-clear wavelets lapping rhythmically on shimmering white sands, shaded in parts from the sun by dramatic granite boulders and leafy green coconut trees, La Digue's Anse Source d'Argent a beach situated on the northern side of the island has over the years steadily won exuberant praise from visitors and raked in awards from travel publications.
This includes being placed among the Top 12 Beaches With Crystal Clear Water by travel website TripAdvisor, which collects reviews from travellers and voted as one of the Traveller's Choice 2014 Top Beaches awards in April last year.
National Geographic's coffee-table book, the 10 Best of Everything, also rates Anse Source D'Argent as the most beautiful beach in the world. 
Tourism
» Be a reporter: Write and send your article
» Subscribe for news alert