'Leave the house as if you're going to the Oscars', advises Seychelles KanKan designer Karine Dupouy
Designer Karine Dupouy says she loves the designing aspect of her work, being alone in her workshop and drawing for hours and see the final product of an idea come to life. (Karine Dupouy/Facebook)
Send to Kindle
A darling of the growing Seychellois fashion scene and focus of CNN's latest 'African Voices', Karine Dupouy studied at the renowned Central Saint Martins in London, whose alumni boasts the likes of John Galliano, Alexander McQueen and Stella McCartney.
As part of her five-year program, she obtained placements with Franck Sabier's Paris haute-couture house and the famous Italian textile suppliers, Ratti. The name of Dupouy's brand, Kankan, means 'spread the word' in Creole.  
Word is certainly spreading about the brand, which now includes home décor and tableware, and will expand to include menswear and kidswear later this year.
At Kankan's third and newest store in Kingsgate House, Dupouy recently took a moment out of her busy schedule to talk to SNA about her success, future plans, and upcoming collection.
Featuring a sleek modern layout, the new store's design emphasises a minimalist uncluttered feel with cement floors and soft lighting.
The lines are neutral and Kankan's sophisticated but simple aesthetic is evident everywhere. Racks of clothes line the walls on one-half of the spacious shop, whilst the other is taken up by a stunning variety of brightly coloured home decor.
Similar to a designer boutique in Bond Street or Fifth Avenue, as soon as I stepped into the cool air, I felt like I had left Seychelles.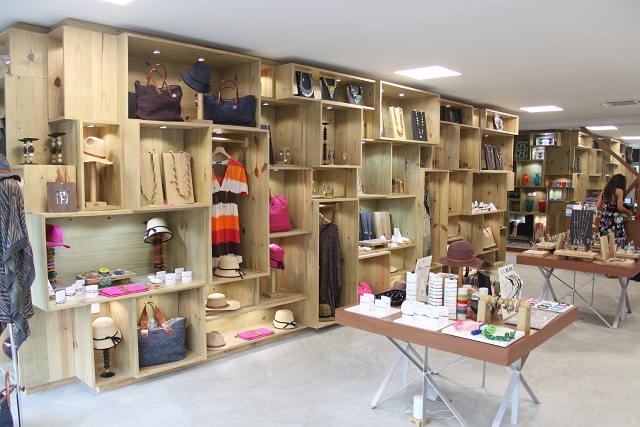 An overview of the Kankan store featuring lined-up clothes and other accessories and a stunning variety of brightly coloured home decor.(Joe Laurence, Seychelles News Agency) Photo License: CC-BY
SNA: Tell us about your background - how did you end up in fashion?
KD: I was born in Mauritius and moved to Seychelles when I was two years old. I was interested in drawing from a very young age, particularly dresses. I remember designing clothes for all my Barbie dolls, experimenting with fabrics and sewing different outfits. It was something I knew would be a part of my future.
Kankan's third and newest store in Kingsgate House. (Joe Laurence, Seychelles News Agency) Photo License: CC-BY
While doing my 'A' Levels, I was inspired by Martin Kennedy at the International School to pursue fashion design more seriously, and I went to study at Central Saint Martins in London.
As part of my course, I worked all over Europe. It was an amazing experience and I learnt a lot, but I grew tired of the cold, missed my family and my boyfriend and so I came home after graduation.
SNA: How did you start the brand?
KD: It was completely unexpected. I had turned down job offers in Dubai and Italy to come back to Seychelles. My parents were strict and encouraged me to get a job so soon started a line of t-shirts, just as a trial, and got them distributed among some hotels.
I had no expectations, but then we sold out more than two thousand t-shirts in less than a year. It was around the same time that there was a bid for a shop at the Seychelles International airport, for which I applied purely out of curiosity.
It was only when we won the bid that my decision to settle here became final. I started putting together my collections, got seamstresses in Mauritius and started the shop. So far it's been great. We have opened three stores, and the fourth is on the way at the Four Seasons Resort. I have no regrets about choosing to settle here.
To respond to the Seychelles market, Karine has also branched out into beach wear and more casual collections. (Joe Laurence, Seychelles News Agency) Photo License: CC-BY
SNA: What do you think of the market here?
KD: It is difficult. I love doing gowns and couture dresses, which, unfortunately, don't sell in Seychelles, so I am very limited in that sense. I had to branch out into beach wear, a more casual collection. It is essential to listen to what people want, unlike couture where the designer has complete creative license. It is tough but also rewarding.
SNA: Who is your clientele?
KD: My market tends to be older people as they are the ones who have the spending power. That is also something challenging as I tend to design something that I like at my age. I always assumed my collection would grow up with me, but it has nevertheless been very interesting to learn about what other people like wearing.
SNA: Your shop offers a stunning variety of household things. Tell us about that.
KD: Yes, this is something we just recently branched out into and is only available at our store in Victoria. This is my mother's baby, who is co-director of Kankan. We noticed a gap in the market for high-quality modern products for households here in Seychelles.
We have little gadgets for the house, crystalware, vases, very colourful things. All of the items are sourced from Italy and came out this year, so everything is always in trend!
A sample of the crystalware, vases and other colourful household decor, which Karine's mother is passionate about. (Joe Laurence, Seychelles News Agency) Photo License: CC-BY
SNA: What do you look for when you are choosing your products?
KD: A modern design with materials and colours that suit Seychelles' climate and the lifestyle of its people.
One of the brands we stock for example is Marioluca Giusti, which is made of acrylic which is perfect for the Seychelles in that it doesn't break so it's ideal for use outdoors or by the poolside.
SNA: Can you tell us a bit more about your upcoming collection?
KD: I am still working on it, but my next collection will feature jerseys, made out of very good quality modal fabric from Italy, which, by the way, is where all my fabrics are from. The fabric is gorgeous, very fine, and soft; it just flows and is perfect for the weather here. I will be focusing on casual dresses but with fine cuts and a personal touch.
SNA: How does the brand work? Who makes the clothes?
KD: So far, I have tried to keep it quite classical, to make something you can sell. If my atelier was based here I would be doing more creative things because it's only when you're in the workshop that you can put things together.
The workshop is in Mauritius at the moment. I have three girls, I send my drawings to them and we discuss them over Skype, but it's very difficult. I have not been there in person in seven months!
Karine says she attaches great importance to listening to what people really want. (Joe Laurence, Seychelles News Agency) Photo License: CC-BY
SNA: Was there an increased interest in the brand as a whole after the Miss World competitions?
KD: Yes, I would say so. Camila was always out there, promoting Seychelles and frequently mentioning Kankan. She worked very closely with us and did well to advertise us on a global scale. She was in the front row at the Miss World show so she made sure her yellow dress was visible.
She was one of the girls chosen to speak on Sky News about the Miss World events and that also definitely helped spread word about the brand.
Miss Seychelles...Another World 2014 Camila Estico parading her custom designed bright yellow 'Kankan' dress by Karine Dupouy on the final night of the Miss World Pageant 2014 pageant in London watched live by millions around the world. (Miss World/Facebook) Photo License: All Rights Reserved
SNA: What has been your most memorable experience so far in fashion?
KD: Where do I begin! The photo shoots. I love photo shoots. It's when you get to see the final result of your hard work on a pretty girl; you can see how it falls on the body. When I do photoshoots, I always try to feature some couture gowns for the last shoot, which are my favourite to design. I try to keep them simple, and when I go to Mauritius this is where I add the details and fine-tune it.
I also love going to trade fairs. This is how I stay in touch with the trends and I love sourcing out the jewellery and fabrics. Being featured on a programme in the Cable News Network, (CNN) was also a really big deal and this shop. I love this shop. This is probably the biggest achievement so far. We got an architect to help design it and we worked together to create what it is now.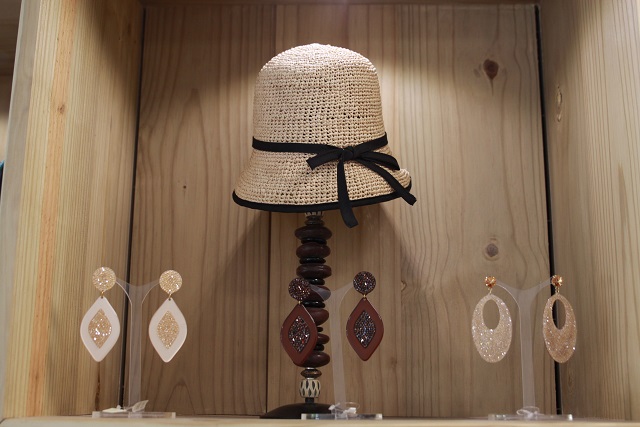 Karine says she loves going to trade fairs, which is her way of staying in touch with the trends and is also able to source out her jewellery and fabrics. (Joe Laurence, Seychelles News Agency) Photo License: CC-BY
SNA: You've mentioned all of the above but in the process of designing a new collection, which part you do enjoy the most?
KD: Designing. I love being in my workshop, alone, drawing for hours and hours. Seeing the final product of an idea, watching it come to life.
The Miss World dress for example, I drew it, and I drew the flowers, but I wasn't sure how exactly it would look. Then finally I found someone who could do these materials out of aluminium and we worked together to create flowers with a three-dimensional element. That dress was something we pushed to get the 'right' [amount] of everything.
The materials used to create the Kankan designs are sourced from Italy and the workshop which turns Karine's designs into reality is in Mauritius at the moment, but the young designer is keen on having her atelier in Seychelles in the future. (Joe Laurence, Seychelles News Agency) Photo License: CC-BY
SNA: Where do you find inspirations for your design?
KD: I do mood boards and things like that. I plan the collections before I start designing.
SNA: How would you describe the KanKan woman?
KD: Sophisticated and well-dressed morning to night, with very particular ideas on the fabric she is looking for.
Making the Kankan brand available online and a fashion show to showcase her collection are some of the things the young designer is envisioning for the future. (Joe Laurence, Seychelles News Agency) Photo License: CC-BY
SNA: What's next for you and Kankan?
KD: I am hoping Kankan will expand to be available online in the coming year, but I need to build up my stock first. I would also love to have my atelier settled here and get all my resources locally, which would increase our competencies so much. A fashion show here featuring my collection is also something I would really enjoy.
SNA: And finally, what advice would you give our readers when it comes to fashion?
KD: Be stylish every day. Leave the house as though you are going to the Oscars.
The Interview
» Be a reporter: Write and send your article
» Subscribe for news alert