Four Seychelles fishermen tell of lost at sea experience upon safe return home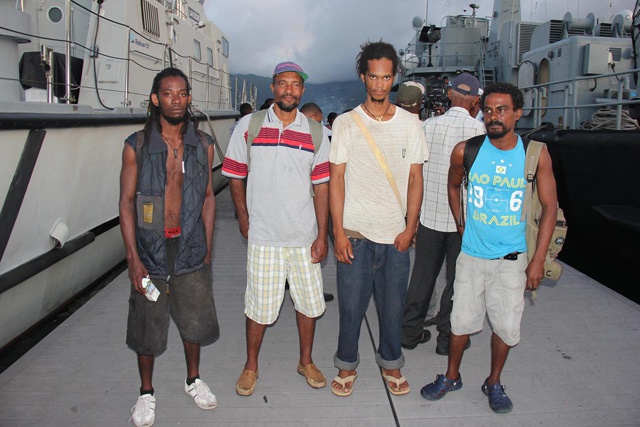 The four fishermen upon arrival on Mahe yesterday evening after spending almost 20 days lost at sea. (Patrick Joubert, Seychelles News Agency)
Send to Kindle
(Seychelles News Agency) - Four Seychellois fishermen were brought back to the main Seychelles island of Mahé, Tuesday evening, after being lost at sea for almost 20 days while out on a fishing trip.
The four men, skipper Stephen Barbé and three other fishermen Marco Lalande, Jurian Francois and Jean-Pierre Rene who were aboard a 40-foot long, 13-foot wide fishing boat called 'Marie-Lor' were picked up by the Seychelles Coast Guard Vessel 'Etoile'.
This was after they had been able to establish contact with the boat's owner on Tuesday afternoon.
In a telephonic interview with SNA this morning, the owner of the Mary-Lor Danny Loiseau, said he was contacted by the crew at around midday and had subsequently informed the Seychelles Coast Guard.
The Public Relations Officer of the SPDF, Major Jean Attala, confirmed to SNA that an SPDF surveillance plane was sent out after the Coast Guard was contacted to establish the exact location of the boat after which 'Etoile' was deployed to bring them back to the main island.
They were picked up some 36 nautical miles from the Seychelles island of Fregate, which is located some 56 kilometres from the main inhabited island of Mahé. 
It was the Coast Guard vessel 'Etoile' who brought the men back to Mahe after their exact location was pinpointed by the SPDF surveillance plane. (Patrick Joubert, Seychelles News Agency) Photo License: CC-BY
The four men aboard the 'Mary-Lor' departed Mahé on Wednesday June 3 to go fishing north of the main island and was expected back on June 10.
The owner of the boat had contacted the maritime authorities after discovering that they had not come back by the scheduled return date.
Some members of their family were present at the Coast Guard base at Ile Perseverance yesterday evening to welcome them upon arrival at around 6pm local time.
In an interview aired by national television news, Seychelles Broadcasting Corporation, (SBC) on Tuesday evening, skipper Stephen Barbe recounted that they "encountered engine failure" adding that it seemed "water had flooded the engine through the exhaust."
The crew were reportedly fishing in a location more than 63 nautical miles west north-west of the main Seychelles island of Mahé.
"We thought the VMS [vessel monitoring system] was working but this was not the case, we tried to get it to work for 4 to 5 days to try and send a distress signal but in vain," said Barbé.
The four men explained during the days they were drifting they collected rain water and ate salted fish in order to survive, and said that they had sewed together gunny bags into a form of sail.
"I tried to figure out the direction of the current and the breeze and we came up with a few initiatives like using barrels we had to steer the boat back towards Mahé…we also used the buoys [satellite buoys]…it uses a solar system…we found a way to charge the phone batteries through it," said Barbé.
According to an article published in daily newspaper, Seychelles Nation today, it's not the first time Barbe had encountered difficulties while out fishing.
In 2010, he was among 7 fishermen who were rescued by the Seychelles Coast Guard after their boat 'Faith' had been taken hostage by Somali pirates.
Still according to the Nation article, the four men have said that they could have been saved sooner had two boats which had passed by close to them responded to their call for help.
All four fishermen have said that they have not been deterred from their trade and will be going out to fish once more as soon as their boat had been repaired.
Loiseau confirmed to SNA that one of his other boats, the 'Venus' managed to tow Marie-Lor back to the Seychelles Port of Victoria during Tuesday night.
A photo taken by a mobile phone showing 'Marie-Lor' out at sea after it was reached by 'Etoile'. (Patrick Joubert, Seychelles News Agency) Photo License: CC-BY
While Marie-Lor's crew is back safe and sound the Seychelles Coast Guard is still searching for another boat, the Haifa Junior which departed Mahe on Saturday June 6 with a crew of two people and has been reported missing.
A third fishing boat called Prosperity also encountered difficulties at sea early June and was helped by a Spanish-flagged vessel.
Since the beginning of June, the Seychelles, an archipelago of 115 islands in the Indian Ocean, entered the southeast monsoon season, which often results in high winds and rough seas, and this is likely to continue until October.
This makes boat trips much more dangerous for local fishermen.
Around the same time last year, a fishing boat with two people on board, Francois Meriton and Don Hoareau was reported missing, and it has still not been found.
Fisheries
» Be a reporter: Write and send your article
» Subscribe for news alert