Little homes for 'hogs': can Seychelles design student's invention save the British hedgehog?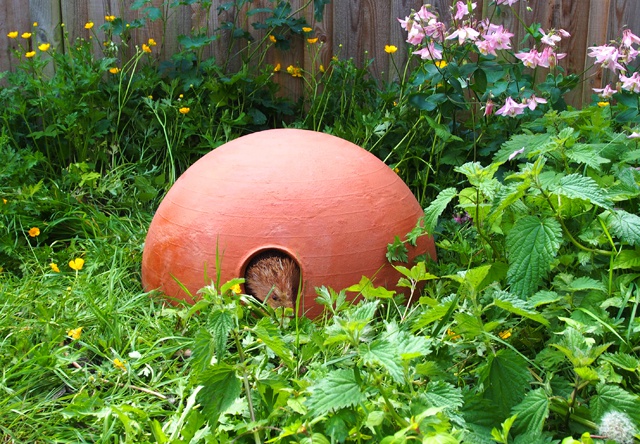 Every hedgehog's home is his castle! An endangered British hedgehog peers out from a Hoglodge, the invention of a Seychelles-born design student who put her skills to good use to help solve the problem of the hedgehogs' disappearing natural habitat in the United Kingdom (Antigone Frichot)
Send to Kindle
(Seychelles News Agency) - Among the wildlife of urban areas of the bustling streets of the London the capital of United Kingdom, hedgehogs are believed to be the most threatened.
Steady decline in the population of these 'spiky' insectivore residents has been reported over several years at an alarming annual rate. The emergence of urban landscape and lack of foliage has this prickly mammal listed as a possible candidate for extinction, by as soon as 2020.
Whilst studying for a four-year course at Kingston University in London, Seychellois student Antigone Frichot took their plight to heart and designed a small but sturdy hedgehog habitat for her fuzzy friends called the Hoglodge.
"From my research I learned that hedgehogs were in serious decline. They are lovely creatures, docile and not at all dangerous," said Frichot in an e-mail interview with SNA. 
A spiny ball full of cuteness - Seychelles-born Antigone Frichot, who is studying product design at Kingston University in London, think she may have found a way to bring back the British hedgehog from the brink of extinction (Antigone Frichot) Photo license: All Rights Reserved
A project close to her heart
Hailing from Beau Vallon, a northern district on the island of Mahe, the most populated island of the archipelago, Frichot was brought up to be environmentally aware through the wildlife clubs she was a member of throughout her school years.
The Indian Ocean island archipelago of 90,000 inhabitants is widely recognised internationally as being proactive and environmentally-conscious when it comes to protecting its flora and fauna.
An avid scuba diver and outdoor enthusiast, Frichot finds hedgehogs to be quite similar to the tenrec, (tenrec ecaudatus), a species found abundantly in the countries surrounding the Indian Ocean region, including Seychelles.
However, despite their spiny resemblance and insatiable hunger for insects and ground-dwelling creatures such as slugs, tenrecs are not actually related to hedgehogs and their attraction as an 'exotic pet' is not as appealing as they are slow breeders.
An animal lover down to the bone, 23-year-old Antigone Frichot, pictured above at home with her dogs, is keen to do more to help her animal friends in need. (Antigone Frichot) Photo license: All Rights Reserved
Furthermore, Frichot points out that tenrecs are much better off as they do not "face the dangers of harsh winters, which is a main concern in the United Kingdom and do not have to survive five months of hibernation".
With the plight of the endangered wildlife of the UK in mind, Frichot designed her Hoglodge; a terracotta dome with a flat molded base aimed at providing a safe environment for hedgehogs, away from predators.
This was part of her final project for her Bachelor's degree in Product and Furniture design.
"As product and furniture is a very wide subject, I was able to twist and mould my projects to my interest outside of university which includes wildlife conservation and dogs," said Frichot.
"I try to implement values in my work like sustainability and being responsible with my materials, I aim to design long-lasting products so that there is less wastage and to be kind to our planet."
The lodge is sturdy enough to withstand other intruders such as dogs, cats, badgers and foxes – and also provides a cocoon for mothers to keep their babies safe in, thereby hopefully helping future generations of endangered hedgehogs.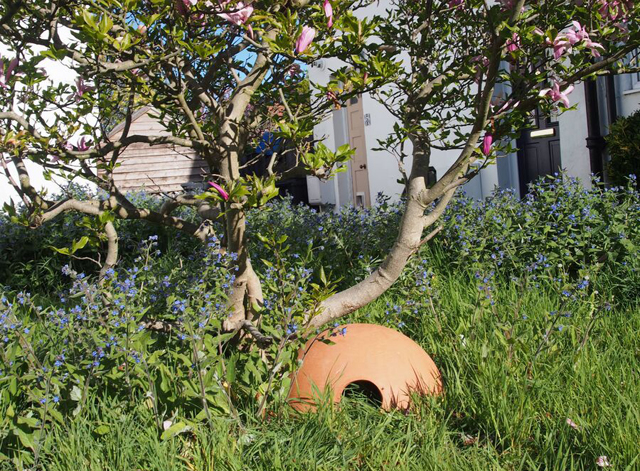 A Hoglodge for every home? Frichot wants to make these cute little hedgehog habitats a feature of every British home (Antigone Frichot) Photo license: All Rights Reserved
Furthermore, the structure is cosy enough for the short and stout little animals and adaptable to small gardens. Hedgehogs live for over three years although high mortality is typically recorded in the first year of their lives.
According to an article published by the Kingston University, the design has been described as both 'thoroughly researched' and 'innovative' by Frichot's course leader for product and furniture design, Phillip Davies.
As her studies come to an end soon, Frichot is thinking of ways she can help other vulnerable species a little closer to home.
Hoping to use the skills she has learned in product design to be able to contribute something to society back home in the Seychelles, particularly if it improves the lives of animals, but says she is not sure "if a job like that exists" in conservation.
Frichot herself is overjoyed about the buzz she has created, adding that she wants to start looking into crowdfunding opportunities to develop it further and prepare it for production.
"I really hope that this isn't a one-off project. I have really enjoyed it and it is really close to my heart."
It is her hope that the Hoglodge will be manufactured and used in every home so that all hedgehogs will have a safe place to hide from the elements and predators throughout the United Kingdom.
Species
» Be a reporter: Write and send your article
» Subscribe for news alert