Maximizing value from the blue economy: Seychelles entrepreneur turns 'unwanted' by-catch into export products
James Lesperance of Amirante Fisheries has come up with a good way to ensure that by-catch from the tuna canning industry does not go to waste, producing a variety of different processed fish products, both for local consumption and for exportation. (Patrick Joubert, Seychelles News Agency) 
Send to Kindle
(Seychelles News Agency) - Port Victoria, the main port of the capital of the Seychelles, an Indian Ocean archipelago of 115 islands, is one of the busiest tuna fishing ports in the world, where an average of 200,000 metric tonnes of fish are landed and transshipped every year.
Fisheries account for an income of $370 million yearly into the Seychelles economy, according to statistics from the Seychelles Fishing Authority.  
A good percentage of tuna caught by foreign purse seiners in the Seychelles' Exclusive Economic Zone (EEZ), which is landed in Port Victoria is directed at the island nation's only tuna canning factory.
The Indian Ocean Tuna, Ltd, which is one of the largest tuna canneries in the region, employing 2,300 people and producing up to 1.5 million cans of tuna per day for major European brands such as John West and Petit Navire.
Nevertheless, among the fish caught by the tuna vessels in the area there is always a proportion of unwanted fish species known as 'by-catch'.
Tuna uploading in the Seychelles' Port Victoria. (Seychelles Fishing Authority) Photo License: CC-BY
In a bid to add value and growth prospects while reducing wastage, one Seychellois-owned company has found a way to ensure that by-catch from the foreign purse seiners fishing in the Seychelles' Exclusive Economic Zone is put to good use.
'Amirante Fisheries' based in the industrial zone of Providence, about three kilometres south of the Seychelles capital of Victoria, has since March this year been the first venture in the archipelago to target by-catch in a big way and maximize yields from the 'blue economy'.
This is a concept which Seychelles is actively promoting within the region and beyond while calling for more ocean-related business activities locally.
The venture, which is owned by James Lesperance, attracted thousands of visitors to its exhibition stall at last weekend's National Show, marking Seychelles National Day, which coincided with the 39th Independence anniversary.
Lesperance is among a group of Seychellois entrepreneurs in the fisheries sector who were allocated fish processing units for fish value addition, in August 2014, at the industrial zone of Providence, on reclaimed land south of the capital.
The facility consists of three fish processing factories with three units for each one which has been financed under the Seychelles-EU Fisheries Sectorial Development Programme at the cost of almost $2.5 million - the majority of which are yet to start production.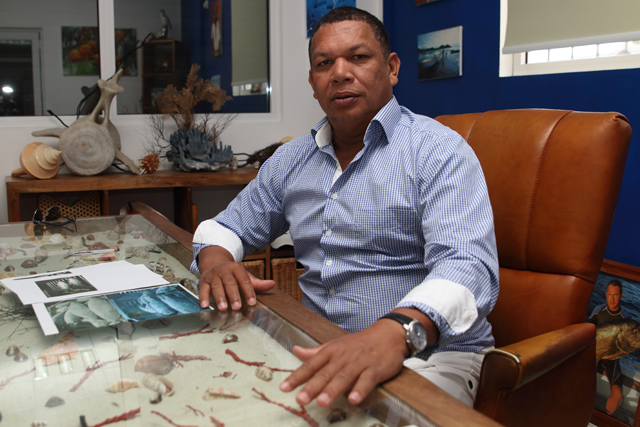 Seychellois entrepreneur James Lesperance, has been very active in the sea cucumber fishing and export business for over 10 years. (Joe Laurence, Seychelles News Agency) Photo License: CC-BY
For Amirante Fisheries starting the venture required a cash injection of some $1.7 million (23 million Seychelles rupees). Lesperance, who has been very active in the sea cucumber fishing and export business for over 10 years, told SNA that he personally invested 50 percent of the sum while the rest came from a bank loan.
Amirante Fisheries is already processing and exporting various types of fish to Sri Lanka, India, South Africa, Ghana and Benin.
By-catch is purchased from the purse seiners for less than a dollar [between $0.15 to $0.30] depending on the type of fish and quality.
Lesperance explained to SNA how kingfish, rainbow runners and dorado are cleaned, the high salt content removed and then cut into bricks of two kilograms apiece before being put into the containers at a temperature of -25 degrees for shipment.
Fish which are badly bruised are skinned and treated in a similar way before being chopped into cubes for sale as 'dog food'.
"With dog food, we also ensure that the water we use is clean so that it is even fit for human consumption," said Lesperance.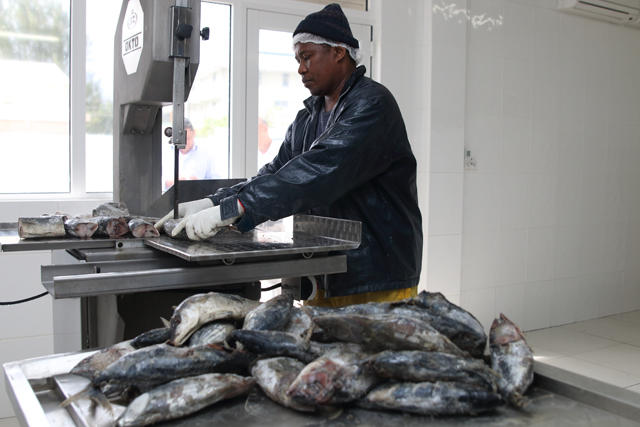 An Amirante Fisheries employee cutting up fish for processing. The company is currently exporting various types of fish to Sri Lanka, India, South Africa, Ghana and Benin. (Joe Laurence, Seychelles News Agency) Photo License: CC-BY
Apart from exporting the fish, some are also sold locally; for example, Marlin is cleaned and sold to Oceana Fisheries, one of the oldest established fishing companies in Seychelles, which smokes it for the local market - particularly the hospitality industry.
Lesperance is also constantly looking at new ways to add value to fish products and among his latest eye-catching products on display at the recent National Show were various chutneys - a mixture of fish and various local fruits.
The main fruits used are mangoes, golden apple and pawpaw all available locally, which mean a different taste for each chutney.
Lesperance told SNA that water is squeezed from the fruit which constitutes 10 percent of the mixture, while curry leaves and cinnamon add to the tropical flavour. About 80 percent of the fish chutneys are geared towards the export market.
Amirante Fisheries is targeting a monthly production of 100 tonnes.
"These are still early days. We are still at 40 percent of our target and still establishing our markets," said Lesperance.
Amirante Fisheries has a workforce of 12 and it is not uncommon for them to work around the clock until 5 am the next day to clear a shipment of by-catch.
"We have to work fast and clear every shipload at one go. Otherwise, the fish will go bad and useless."
Some of the products that are either being exported or sold locally coming from Amirantes Fisheries. (Patrick Joubert, Seychelles News Agency) Photo License: CC-BY
According to the Seychelles Fishing Authority, SFA, until this year, the majority of the by-catch from the over 40 mostly French and Spanish seiners operating in the Seychelles Port of Victoria was being wasted.
The fish, notably undersized skipjack tuna - not used in canning, bonito, dorado, marlin, kingfish silky sharks, wahoo and rainbow runners constitute about five percent of the purse seiner's catch.
The acting Chief Executive of the Seychelles Fishing Authority (SFA) Vincent Lucas, told SNA that this represents between 25 and 40 tonnes of fish from any purse seiner returning to Port Victoria with a full load. The capacity of these fishing vessels varies between 1,000 and 1,200 tonnes.
After being caught in the large nets, some fish were simply being dumped overboard after being separated from the tuna, while others, notably sharks had their fins cut off to be dried for the export market and the carcasses were also simply thrown back into the sea.
"It is now illegal to discard any tuna at sea while other by-catch is being sought after by fish processing plants," Lucas told SNA in an interview.
Cameras have also been installed on the purse seiners, most of which are French- and Spanish-owned, to monitor their fishing operations.
Fisheries
» Be a reporter: Write and send your article
» Subscribe for news alert