'Nature Seychelles' seeks help to prevent highway flooding
The wetland at Roche Caiman, near Victoria. (Seychelles News Agency)
Send to Kindle
(Seychelles News Agency) - NGO conservation agency Nature Seychelles has called for support for a project to divert rain water from a flood-prone section of Mahé island's main highway into a recently deepened wetlands area it manages near Victoria, the capital of Seychelles.
The wetland's manager Robin Hanson said on Thursday that said further work on the artificial marsh could help it absorb even more rain water, then allow water to be released slowly to the ocean.
"We have seen that we can divert storm water from the over-burdened drainage ditch close to the highway into the reserve, reducing the risk of flooding to the highway. The option is there, but we can't do it on our own. Nature Seychelles is calling for community-minded corporate organisations to support this initiative," he said, noting the wetland is also an also a vital habitat for many types of flora and fauna and palys a key role in the maintenance of biodiversity.
Hanson added the recent work has helped increase the area under mangroves, which he said are essential for a coastal ecosystem.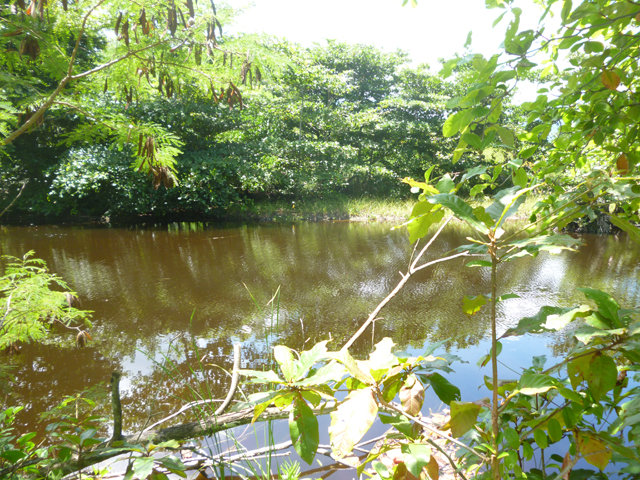 Wetland managed by Nature Seychelles (Seychelles News Agency) Photo license: Attribution
The agency's CEO said in a statement the recent work to deepen the swamp had proved a successful as the wetland had absorbed large volumes of water following heavy January and February rainfall, which caused flooding in areas of Mahé and La Digue.
"The wetland did not overflow this year, and the road leading to our buildings and the surrounding areas were not flooded. We were able to go in and out of our premises. This was not the case before. In the past, we had to stay away because our road was inaccessible," said Dr. Nirmal Shah , Nature Seychelles' chief executive.
The wetlands project was supported by the conservation organisation Mangroves for the Future and local excavations contractor Sun Excavations of Mahé.
Climate
» Be a reporter: Write and send your article
» Subscribe for news alert