Anyone for an underwater wedding? Crystal Cruises to offer luxury yacht expeditions to Seychelles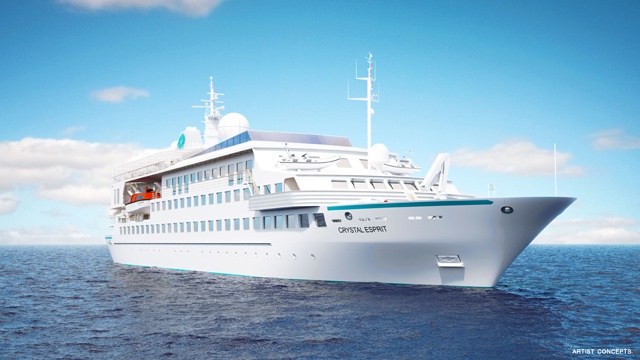 To be seen in the Seychelles before the end of this year - the 62-passenger luxury yacht Crystal Esprit offers the discerning traveller an adventurous expedition-like holiday (Crystal Cruises)
Send to Kindle
Adventure-seeking couples have tied the knot while riding rollercoasters, snowboarding snow-covered mountains and bungee jumping, and soon they will be able to get married in a submersible craft deep under the surface of the Indian Ocean.
Luxury American cruise line company, Crystal Cruises, last week announced it would be offering a range of luxury expedition-style getaways, including a 62-passenger luxury yacht which will be exploring the pristine Indian Ocean surrounding the Seychelles archipelago of 115 islands.
According to its press statement, the company, which was recently taken over by Genting Hong Kong, is raising its competitive edge by offering innovative expedition-style experiences to its clientele with a range of crafts such as river ships, yachts, polar ice-class ships and even a private Boeing 787 for customised around-the-world tours.
The all-suite yacht, which will be christened the Crystal Esprit, will embark on its maiden voyage on December 23, 2015, exploring the Seychelles islands, followed by a post-cruise New Year's Eve celebration at the Taj Dubai Hotel.
The Crystal Esprit will have its own 2-passenger submersible craft, which will be used to explore coral reefs and even for underwater weddings (Crystal Cruises) Photo License: CC-BY
In an email interview with SNA, Crystal Cruises spokesperson, Molly Morgan, said that the company chose the Seychelles as a destination for its exotic and unspoiled beauty.
After suffering a decline in cruise ship tourism since a surge in piracy off the Horn of Africa in 2009, cruise liners have been making a slow but steady comeback to the tropical islands of Seychelles, famed for its powder-white beaches, lush tropical vegetation and impeccable marine beauty.
According to recent statistics from the Seychelles National Statistics Bureau, almost 500 cruise ship passengers have disembarked at Port Victoria since the beginning of the year, but this figure does not include day-trip passengers.
Almost quarter of a million tourists visited the archipelago in 2014, the majority of which arrived by air.
An artist's impression of what dining on the Crystal Esprit's patio will look like (Crystal Cruises) Photo License: CC-BY
"We have a market for eco-[tourism] destinations that have tropical unspoiled waters and wildlife," she said. "There is much to see and experience and our yacht is perfect for this destination."
Aside from calling at Port Victoria, the main port of call on the main island of Mahe, the seven-day cruise will explore some of the Seychelles' most beautiful onshore spots, including Sainte Anne Island, La Digue; Praslin, Curieuse Island, Cousin Island; Aride; Grande Soeur Island; and Desroches Island.
According to Morgan, there is an exclusive booking period reserved for the cruise line's Crystal Society Members from now until August 31, and thereafter from September 1, the cruises will be open to the public for bookings.
The Yacht Club restaurant aboard the exclusive Crystal Esprit (Crystal Cruises) Photo License: CC-BY
So far, the response has been described as "tremendous" - the inaugural cruise on December 23 is already 50 percent sold out from FIT (free independent traveller) sales and charter requests.
The luxury cruise line has already published its itinerary through until early 2018, with the inaugural cruise scheduled for the end of 2015, 10 cruises for 2016 and 11 for both 2017 and 2018.
"Our Destination Team has put together some amazing experiences at each of the ports we visit, from cultural to active adventure tours," Morgan told SNA.
"We will offer, where applicable, bicycles so that our guests can go out touring leisurely on their own. We have longer, overnight stays at ports where there's a lot for our guests to do, and at others such as in the Seychelles we have shorter stays for quick hikes, or even private beach time for our guests."
The Crystal Esprit will be equipped with a yacht tender, four zodiac boats, Jet Skis, kayaks, scuba equipment and a two-passenger submarine, allowing its guests to freely explore the Seychelles' crystal-clear waters teeming with marine life.
The luxury yacht will offer guests Crystal Cruises' six-star experiences mingled with the adventure of being aboard a vessel fully equipped for exploration and adventure (Crystal Cruises) Photo License: CC-BY
Morgan told SNA that the type of client Crystal Cruises were trying to attract on this cruise would be "active adventure-seekers" and those guests, whether corporate or private family groups, that would enjoy expedition sailing away from crowds.
In addition to the Seychelles cruise, the Crystal Esprit will be offering cruises to the Greek Isles, Arabian Gulf, and the Adriatic Sea.
Almost 80 percent of Crystal Cruises' clientele are from North America, with the remainder being made up of a variety of different nationalities. 
Tourism
» Be a reporter: Write and send your article
» Subscribe for news alert