First Seychelles' kiddies carnival impresses crowds
Children from Bel Eau school dressed as school stationary at the first Seychelles Kiddies Carnival (Joe Laurence, Seychelles News Agency)
Send to Kindle
(Seychelles News Agency) - The 14 schools that participated in Seychelles' first kiddies carnival held this afternoon at Freedom Square in the capital of Victoria amazed the crowd with their display of vibrant and colourful costumes.
Despite showers at times the children coming from mainly primary schools on the main island of Mahe and one school from the second most populated island of Praslin joyfully paraded and performed their choreographed moves in front of the jury.
Their colourful costumes mostly made of recycled materials were depicting various themes, quite a few had chosen the sea as the Indian Ocean island nation is surrounded by the sea, but there were other themes like Aladdin, butterflies, pirates, garden of fairies amongst others.
A little over an hour after the children's carnival started on this last day of the fourth Carnaval International de Victoria, it was time for the jury to announce the winners.
All participating schools received a trophy but there were special prizes for the school depicting the best carnival spirit, the one showcasing the most creativity, the group with the largest number of participants and of course the overall first second and third prize.
Anse Aux Pins school with their display themed banana clown (Joe Laurence, Seychelles News Agency) Photo License: Attribution
Independence school's performance themed Oldies but goodies (Joe Laurence, Seychelles News Agency) Photo License: Attribution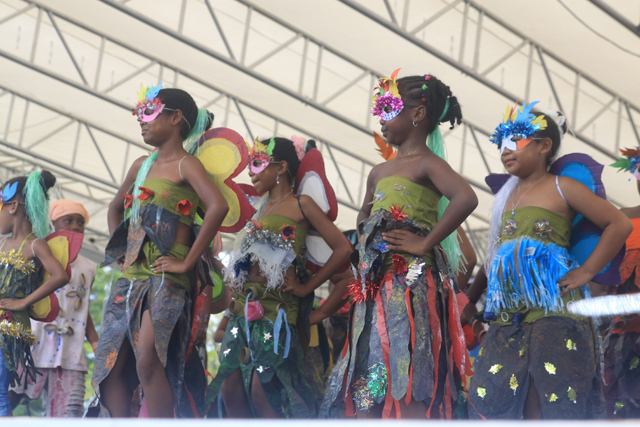 Mont Fleuri primary school displaying myths and legends of the sea (Joe Laurence, Seychelles News Agency) Photo License: Attribution
Awarding of Prizes
Best Carnival Spirit – Anse Aux Pins primary school
Best Creativity – Mont Fleuri primary school
Size of the group – Independence school
Overall third prize – Plaisance primary school
Overall second prize – Anse Aux Pins Primary school
Overall first prize – Bel Eau School
Bel Eau school was represented by two groups, the smaller children displayed a fairies garden and while the older ones were dressed as what they usually use in school every day such as computers, sharpener and pencil made out of coloured paper, cardboard boxes, amongst other recycled materials.
"I was representing a whistle used during physical education," said Bel Eau's Petra Volcere.
"I am very happy we won," she added.
Lindy Charles a teacher at Bel Eau school who with the help of other colleagues had helped the children to prepare their float said they were not expecting to win.
"We were afraid and a bit down because we saw that the Anse Aux Pins school was very good but when they announced Bel Eau as the winner we were very happy," said Charles.
The winning school of the first kiddies carnival (Joe Laurence, Seychelles News Agency) Photo License: Attribution
An impressive crowd had filled up Freedom Square to support the first ever kiddies carnival in the Seychelles.
"It was fantastic, hopefully next year there will be more participants and as a first time I'm sure it will only get better," said Dorina Joineau.
"Well I feel that since there was a lot of rain, and the kids had to perform on stage instead of parading, the spectators were not able to get a close enough look," said Simon Camille.
"I think it was just so cute in their outfits and the kids got the chance to be stars for a few hours," said Pauline Rose.
Lima Calbio from Trinidad and Tobago who has been to every Carnaval International de Victoria since the first one in 2011 has spent the last month preparation the kids for today's show.
Speaking to SNA after the event Calbio said she was satisfied with the kids' performance.
"Well the weather changed our plans a bit, because the children were supposed to be parading all the way down freedom square, but I can say that the children's spirits were still as upbeat and full of life," said Calbio.
"I can say that overall it was a nice day for the children and the teachers. The onlookers on their part also looked quite entertained and impressed."
When asked about her hopes for the next kiddies carnival this is what Calbio had to say: "If the Seychelles would like me back, as I've attended all the carnivals since 2011, I would be happy to assist the children because I am all about the children, it's important that they are happy."
Arts & Culture
» Be a reporter: Write and send your article
» Subscribe for news alert