A date with the coolest cars in Seychelles: modified cars show attracts bigger crowd this year
Some 65 cars were featured in the second edition of the modified cars show organised by the Seychelles Modified Cars association. (Joe Laurence, Seychelles News Agency) Photo License: CC-BY
Send to Kindle
(Seychelles News Agency) - Following the success of last year's first-ever modified car show in Seychelles, an even bigger crowd turned up at the NSC Hall on the main island of Mahé last Saturday in the hope of being amazed by some of the coolest cars in the Indian Ocean archipelago.
With entry tickets costing almost $4, the spectacle brought together car owners of different brands available on the island as well as a few motorcycle owners.
This was their chance to showcase the difference that simple things like changing the fuel pump or changing injectors for example, can make to their vehicles.
The Seychelles Modified Cars (SMC) Association counted some 65 car owners who had responded to the invitation to participate in the second edition of the popular event.
"Although we expected more participants, we were still very happy with the outcome. It was definitely a great success," Justin Hoareau, a member of the SMC and one of the organisers of the car show, told SNA.
"Seychelles is a very small community which means that there are not many people with modified cars, luckily those who do own one, are very involved and keep coming up with new ideas."
The event was an opportunity for car lovers to showcase interesting things which can be done to a car to make it unique. (Joe Laurence, Seychelles News Agency) Photo License: CC-BY
The NSC Hall was filled with the roaring sound of the engines as those dreaming of owning a 'mean' machine of their own one day and a curious crowd including young children went around to see what modified cars are all about.
"I love the show, I love the environment, and I love the turnout," Sebastian who was in the crowd told SNA.
While some of the crowd was repeating last years' experience for others it was a totally new thing to witness a car show.
"This is my first year to the car show, I think that it should be good. I love the new Honda they have put on display, and I love the 'models' around," said Fabrice.
"It is an amazing environment with plenty of cars, however, there could have been more custom-made cars and not cars that came directly from the factory. It is true that we do have some cars that are modified, and they are very impressive indeed. The show itself is an impressing event, and I, as a father, find it to an interesting event to attend with my son... he absolutely loves the cars. Looking forward to next years," Gilbert told SNA.
Prizes were up for grabs for the best car at the show. (Joe Laurence, Seychelles News Agency) Photo License: CC-BY
At the inaugural event last year, the organisers SMC, an association made up of mostly young adults, told SNA that modified cars are often regarded as taboo in today's society, mostly because they are related to street racing but added that their aim was not to promote street racing but rather to show people all the interesting things which can be done to a car to make it more fascinating.
"I was a bit reluctant at first because I didn't want any potential damages to my Toyota, but it is a good event and no regrets," said one of the car owners participating for the first time this year.
For Nick, he explained that he just loves the thrill in owning and flashing a new engine.
"My car is an Evo 6 - and that is my baby. SMC provided me with an opportunity to show and tell people about my car, it' a great event for us [modified car owners] to really get out there and say 'hey, I love this hobby and maybe you should consider it too.' I think that the organisers really provided a safe environment for this opportunity," he told SNA.
Even the youngest of car lovers were present at the event on Saturday. (Joe Laurence, Seychelles News Agency) Photo License: CC-BY
The modified car show was not only an opportunity to show what car modifying is all about but there were also some prizes up for grabs for the best of the show meaning the one car that wowed the majority of those present, best car brands, loudest car engine, the best classic car, among others. For these, people had to vote through SMS to designate the winners.
New this year was a contest for the best audio sound which saw two car owners take on the challenge. In an effort to keep the spectators hooked onto the action, the winners were chosen by the public on the same night.  
Steve Nibourette who initiated the Seychelles Modified Cars Association in 2009 before it was officially registered in 2014 said the prize giving ceremony will be held soon.
Nibourette also explained to SNA that the association will soon be meeting to have a proper executive committee in place and that one of their task will be to decide the future of the car show which has undoubtedly become an attraction.
"We want to make it better...Seychelles is a small country so we do not want the activity to be saturated so we will have to see if we will have it annually or every two years."
SNA presents a collection of photos taken at the modified cars show on Saturday August 1, at the NSC Hall at Roche Caiman taken by Joe Laurence, Seychelles News Agency. Photo License: CC-BY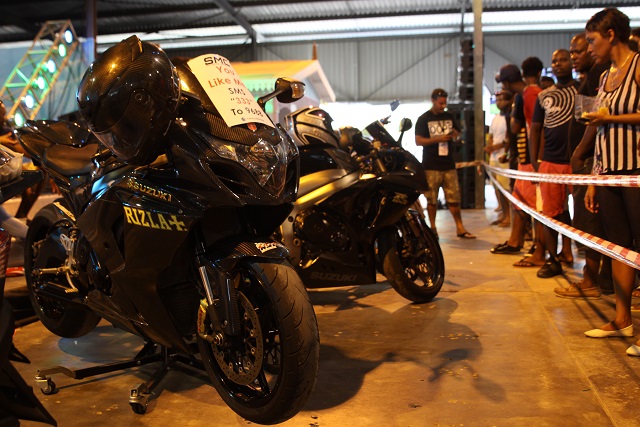 General
» Be a reporter: Write and send your article
» Subscribe for news alert