High Jump specialist wins Seychelles first gold medal at the Indian Ocean Island Games
Lisa Labiche made Seychelles proud on Monday winning the island nation's first gold medal at the 9th IOIG. (Patrick Joubert, Seychelles Nation)
Send to Kindle
(Seychelles News Agency) - Competing in Reunion island's 'Stade Paul-Julius Bénard' late yesterday afternoon, Seychelles high jump specialist, Lissa Labiche managed to clear the bar at 1.81 metres – a good enough performance for her to clinch the event's gold medal.
This was more than a personal achievement for the athlete who was crowned Seychelles Sportswoman of the Year in 2012 as her good result also gave Team Seychelles its first gold at the 9th Indian Ocean Island Games (IOIG).
Labiche clearly dominated the finals of the high jump event as her closest rival Jade Paroix from the host nation managed a jump of 1.66 metres to win the silver medal followed closely by another athlete from Reunion Alize Brette who took home the bronze medal having cleared the bar at 1.63 metres.
According to an article published in daily newspaper Seychelles Nation this morning although she is happy to have won the gold, which she noted was the first time track and field athletics had won the island nation its first gold medal at the IOIG, Labiche felt she could have done much better.
Her reaction is due to the fact that she holds the Seychelles national record of 1.92 metres which she established at the South African Open Athletics Championships held in Potchefstroom, South Africa, in May this year.
"I think I was not concentrating as much, but I am happy to have won the gold medal and I dedicate it to my daughter," said Labiche in the Nation article.
Still according to the article, the young promising athlete who won two gold medals in the last Indian Ocean island games held on home territory in 2011 will be attempting another gold medal in her other specialty 'Long Jump' where she has predicted a 6.30 metre performance.
At the end of the second day of competitions in Reunion island, Seychelles results stood at 1 gold, 1 silver and 6 bronze medals.
It was long distance athlete Iven Moise who clinched the silver, also Seychelles first silver medal, as he came out second in the 10,000-metre race finals behind a Madagascan athlete.
Iven Moise in action in the 10,000-metre race on Sunday at the end of which he clinched the Silver medal. (Patrick Joubert, Seychelles Nation) Photo License: CC-BY-NC
After its first two bronze on Sunday, Seychelles additional four bronze medals on Monday all came in athletics.
In the adapted shot put finals for the men, Richard Sophola managed a throw of 8.10 metres to win third place behind Mauritius' and Reunion's finalists while Dean William managed a 49.62 metre hammer throw finals, which was again dominated by Mauritius and Reunion.
Dean William (far right) posing with his bronze medal won in the hammer throw event alongside the gold medal winner from Mauritius and Silver medalist from Reunion. (Patrick Joubert, Seychelles Nation) Photo License: CC-BY-NC
The other two bronze were won by two Seychellois ladies Athina Freminot in Triple jump (11.82 metres), and Ana Barra in the women's 5,000 metre race walking event. Barra completed the race in 28 minutes 58.61 seconds.
At the end of the 2nd day of intense competitions Seychelles was ranked in fourth place on the medal table. Mauritius, Madagascar and Reunion islands are ranked first, second and third with 12, 10 and 8 gold medals won so far respectively.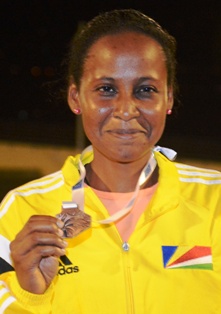 Photo 1: Ana Bara, Seychelles Bronze medalist in the 5,000 metre race walking and Photo 2: Athina Freminot Seychelles Bronze medalist in Triple jump. (Patrick Joubert, Seychelles Nation) Photo License: CC-BY-NC
On home territory in 2011, Seychelles won 123 medals in the Indian Ocean Island Games including an unbeaten 57 gold medals.
The 9th IOIG will come to an end next Sunday.
Sport
» Be a reporter: Write and send your article
» Subscribe for news alert