5 stars and a big heart: the H Resort opens with a focus on Seychelles culture, community
Comfortable lounge chairs and young palms dot the front steps outside the lobby and restaurant area (Joe Laurence, Seychelles News Agency)
Send to Kindle
Monday will mark the opening of the latest 5-star resort to grace the beautiful shores of the Seychelles archipelago: the H Resort Beau Vallon Beach. But unlike many of its competitors, this 100-bed boutique hotel has put the Creole culture and the island's vibrant community at the very heart of its offering to visitors.
Situated on a three-hundred metre long stretch of one of the Seychelles' most iconic and popular beaches, the hotel's General Manager, Dominique Richard-Hebert, says he hopes the hotel will become a big part of the Seychellois social scene.
SNA came to interview Richard-Hebert on Thursday when the hotel opened its doors to allow the Seychellois public to get the first sneak peek of the establishment. And with hundreds of people swarming in for guided tours, it seemed apparent that the community was more than happy to accept the new hotel as a new and exciting member of the Beau Vallon family.
The brainchild of interior designer Andres Escobar, who worked with an Italian mosaic company to convert iconic art and photography into two glass mosaic wall murals gracing the hotel lobby, one featuring a replica of a Jane Ball photograph of coral fans (pictured) and another of a school of fish on a coral reef. (Joe Laurence, Seychelles News Agency) Photo License: CC-BY
When ushered through to the hotel's main lobby via a covered wooden walkway which traverses the freshwater lagoon, once in the lobby the visitor is treated to a visual delight: a light and airy double-volume ceiling, lined with tinkling alabaster chandeliers, with the gaze sweeping slowly downwards to feast upon an exquisitely-crafted mosaic wall mural.
On the opposite end is an opulent big-city style bar, decorated in luxuriously-lit wood and glass.
Waiting for the general manager, I notice that there is still much to be done: the finishing touches are still being added, and the landscaping is still very new.
But there's much to be said for the architecture and interior design, featuring clean modern lines and open spaces contrasted with the warmth and ruggedness of wood, with all its brown and red undertones. Throughout, the plantation-style louvres and boat-propeller ceiling fans give the place a quintessentially Seychellois feel.
I get the distinct feeling that the atmosphere at night must be amazing; just close enough to the beach and the social activities happening outside, but still immensely tranquil and private on the inside, with soft lighting around the lagoon and pool areas.
Dominique Richard-Hebert, the General Manager of the H Resort Beau Vallon Seychelles (H-Hotels) Photo License: CC-BY
Richard-Hebert, originally from Montreal, Canada, is no stranger to this kind of environment, with experience in 12 different countries, including the Caribbean, and he believes that one of the ways to Seychellois hearts will be through their stomachs.
"We want to make sure that our hotel is not only a hotel for foreigners or tourists; it's also for the local people. We have quite an array of F&B [food and beverage] outlets, and we would like to ensure that the local population gets to know the place and that hopefully they become our clients."
The brainchild of interior designer Andres Escobar, who worked with an Italian mosaic company to convert iconic art and photography into two glass mosaic wall murals gracing the hotel lobby, one of coral fans and another of a painting of a school of fish on a coral reef by artist Elizabeth Sadler (pictured) (Joe Laurence, Seychelles News Agency) Photo License: CC-BY
First international chain restaurant coming to Seychelles
"Quite an array" is a slight understatement - before the end of this year, there will be no less than seven different food and beverage outlets in the hotel, each offering something unique and special.
1502, the main bar, is named after the year the Seychelles islands were first sighted. Open all day, it serves flatbreads and tapas, while the other poolside bar, called Ripples, serves cocktails and international fare.
Vasco's restaurant, named after the famous Portuguese explorer Vasco de Gama, lies adjacent to the main lobby and bar, and serves Mediterranean-style food throughout the day in the semi-open dining area which looks out over a calmly-rippling infinity water feature and Beau Vallon's calm waves can be seen lapping at the shore not 20 metres away.
The dining area known as Eden is a night-time outdoor barbeque which Richard-Hebert describes as a "bit of a barefoot chic type of thing" - and situated between the beach and the pool areas, it's the perfect place to enjoy grilled seafood and meat.
Whether relaxing at the pool or chilling at the spa, the imposing and frequently cloud-covered mountains encircling the Beau Vallon Bay provide natural scenery that is second to none (Joe Laurence, Seychelles News Agency) Photo License: CC-BY
"We have also an area called Tete-a-Tete, which are basically tables of two, where the chef and the F&B manager meet up with the couple the day before to prepare their menus based on whatever you want to eat," Richard-Hebert said. "The chef can take you to the market - if you want to you can choose your own fish - and you'll have your own butler, your own waiter to serve you."
In a thatch-roofed restaurant nestled beside the lagoon, visitors will find the Seyshima restaurant which serves Japanese teppanyaki cuisine, where guests can experience cocktails followed by set menus grilled in the teppan.
Finally, The H will be the setting for the first international chain restaurant in Seychelles, Trader Vic's, which is due to open in November. The chain of around 20 restaurants started by San Franciscan trader Vic Bergeron in the 1930s offers a mixture of French, Polynesian and Asian influenced cuisines.
Of all these outlets, Richard-Hebert says the only two which will operate on a reservation-only basis will be Eden and Seyshima, as the two restaurants will likely be operated on alternating days.
"[There will be no reservations necessary] for the rest of the restaurants, the pool bar, Vasco's, 1502, and eventually Trader Vic's, which we hope will become a hub for the Seychellois people, it's next to the parking lot, it's very convenient, you don't have to go inside the hotel," said Richard-Hebert.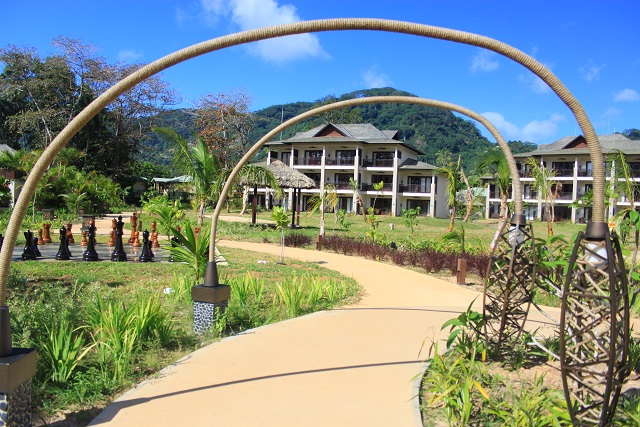 Despite the landscaping still being rather new, it holds great promise for the future, featuring winding pathways, leafy palms and private gazebos with loveseat swings (Joe Laurence, Seychelles News Agency) Photo License: CC-BY
A soft opening: 'We didn't want to rush it'
The 'H' brand is still in the awkward teething stages of transitioning from its first hotel in Dubai to becoming a fully-fledged group, and the Beau Vallon Seychelles property will be the first step in that changeover.
"Actually the H Group is expanding in several areas; they're expanding into Europe, the sub-continent, other areas in the middle east and also the Indian Ocean," said Richard-Hebert. "I think that one of the first projects that was coming up was this one, and expanding the group in an iconic or an idyllic situation, a paradise island like the Seychelles, was just a great idea."
Richard-Hebert added that the group was owned by an investment group in the UAE.
The classy neutral tones and textured decor is perked up with a splash of vibrant colour (Joe Laurence, Seychelles News Agency) Photo License: CC-BY
For Monday's opening however, it's not likely there will be droves of guests knocking down the doors.
"We wanted to take the month of August and September slowly, and we didn't want to really overdo in terms of our guests. We want to make sure that we train correctly, get it right and represent the island right, represent the Seychelles right," said Richard-Hebert.
With 84 suites and 16 private beachfront villas, a fully-equipped gym and yoga centre, a fun and interactive kid's club and a high-tech spa run by Scottish-born holistic expert and life coach Steve Harvey, the GM is confident that the H Hotel ticks all the right boxes.
Standard rooms start at 475 euros including breakfast, and Richard-Hebert said there would soon be attractive resident packages on offer for local guests.
The kid's club, called Treetops, will be open seven days a week for children from three to 12 years of age (Joe Laurence, Seychelles News Agency) Photo License: CC-BY
A young team, island style
With a predominantly young team of under 150 staff members, which is expected to swell to over 200 within the next year, the hotel management will doubtless need to work to hard to ensure a good service ethic and professionalism, but Richard-Hebert is not overly concerned.
"I think it all comes down to the people and the team that you have. When opening a property, there are always teething problems, that's a normal thing. I've done several openings... and we've got a good team in F&B, we've got a good chef, a good F&B manager," he said.
Although the percentage of Seychellois in the staff complement currently lies at 36, the GM wants this to get closer to 50 percent within the first year and a half.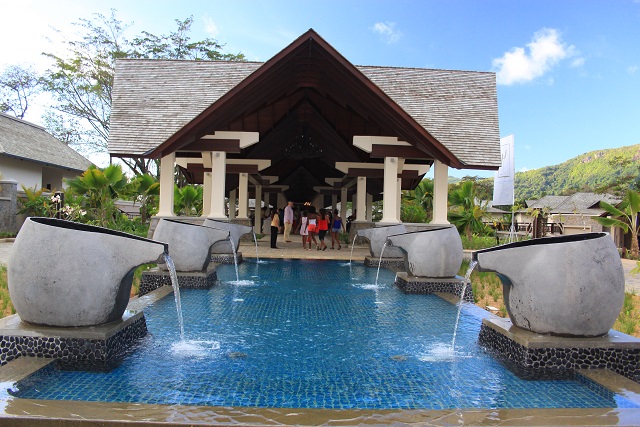 A water feature marks the entrance of the wooden walkway which leads to the main lobby of the hotel, where the general manager greets a batch of open day visitors (Joe Laurence, Seychelles News Agency) Photo License: CC-BY
"We've put together a young, vibrant team that's here and willing to train people and teach people how to do things," he said.
"I have two department heads who are Seychellois, I have several assistant department heads who are Seychellois, me personally, I would love to see a lot of Seychellois get promoted as quickly as possible... we have a lot of young, promising people here."
Richard-Hebert believes the only thing that's essential is a can-do attitude.
"Myself, I come from the ranks; I started out thirty years ago as a dishwasher, and I grew up through the kitchens, I became a commis, a chef de partie, sous chef, executive chef etc, and I've been closer to the lower ranks in that sense and I believe in promoting and ensuring that people get training to get a chance, a proper chance," he explained.
But he also doesn't think that having a so-called 'island mentality' is necessarily a bad thing, and the resort is marketed as 'relaxed island chic'.
"I've worked in island environments before... I don't think it's any different from many places across the world; there are a lot of people who want to work…"
"I worked for four years in Spain, and the Spanish motto is 'never do today what you can do tomorrow' - it's what fits to the environment, I mean this is an island, and tourists are coming here - of course to have five-star service - but they're not in downtown New York… they're on vacation!"
Tourism
» Be a reporter: Write and send your article
» Subscribe for news alert