Seychelles passport accessible to 129 countries by December as visa waiver agreement with Russia comes into force
Saint Basil's Cathedral located in the Red Square in Moscow, a popular tourist attraction pictured during the winter. A visa waiver signed between Seychelles and Russia will allow Seychelles passport holders visa free entry for a maximum stay of 30 days once it comes into force in December. (Salifa Magnan, Seychelles News Agency)
Send to Kindle
(Seychelles News Agency) - Seychellois nationals will no longer need to apply for a visa when travelling to Russia, once a visa waiver agreement signed between the two countries comes into force.
The visa waiver is expected to come into effect before year-end, possibly just in time for Seychellois nationals looking to spend a white and cold Christmas during the Russian winter.
Currently, Seychellois nationals visiting Russia need to apply for a visa at the Russian Embassy in Seychelles; depending on the purpose of the visit, the procedures can take up to two or three days.
Once it comes into force, the visa waiver signed Wednesday afternoon, between the Seychelles Foreign Affairs and Transport Minister Joel Morgan and the Russian Ambassador to the Seychelles, Vladimir Belous, will allow all Seychelles passport holders visa free entry for a short stay of up to 30 days.
In an interview with the local press, Belous explained that there had been a lot of delays to finalise the agreement with Seychelles, in spite of Russia having a permanent diplomatic presence in the Indian Ocean island nation for many years.
"There were discussions in different ministries in Russia and some amendments needed to be made with the agreement, so we had to go back and forth between the two states to make sure everything was up to standard. For example the types of passports that are used in Russia and travel documents used in Seychelles are different so we had to settle these matters. This is why it took time," said Belous.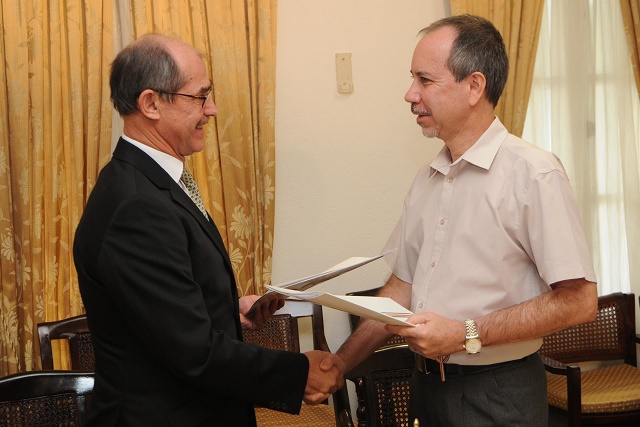 The short stay visa waiver agreement was signed by the Seychelles Foreign Affairs and Transport Minister Joel Morgan and the Russian Ambassador to the Seychelles, Vladimir Belous on Wednesday. (Patrick Joubert, Seychelles News Agency) Photo License: CC-BY
Existing and potential areas of cooperation 
Seychelles and Russia have enjoyed diplomatic relations since the Indian Ocean archipelago gained its independence in 1976.
The two countries have over the years enjoyed cooperation in the military field where Seychellois military personnel are exposed to training opportunities in Russia. A number of Seychellois have also studied and are still being sent to pursue further education opportunities in Russia.
"With this short stay visa waiver agreement into Russia we now open up many possibilities for cooperation in all areas of society and we look forward to when this visa comes into force," said Minister Morgan.
Tourism is another area of cooperation, although exact figures on the number of Seychellois nationals travelling to Russia is not known; Seychelles having a visa-free entry for tourists welcomes many Russian visitors to its shores each year.
In 2014, Russian tourists to Seychelles according to the National Bureau of Statistics, NBS, numbered 14,793, in fourth place behind France, Germany and Italy.
The Foreign Affairs and Transport Minister also Chairman of Air Seychelles highlighted on Wednesday that the national carrier had been considering the possibility of resuming direct flights between Seychelles and Moscow, which would help to facilitate access for both Seychellois nationals willing to visit Russia and Russian visitors which is an important market for the island nation's tourism industry.
However, he told journalists that due to economic issues and sanctions being faced by Russia at the moment, plans to fly to Moscow have been postponed.
"It is in our plan to monitor the market for the future and decide at the right moment when we can achieve success, and then we will launch the new route..."
Seychelles passport to be accessible in 129 countries
Once it enters into force, the visa waiver will make Russia the 129th country to allow Seychellois nationals enter without requiring a visa, to be granted a visa upon arrival or enter visa-free for a specific time period. Before Russia the most recent agreements have been signed with Palau, Indonesia and the United Arab Emirates.
"I think that says a lot for Seychelles, it says a lot for the respect that our country, our people and our government has in the international community…It is important for Seychellois to be able to prospect outside of the world into the world in order to be able to further our commercial cultural, economic and tourism ties," said Morgan.
An infographic published by GOOD Magazine last year, which ranked countries according to the number of countries their passports can enter either without a visa, or with a visa on arrival said Seychelles was the African passport with the best access to the world.
At that time it was revealed that Seychelles passport holders have access to 126 countries.
Diplomacy
» Be a reporter: Write and send your article
» Subscribe for news alert