Seychelles wins two bronze medals at the 2015 All-Africa Games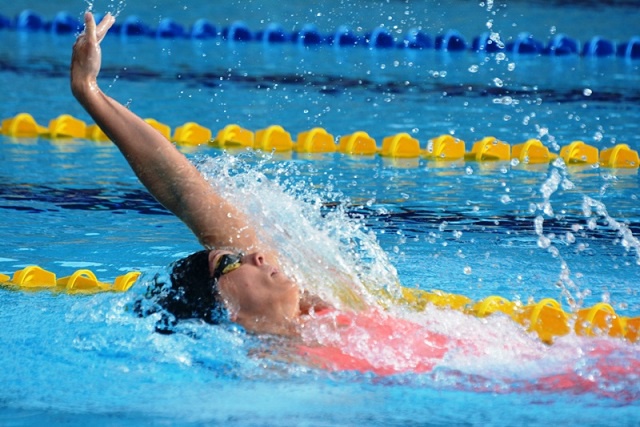 Alexus Laird in action in the backstroke event (Seychelles Nation)
Send to Kindle
(Seychelles News Agency) - After making her debut in the Indian Ocean Island Games in Reunion last month winning three gold medals, Seychelles swimmer Alexus Laird has won her first bronze medal at the ongoing All-Africa Games being held in Congo Brazzaville.
Swimming in the 50 metre backstroke finals on Sunday, US-born Laird, was third to reach the finish line in 30.07 seconds behind South Africa's Jessica Ashley-Cooper and Botswana's Naomi Ruele who won first and second place respectively.
Laird is the only swimmer representing Seychelles at the 11th All-Africa Games which got under way last Friday September 4.
Laird's bronze medal on Sunday is in fact the second won by the Indian Ocean archipelago. Badminton players Juliette Ah-Wan, Cynthia Course, Alisen Camille, Steve Malcouzanne, Georgie Cupidon, and Kervin Ghislain also won bronze on Saturday in the team event.
The Seychellois players lost 3-0 in the semi-finals against South Africa which won the silver medal while the neighbouring Indian Ocean island of Mauritius claimed the gold medal.
In the collective sports, the women's volleyball team is also producing some good results having won three group matches so far.
Drawn in Pool A alongside Egypt, Senegal, Ghana, Botswana and Congo, Brazzaville, Seychelles has won all three group matches played so far.
The island nation's women's volleyball team, which retained its Indian Ocean Island Games title in Reunion last month claimed a 3-2 victory over Senegal in its first match last Wednesday, going on to defeat Botswana 3-1 on Saturday before achieving another 3-1 victory over Ghana yesterday.
Seychelles still has to play against Egypt and the host country Congo, Brazzaville, both of which have also won all three matches played so far.
The island nation's complete delegation to the 2015 All-Africa Games, which is marking its 50th anniversary this year, amounts to 110 comprising of athletes, coaches and officials.
Seychellois athletes from 12 sports disciplines will be competing against opponents from over 50 African countries in the quadrennial games, which will come to an end on September 19.
The athletes have been promised monetary rewards as a motivation to achieve good results.
Fifty thousand Seychelles rupees ($3,862) will be given to gold medalist, twenty-five thousand ($1,931) and fifteen thousand ($1,158) to silver and bronze medalists respectively.
Sport
» Be a reporter: Write and send your article
» Subscribe for news alert