Progress in Seychelles-Tanzania talks on sharing marine area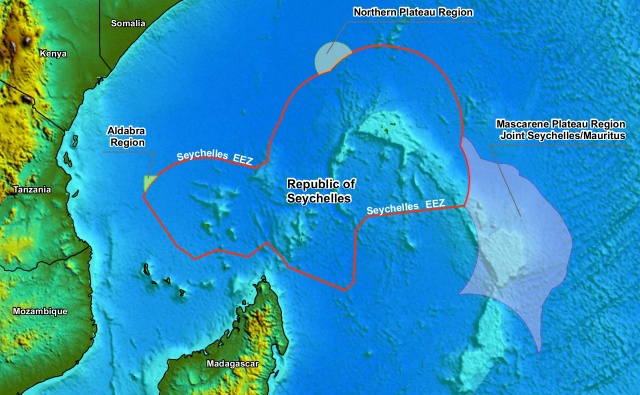 Aldabra Region (left) proposed for shared management between Tanzania and Seychelles. Also visible is area managed by Seychelles and Mauritius, and the Northern Plateau Region, a claim submitted by Seychelles to the UN. (Seychelles News Agency)
Send to Kindle
(Seychelles News Agency) - Seychelles and Tanzania have identified an area of extended continental shelf near the Aldabra region of the Indian Ocean that would be the subject of a joint submission for shared management to the United Nations. 
The first of a series of talks at the Seychelles Ministry of Land Use and Housing ended this afternoon. Further negotiations will continue in two months' time.
The proposed area is 200 nautical miles beyond Seychelles' baselines on Aldabra island.
"The meeting has gone very well but the process has not yet started as we have to take all proposals to our governments for further consideration and endorsement," said Tanzania's advisor on boundary matters in its Ministry of Lands, Housing and Human Settlements Development, Zabron Masele, in a press interview at the end of the meeting.
"Now both parties will hold further talks with their respective governments before the two negotiating delegations meet again in March. This time in Tanzania, where it is expected discussions on the procedures to build up the submission itself will start," said the chairman of Seychelles' Maritime Boundary Delimitation Committee Raymond Chang-Tave.
Chang-Tave believes Seychelles' experience with Mauritius is an example that could help reduce the length of time the discussion with Tanzania would take.This is the second time Seychelles is proposing such submission to the United Nations. The first was with Mauritius in March 2009 for the shared management of the Mascareignes plateau region, an extended continental shelf of around 396,000 sq km. The submission was adopted by the UN in March 2011, and the two countries signed treaties for the management of the area in March 2012.Once the submission is completed and adopted by the United Nations, which can take up to two years, both countries would the management and exploitation of any natural resources which are found in the area of shared maritime boundary.
One of the Seychelles islands and a UNESCO World Heritage since 1982, Aldabra is the second largest coral atoll in the world, boasting a wide range of unique flora and fauna, and a home to the world's largest population of giant tortoises, where 150,000 tortoise live in isolation.
There are more tortoises than human residents in the Seychelles islands, which have a population of 90,000 inhabitants.
Diplomacy
» Be a reporter: Write and send your article
» Subscribe for news alert