Canvases of a thousand grains of sand: world-renowned Indian artist works his magic on Seychelles sand
World-renowned Sand artist Sudarsan Pattnaik posing in the Seychelles capital of Victoria next to his magnificent sculpture of Mohandas Karamchand Gandhi, popularly named by his honorific title of 'Mahatma' and the Three Wise Monkeys, known throughout the world as symbols of peace. (Joe Laurence, Seychelles News Agency)
Send to Kindle
(Seychelles News Agency) - A trip to the beach is naturally a regular occurrence among the Seychelles population of around 93,000, as the archipelago of 115 islands in the Indian Ocean is surrounded by breathtaking powder-white beaches and clear tranquil waters of turquoise and blue.
As the sea-lovers take a dip in the sea, young children are commonly seen attempting to build a few sand castles, often helped by older siblings or parents.
Interestingly, in spite of the abundance of sandy beaches, there seems a lack of Seychellois artists keen to turn these blank canvases into pieces of art.
This may well change in future now that world-renowned Indian sand sculptor, Sudarsan Pattnaik, has started to nurture an interest in the art form among the island nation's population.
Pattnaik, who hails from the eastern state of Odisha, who has been manipulating sand since the age of seven, has set tongues wagging for the third annual Seychelles India Day celebrations combined with IndiaFest 2015, which kicked off on Friday.
"My childhood was a hard one, and although I had interest in drawing and painting… I could not afford materials. Sand is a cost-free canvas for me," the 38-year-old sand artist told SNA while showing off his first creation on Friday.
Pattnaik had labored throughout the previous night to create a masterpiece, of over two meters tall, using his self-taught skills to turn a pile of sand brought to the former children's playground in the Seychelles capital of Victoria into a magnificent sculpture of Mohandas Karamchand Gandhi, popularly named by his honorific title of 'Mahatma' and the Three Wise Monkeys, known throughout the world as symbols of peace.
The Three Wise Monkeys, the embodiment of the principle 'Hear No Evil, Speak No Evil, See No Evil', is an old Sino-Japanese tradition, and a philosophy safely guarded and imparted by Ghandi - who is also referred to as the Father of India - reflecting his dedication towards these principles.
This message of non-violence was the same sculpture that won Pattnaik the world championship award at the Berlin International Festival of Sand Sculptures in 2005.
Pattnaik explained that the sculpture is in honour of Ghandi, as October 2 was not only the International Day of Non-Violence, but also the birthday of the revered social activist, who led India to independence from British colonial rule.
The sand first sculpture done in Seychelles by world-renowned sand artist Sudarsan Pattnaik. (Joe Laurence, Seychelles News Agency) Photo License: CC-BY
The queen of the Ocean
Being in an island nation surrounded by sandy stretches of land, Pattnaik could not miss the opportunity of carving one of his masterpiece on one of the Seychelles beaches, and it was on one of the most popular, Beau Vallon, in the northern part of Mahé, that he caught the attention of tourists and locals alike on Sunday morning.
Working in an atmosphere of gentle breezes and turquoise water in the backdrop, the sculptor probably felt more at home as he worked through the white sand, aided by a team of helpers.
Preparation starting at the Beau Vallon beach for Sudarsan Pattnaik to start working through the sand. (Joe Laurence, Seychelles News Agency) Photo License: CC-BY
By 8 am Pattnaik's artistry was almost complete; revealing the figure of two beautiful turtles posing neck-to-neck, with a serene mermaid seated in the centre of the tableau, two baby turtles crawling onto her scaly lap.
Patnaik who is softly spoken and of very few words, explained that his works speak on world crises, and that in this particular sculpture, the mermaid is the queen and the voice of the ocean, and her message is "Save the environment."
However, Mother Nature herself threatened to ruin the artist's masterpiece as the tide rose inch by inch. Every wave lapping further and further up the beach threatened to mercilessly reclaim its sandy fringe. 
To avert the fruit of his labours being washed away by the sea, Pattnaik and his helpers quickly leaped into action, digging a trench and a sandy wall around the sand sculpture to try as much as possible to shield it from the rising ocean.
Luckily, the waves of high tide seemed to have reached their peak and subsided shortly before the official ribbon-cutting ceremony, which was performed by the Indian Minister for Culture, Mahesh Sharma, and his Seychellois counterpart, Alain St. Ange.
A team of helpers were at hand to help Pattnaik with the finishing touches. (Joe Laurence, Seychelles News Agency) Photo License: CC-BY
Amazement and delight for onlookers
The fascinating and unusual attraction had surely left a lasting impression on the onlookers, which included Seychellois including those of Indian origin, tourists as well as Indian nationals residing and working in Seychelles.
Seven year old Yan-Luc Morel revealed that he had been up since 6.30 in the morning, and had dragged his mother to come and see the artist at work.
Morel had already visited the sculpture of the 'Father of India' in Victoria on Friday but he would only be satisfied to see exactly how this amazing art is created.
"It's cool, it's nice, and very good," he told SNA, his voice full of excitement.
"I woke up early to come and see how they make it so I can make something like that one day…"
Curious onlookers from children to adults, locals and visitors alike were mesmerized by the sandy creations. (Joe Laurence, Seychelles News Agency) Photo License: CC-BY
The young boy's insistence had also enthused his mother who expressed satisfaction to see lots of parents bringing their children to watch the sculptor at work.
For visitors to the Seychelles shores it was a chance to see something they had not contemplated seeing before heading to the island nation.
"It's simply amazing, it's the first time I have seen anything like it, there is so much detail," said Justin, a visitor from the US while others including Anna and Valeria, from Russia, were busy capturing the art in photos.
For some Indian nationals residing in Seychelles, although they were aware that this art form existed in India, they were only seeing it for the first time with the Pattnaik's presence in Seychelles.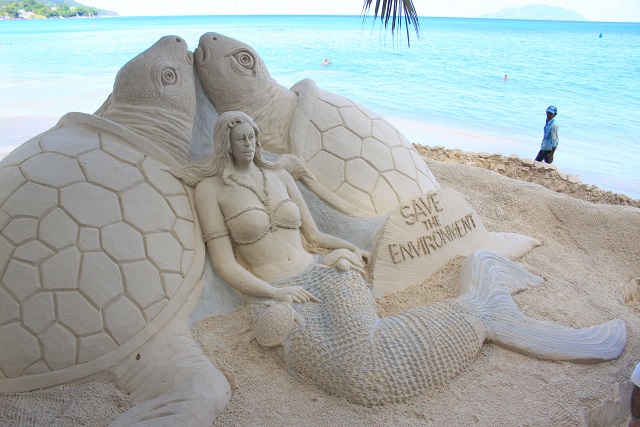 'Save the environment' Pattnaik's second sculpture displayed a conservation message. (Joe Laurence, Seychelles News Agency) Photo License: CC-BY
Seychelles – a hope for more inspiration
Rajesh Pandya, a member of the Seychelles India Day Committee, told SNA that having followed the artist for years he proposed to bring this experience to the island nation adding that he hopes Seychelles will help to inspire the sand artist's future projects.
"The artist does not speak much but he speaks through his art, what he wants to convey," said Pandya.
"I was amazed by the details, it comes out as something that looks like it is going to stay there forever," said Seychelles Minister for Tourism and Culture Alain St. Ange.
"We have the best beach in the world, and things like this don't hurt the environment. We should practice somewhere… there is nothing that stops us from having a day of sand sculpture activities," he added.
Seychelles Minister for Tourism and Culture Alain St Ange chats with the Indian sculptor finding out more about his passion. (Joe Laurence, Seychelles News Agency) Photo License: CC-BY
Accolades from all over the world
Other than winning numerous sand art competition in various parts of the world including in Europe, Asia and the US, Pattnaik is also good at sculpting ice which also won him an award at the 29th International Snow Statue Contest in Japan in 2002.
"The only difference between the two mediums is that one is cold," he told SNA.
The renowned sculptor explained that he started off using his fingers, and once in competition away from his homeland, he not only learnt that his childhood talent was a famous form of art but also discovered that he could work with specific tools to carve bigger dimensions, and that there were effective techniques to keep sculptures on the beach for longer than a month.
When questioned about where he draws his inspiration, Pattnaik said it comes from his canvas of sand and that his help comes from God.
"And although my art's life is short-term, in comparison to sculptures fashioned in more durable medium such as stone or wood, this art form generates another kind of appreciation for art, because it's there now and you are in haste to come and see, as it might not be there later."
"Seychelles has beautiful beaches, and there are lots of tourists coming here, sand is a beautiful medium to encourage tourism. The local artists can make beautiful sculptures on the beach so the tourists can appreciate," he told SNA.
Sudarsan Pattnaik started sand sculpting at the young age of seven and he founded an open air institute where he teaches the art to students of all ages. (Joe Laurence, Seychelles News Agency) Photo License: CC-BY
Pattnaik, who inspires students in his open-air institute, the Golden Sand Art Institute, India, which he himself founded, told SNA  that he guides about 50 students of all ages, both in the mornings and evenings on the beach of Puri, and that the school is as free as the materials graciously gifted by nature.
Meanwhile, in the tiny Indian island nation passers-by continue to take photos of the mesmerizing artworks for as long as they last.
Although the Seychelles India Day and IndiaFest 2015 comes to an end later today, Pattnaik will be creating his third and last sculpture on the Seychelles shores on Friday October 9 when he heads to the second most populated island of Praslin. 
Arts & Culture
» Be a reporter: Write and send your article
» Subscribe for news alert