French 'Bubble Tamer' wows Seychelles audiences with expert performance art
The Bubble Tamer at work: French performing artist Laëtitia Sioen uses mime and her skill with bubbles to weave a spell-binding story (Joe Laurence, Seychelles News Agency)
Send to Kindle
(Seychelles News Agency) - Who has not had a few moments of childish fun blowing bubbles with soap and water?  But unlike most people, French performing artist Laëtitia Sioen refused to leave blowing bubbles as a childhood pastime and instead turned the hobby into a professional artform.
Hailing from the French city of Toulouse, Sioen is part of l'Envers du Monde, an entertainment company which produces visual art and theatrical shows for audiences in different parts of France and around the world.
"I can make various forms of bubbles using my hands. But I also use different other materials and equipment… to entertain," said Sioen in an interview with SNA, adding that she has learned that bubbles can be used in various ways in order to entertain a crowd.
Seemingly effortlessly, Sioen creates slow-moving, glittering giant bubbles that snake slowly around her until they disintegrate (Joe Laurence, Seychelles News Agency) Photo License: CC-BY
Plunging her hands into a soapy tub, Sioen delighted a group of students of the Vijay International School, a private school on Praslin, the second most populated island of the Seychelles, with her bubbly creations.
The children frantically tried to do the same, although most did not succeed.
"It takes a lot of practise to be able to perform this art," Sioen told SNA.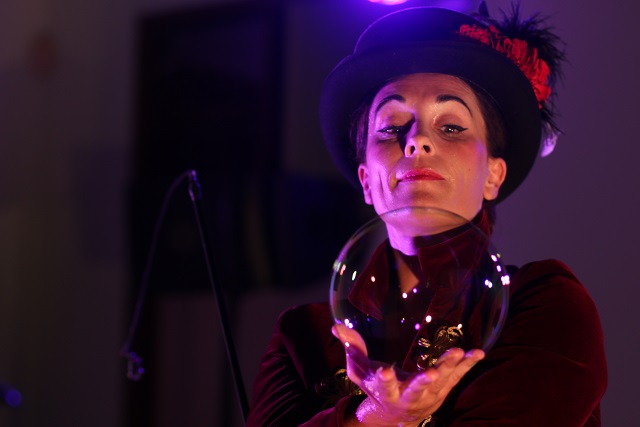 Sioen demonstrating precisely why she is called La Dompteuse de Bulles, or the Bubble Tamer (Joe Laurence, Seychelles News Agency) Photo License: CC-BY
Bubbles and mime
Although this form of entertainment was hitherto unknown in the archipelago of 93,000 inhabitants, the artist was well-received by children and adults alike at the various presentations and shows that she conducted during her recent week-long tour of the Indian Ocean archipelago.
Her tour also included a short stop on the third most populated island of La Digue where she wowed the crowd with her deft bubble-blowing skills.
It is not simply bubbles alone, but rather the story that she weaves during her performance that makes the show so special.
As 'La Dompteuse de Bulles' (The Bubble Tamer), Sioen uses mime, costume changes, a projector and music to tell the story of a toy ballerina who takes advantage of a mechanical problem in her music-box to escape and discover life in the real world.
At least the stage wouldn't need cleaning again for quite some time (Joe Laurence, Seychelles News Agency) Photo License: CC-BY
Outside the music box, the ballerina finds freedom and sets off to seek a great adventure.
Sioen also uses various props, such as smoke and helium, to help tell her story and create variety in the bubbles she creates, which range from millions of tiny, frothy bubbles, to giant, snake-like bubbles, bubbles filled with smoke, bubbles inside other bubbles and bubbles that never sink to the ground.
How did she do that? Children watching the show burst into applause at the unveiling of each new trick (Joe Laurence, Seychelles News Agency) Photo License: CC-BY
"I usually perform a little bit in the beginning and I show them how to do different things using water and soap," said Sioen, adding that children are usually spellbound by her performance. "I always find them very interested and amazed at what I can do."
Her show was also well received by audiences on the Mahe, the most populated island of the archipelago at Le Méridien Fisherman's Cove and also at the French cultural centre of L'Alliance Francaise, located in the capital of Victoria.
Sioen using one of her many props - a large glass tube - to fill a soap bubble with helium (Joe Laurence, Seychelles News Agency) Photo License: CC-BY
"I was glad to share my art with the public," said the artist. "In France, there are not a lot of people performing this form of art but it is becoming more and more popular. I think there must be ten artists working in France creating animation and shows with bubbles."
It was Alliance Francaise who invited the artist to Seychelles as part of their cultural programme to promote French in the archipelago.
The artist's performance in Seychelles was in honour of the 300th anniversary of the death of Dom Pérignon, the inventor of the famously bubbly drink of champagne.
Arts & Culture
» Be a reporter: Write and send your article
» Subscribe for news alert