Luxury combined with an environmental conscience: why the Seychelles island of Fregate is a true paradise
With lush tropical vegetation lining massive granite boulders and pristine beaches that are ranked among the world's best, privately-owned Fregate ticks all the right boxes for anyone wishing to feel truly one with nature (Gerard Larose, Seychelles Tourism Board)
Send to Kindle
(Seychelles News Agency) - Located 55 kilometres east of the Seychelles' most populated island of Mahé, Fregate Island is the one of the most idyllic island getaways of all the 115 islands in the Indian Ocean archipelago.
With lush tropical vegetation lining massive granite boulders and pristine beaches that are ranked among the world's best, privately-owned Fregate ticks all the right boxes for anyone wishing to feel truly one with nature.
Luxurious villas, which the island's exclusive resort has spent the last two years renovating, can be spotted from the sea, but they are carefully blended into the natural vegetation that cloaks Fregate's interior.
The island is teeming with very special birds, reptiles and plants due to the careful management of the island's ecosystem.
Utilised for around two hundred years as a coconut and cinnamon plantation during colonial times, the island's original indigenous vegetation was completely decimated.
Guests to the island usually travel by helicopter, affording them a superb eagle's-eye view of the island. (Gerard Larose, Seychelles Tourism Board) Photo License: CC-BY
Bought from its previous owners by a private investor in 1976, the island had to be meticulously restored by embarking on a painstaking rehabilitation programme.
"We're real! Everything here is real! We did not bring anything except a few plants to replace the invasive species but the rest are the results of years of hard work and conservation... we have many things to boast about," said Fregate Island Private's general manager, Wayne Kafcsak, in an interview with SNA.
Named by Portuguese explorer Lazare Picault after the Frigate seabirds, which can still be seen diving for food around the island's shores, the island is a perfect example of how tourism can complement conservation in Seychelles.
Spoiled rotten
With just 17 luxurious villas spread throughout the 219 hectares of lush vegetation, guests have seven of the most jaw-dropping beaches to enjoy throughout their stay.
The resort, which first opened in 1998, has been managed by German luxury hotel brand Oetker Collection since 2013.
"Even if we have 100% occupancy it is really rare to meet other guests [on the beach] because Fregate Island is not only about beaches. It is just one activity among others that are going on at the same time. We do have nice beaches but we promote much more," said Steven Larue, the guest services manager of Fregate Island Private.
This discreet island, the easternmost of the inner granitic islands of the archipelago, has much to offer to its visitors, including deep sea fishing, diving sites along the coral reefs surrounding the island and several conservation projects to investigate on land, such as a rigorous sea turtle monitoring programme.
"Come December, this is the best place you can ever be. You can have at least ten turtles up at one time. You can have hatchlings going down the beach. It is simply amazing," said Erin Gleeson, a conservationist on Fregate.
Last year a staggering number of 700 sea turtles were recorded on several beaches of Fregate, although Grand Anse remains one of the most frequented spot with 150 successful nests. (Seychelles News Agency) Photo License: CC-BY
Guests can also choose to participate in re-planting indigenous and native plants in areas where invasive species have been removed.
The project, which has already exceed the intended target of 100,000 plants, has helped to introduced special plants of Seychelles on the island which includes the Wright's Gardenia and several coco-de-mer trees.
Meals are served wherever the guest fancies it, such as in a treehouse perched in a banyan tree seven metres above the ground, at the original 19th-century plantation house, in the Pirate's Bar or even on any of the island's beaches.
The resort's luxuriously-renovated villas, cocooned among the vegetation in the exclusively private ambiance that the island is famed for. Each villa features its own infinity pool, jacuzzi and sun-terrace looking out over the calm turquoise waters of the Indian Ocean.
Historical aspects of the island such as the pirate's wall, which keeps stories of ghosts and treasures alive, have been carefully preserved, while others are on display through the island's small museum located at the plantation house.
Anse Victorin is amongst the most jaw-dropping beaches of Fregate Island, Seychelles. (Seychelles News Agency) Photo License: CC-BY
 Coming out of the woodwork
At dusk however, the island scenery takes on a different air. As the fairy terns and lesser noddies return to roost from a day of fishing, their evening chants echo throughout the island.
Despite the risk of experiencing a shower of seabird droppings falling on one's head, this time of the day is definitely the best to encounter a huge variety of wildlife, many of which are unique to Fregate Island alone.
Walking into the tropical forest of Grand Anse with its thick vegetation, an encounter with a Seychelles house snake or a Seychelles wolf snake (Lycognathophis seychellensis), is a possibility, although both snakes are timid by nature and non-venomous.
The giant millipedes, which can grow up to 30 cm long, can be found on many islands of the Seychelles, but the sheer number of these harmless creepy crawlies found on the forest floors of Fregate at night can be quite stomach-churning to the faint of heart as they rustle through leaves on thousands of tiny legs.
"They may look creepy but they play an important role in recycling all the leaf litter and because Fregate is a predator-free island, their population seems to have expanded exponentially," explains Gleeson, holding one of the millipedes in her hands for closer inspection.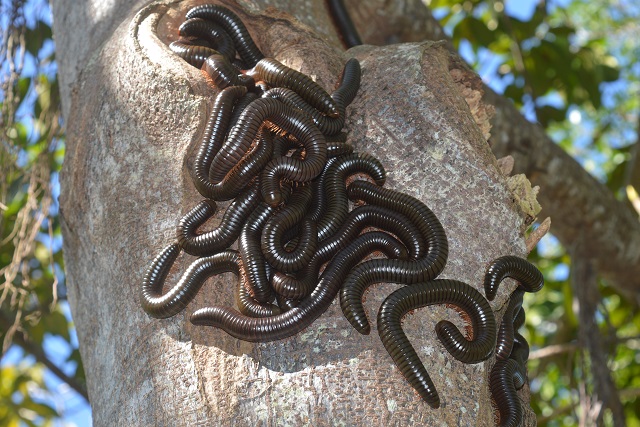 A collection of special species that are either endemic to the island or are highly abundant on Fregate Island. (Seychelles News Agency) Photo License: CC-BY
Only with the help of the ecological staff would one set eyes on rare insects such as the critically endangered Fregate giant tenebrionid beetle (Polposipucher culeanus) or the very special Enid snail (Pachnodus Fregatensis), scientifically named after the island as it cannot be found anywhere else in the world. 
Others such as the two species of terrapins; the yellow-bellied and the black mud varieties, the moorhens and endemic birds such as the Seychelles White-eye (Zosterops modestus)  and the Blue pigeons (Alectroenas pulcherima) are seemingly oblivious to the surrounding human activities and are permanent inhabitants of the island.
"The Seychelles Magpie Robin is another prized possession of the island as at one point this was the last place in the world where these lovely birds of Seychelles could be found. It is through Fregate's conservation project that they have been introduced to other islands such as Cousin and Aride but here they are almost 130 individuals and their population has continued to remain stable," said conservationist Tania Liebrick.
The wild herd of over two thousand giant tortoises which roam freely on Fregate are the only cause of commotion on the island as they often cause road blocks for the electric buggies transporting guests and staff.
Only with the help of expert eyes can a visitor find special species such as the critically endangered Fregate giant tenebrionid beetle (Polposipucher culeanus) which apart from Fregate only has a captive breeding population at the Zoological Society of London. (Seychelles News Agency) Photo License: CC-BY
Renewing, improving and exciting
For the islanders of Fregate, life rotates around the guests. The 150 staff members are a mixture of Seychellois and 30 other nationalities, and they too get to enjoy some of the benefits of life on the remote island.
"You get to spend day fishing with the guests, or visit other islands, sometimes hiking the trails and when we are not busy, we socialise through sports activities or other events," said Gary Marie, a butler on Fregate.
And if they wish to use their days off for a spot of shopping or to spend time with family, they are just a helicopter ride or a boat trip away from Mahé.
Fregate Island Private has spent the past two years undergoing an extensive renovation (Seychelles News Agency) Photo License: CC-BY
"The trend is changing. Those who come here want to save money and live a calmer life… they work hard, yes, but they find it different from other islands," stated Lisette Lablache, a mother of two from Praslin, Seychelles' second most populated island.
"The island has a grip on you. Seychelles is a beautiful country. All islands are beautiful but here… its beauty is something beyond the imagination," adds Steven Larue who has worked for more than nine years on the island.
Being a remote island, Fregate is also keen on making its mark as one of the most sustainable and self-sufficient islands of Seychelles through several on-going projects, including expanding the already well managed garden which provides fruits, herbs, spices, vegetables and flowers to the resort.
Whilst the rich marine life around the island provides a source of seafood, the agricultural sector has also expanded on Fregate in order to make the island self-sustainable. (Seychelles News Agency) Photo License: CC-BY
General Manager Wayne Kafcsak is now keen to start exploring alternative energy resources to add even more credibility to the island's eco-tourism impetus.
"We're at a fantastic time in our development… we would like to be known as one of the leaders in sustainability, to develop technologies or practices that other islands haven't done so that our legacy would be that people will always think that Fregate really does it right," said Kafcsak.
This year, the island installed state-of-the-art fuel-efficient generators to meet the island's energy requirements as well as a wastewater plant which converts waste water to clean, usable water for irrigation purposes.
Conservation
» Be a reporter: Write and send your article
» Subscribe for news alert