Lobsters are back on the menu – harvesting season reopens as data reveals healthy stocks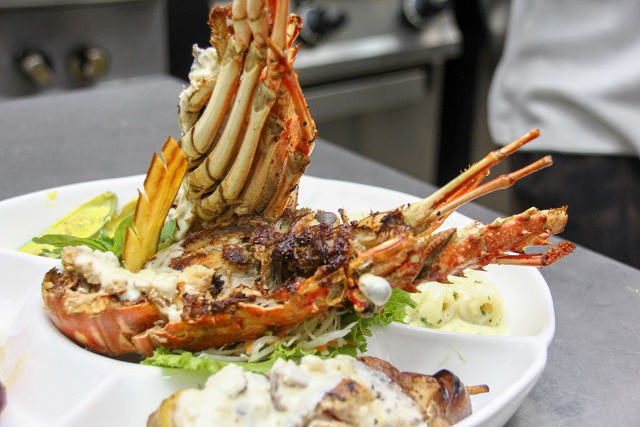 Lobster is today considered a delicacy as it is seasonal. (Romano Laurence, Seychelles News Agency)
Send to Kindle
(Seychelles News Agency) - The Seychelles Fishing Authority (SFA) is reopening the local lobster fishing season in 2015 to evaluate how the stocks respond to the fishing pressure, after a closed season in 2014 aimed at allowing the stocks to replenish.
Over the last twenty years, lobster fishing in the island nation has been characterized by alternating patterns of harvesting seasons to allow the stocks to repopulate naturally.
During the 2013-2014 season, when lobster fishing was allowed for only one month instead of the usual three months, a fishery-independent survey was carried out, during which it was observed that the lobster population with the recommended 7.5cm long carapace had significantly decreased.
A decision was taken at the time not to allow lobster fishing during the last harvesting period between November 2014 to January 2015 to allow sufficient time for the different lobster species in the Seychelles waters to breed and replenish stocks.
According to the SFA, data collected during the closed season last year have shown that the lobster population around the main granitic islands of Seychelles has increased.
SFA has indicated that 16 licences will be issued to lobster fishermen for the 20/2016 season which is expected to remain open from December 1, 2015 to February 29, 2016. (SIF) Photo License: CC-BY
"Normally [SFA] closes the season for two years depending on the data [relating to the stocks] but for last year [2014/2015 season] we decided to close it for one year only," SFA's Fisheries Officer Elisa Socrate, told SNA in an interview.
The harvesting period varies each open season but it usually lasts for three months between November to January and is restricted during the northwest monsoon period when the sea is calm with the weather being warm and humid.
SFA is proposing that the imminent lobster harvesting period remains open from December 1, 2015 to February 29, 2016.
To maintain a sustainable stock, only 16 licenses are being issued this year; 10 will be allocated to lobster fishermen on the main Seychelles island of Mahé, 4 to fishermen on Praslin and 2 to for those on La Digue, the second and third largest inhabited islands respectively.
Twenty licenses were up for grabs during the last open season in 2013.
Lobster fishermen will have to pay around $40 [500 Seychelles rupees] for a license, which will be made available on a 'first come first serve' basis.
To monitor the harvest, SFA also issues the fishermen with a logbook that has to be filled every time they go out lobster fishing and returned to the fishing authority at the end of the harvesting.
To ensure that the Lobster fishermen comply to providing SFA with the required data, a compliance bond of around $400 [5000 Seychelles rupees] has to be paid by everyone issued with a license.
Lobster fishing during the off-season or without a license during the open season is illegal, and anyone caught doing so will be liable to pay a fine of around $800 [10, 000 Seychelles rupees].
The main species of lobsters caught are pronghorn spiny lobster, long-legged spiny lobster, painted spiny lobster and ornate spiny lobster.(SIF) Photo License: CC-BY
For most lobster fishermen the closed season means having to target other species to earn a living including octopus fishing or simply going out to sea catching fish that are sold to the population for their daily consumption.
"I earn my income [during the closed season] by fishing mackerels," Andre Pool a Seychellois lobster fisherman told SNA.
"Of Course we are affected [during the closed season] but this is normal, we have to realize that we have to allow the lobsters to repopulate," Marc Grandcourt, a lobster fisherman, told SNA.
The most popular harvest methods of lobster fishing in Seychelles involves snorkelling and skin diving. Scuba diving and baited bamboo traps are also used.
The capture of berried females, meaning egg-bearing female lobsters as well as those with a carapace length no greater than 7.5cm are strictly prohibited.
The Seychelles artisanal spiny lobster fishing is carried out in shallow waters around the main granitic islands. The main species caught are pronghorn spiny lobster, long-legged spiny lobster, painted spiny lobster and ornate spiny lobster.
The fishing of berried females, as well as the fishing of lobsters with a carapace length no greater than 7.5cm is prohibited. (SIF) Photo License: CC-BY
While locally caught lobsters are not available on the market during the closed seasons, the delicacy is still available in the shops through imports.
Fresh lobsters caught in Seychelles, which sell at an average $25 and above per kilo, are mainly sought after by hotels and restaurants.
Fisheries
» Be a reporter: Write and send your article
» Subscribe for news alert