An estimated 1,600 voters cast their ballots on the first polling day in Seychelles' 2015 presidential elections
The last ballot box to be transported and secured at the Electoral Commission's Headquarters was at 7 pm this evening coming from the island of Desroches. (Patrick Joubert, Seychelles News Agency)
Send to Kindle
(Seychelles News Agency) - The first day of voting in the Seychelles presidential elections have come to an end. All ballot boxes used on this first day have been transported to the Electoral Commission's Headquarters in the National Cultural Centre in the capital of Victoria, with the last one arriving from Desroches island at around 7 pm local time.
People who were allowed to vote this Thursday are those are living and working and the islands of Silhouette, Coetivy, Platte, Farquhar, Desroches, Poivres and D'arros.
Special stations had also been set up on the Seychelles main island of Mahé and second largest inhabited island of Praslin.
Ballot boxes arriving on Mahe from the outer islands. (Patrick Joubert, Seychelles News Agency) Photo License: CC-BY
In an interview with SNA just before 8 pm this evening, the Chief Electoral Officer Charles Morin said that based on records that had already come in and tallied per the respective districts, over 1,600 eligible voters had cast their votes on this first day of voting.
"We cannot give an accurate figure because our officers are presently sorting out the names and the persons that have voted per district that will help us to facilitate and speed up the sorting process of the envelopes on Friday," said Morin.
The most votes cast today was at the Special Voting station on Ile Perseverance, where a little over 1,000 people voted.
Ile Perseverance is the largest social housing project undertaken by the Seychelles government on a reclaimed land next to the main island of Mahé.
Residents of the reclaimed island are currently registered in other electoral areas, as a motion proposing for Ile Perseverance to become the 26th electoral district in Seychelles was only approved by the National Assembly in October this year.
According to Morin a census was carried out in June to come up with a list of people who are eligible to vote at Ile Perseverance, however he has noted that there are new people who have moved there since then and who turned up today but where not allowed to vote.
"They've been told that they were not captured on the list and will have to go in their respective electoral districts [where they are registered] to vote but even those who are on the list and chose not to vote today can still go in their respective districts provided their names are registered."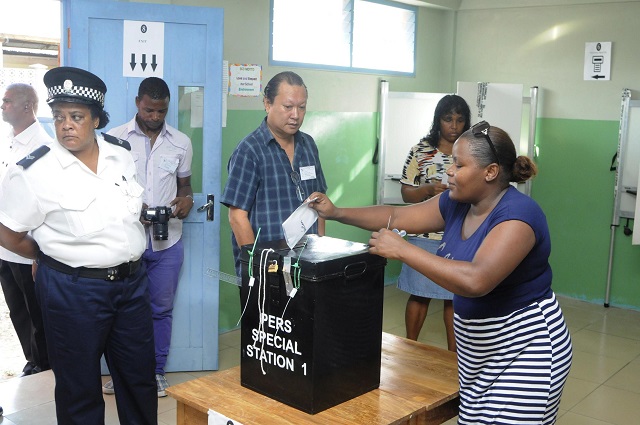 Voting in progress at Ile Perseverance. (Louis Toussaint, Seychelles News Agency) Photo License: CC-BY
One of the new elements for this year's presidential election is the provision for detained persons, either in holding cells or prisoners awaiting trial to also vote as per amendments made to the elections act of 1995 which came into force in May this year.
According to Morin a little over 100 inmates on remand have voted at a special station that was set up at the Montagne Posée Prison, the main incarceration facility in Seychelles.
"Anyone who were on the list even if they were being detained in any police station on the island arrangements were made for them to be brought to Montagne Posée to cast their votes…[according to the amended act] if somebody is arrested tonight that person will have to be brought by the police on Saturday to vote in his respective electoral area."
The Electoral Commission has said that it is generally satisfied that the voting process went very well although there were a few issues that came up including some misunderstandings on who could vote at the Special Stations at English River on the main island of Mahé and the one on Praslin catering for people who are temporarily working on these islands but who are registered in another electoral area on another island.
On Praslin, for example the Electoral Officer in Charge of the station, Selwyn Michaud-Payet has confirmed that they had a list of around 500 people temporarily living and working on the island who were eligible to vote.
"It was required that those employed on other islands sent a list to the electoral commission in order for them to be able to vote. So if their work places has not done so unfortunately, they were not able to vote today," says Michaud Payet.
Voters from all electoral areas on Mahé and the inner islands who are temporarily residing on Praslin work purposes waiting in line to vote at the Special Station on Praslin. (Romano Laurence, Seychelles News Agency) Photo License: CC-BY
Nearly 71 thousand eligible Seychellois voters are being called to the three-day poll. Voting will continue on Friday where more islanders living and working on the outer islands of Astove, Assumption, Aldabra, Marie-Louise, Remire, Ile aux Vache, Denis and Fregate will be voting.
According to the Electoral Commission around 4 thousand voters are eligible to vote on the first two days of voting.
International and regional observer missions from the Commonwealth, African Union, Southern African Development Community (SADC), the Indian Ocean Commission and the Electoral Commission Forum alongside two local observer groups Citizens Democracy Watch Seychelles (CDWS) and the Association for Rights, Information and Democracy (Arid) have also been deploying their members to the various polling stations for the presidential vote starting today.
A number of locally-based diplomatic missions are also observing the elections.
"Everything went well…the polling agents knew what they were doing…and we [international observers from SADC and local observers] were here to see that things are performed in the manner that it should be done and that procedures are followed accordingly. Until now [3pm local time] everything has been going well, except for cases of people working on Praslin but their names do not appear on the list today. Since this morning there has been more than 50 such cases and they were not allowed to vote as their names were not on the list. We are not sure about how this miscommunication came about….that people thought that they could automatically come and cast their votes if they are working on Praslin and are registered in an electoral district on Mahé," a representative of one of the local observer group, ARID, told SNA.
The main population of eligible voters on the three main populated islands of Mahé, Praslin and La Digue will cast their votes on the third and main polling day on Saturday December 5, which will also be a public holiday.
Six candidates, a record in Seychelles since the establishment of the third republic when the country adopted its current constitution in 1993 are contesting the 2015 presidential poll.
This includes incumbent James Michel, three first timers David Pierre, Patrick Pillay and Alexia Amesbury also the first female presidential candidate as well as two contenders who have stood a number of times; Wavel Ramkalawan and the sole independent candidate Philippe Boullé.
Politics
» Be a reporter: Write and send your article
» Subscribe for news alert