Seychelles presidential election: Second-round vote begins
Voting this morning at the English River special station on the main island of Mahe. (Rassin Vannier, Seychelles News Agency)
Send to Kindle
(Seychelles News Agency) - Seychellois voters began casting ballots Wednesday in the run-off of the island nation's presidential election.
Incumbent President James Michel of the Parti Lepep and former parliamentarian Wavel Ramkalawan of the Seychelles National Party are vying for the nation's highest office.
The first round of voting earlier this month saw six candidates running for president. None received 50 percent of the vote, setting up this week's three-day run-off. The country's three main islands vote on Friday.
Michel got 47.75 percent in the first round; Ramkalawan got 35.33 percent. If Michel wins the second round he will earn a third elected term as president. He has been in power since 2004.
Three other candidates who contested the first-round vote, Patrick Pillay who obtained 14.19 percent, Philippe Boullé who obtained 0.68 percent and Alexcia Amesbury who got 1.33 percent are now rallying behind Ramkalawan in the run-off.
Seychelles, an archipelago in the western Indian Ocean, is participating in its first-ever second-round presidential election. Voting began at 7 a.m. Wednesday at so-called special polling stations, said Chairman of the Electoral Commission Hendrick Gappy.
Although the first day was generally reported to be running smoothly, Gappy said that election officials have received some complaints from some of the special stations.
"There have been complaints this morning that after voting electorates are grouping at the polling stations. It is an offence to hang around on the premises of the voting station once you have cast your ballot," he said.
Another concern was that some voters were attempting to influence others while standing in the queues. Gappy warned voters that these actions are illegal and that the police could take action.
Special polling stations are located on the islands of Platte, Farquhar, Desroches, Poivre and D'Arros and Silhouette. Voters living and working on those islands are eligible to cast ballots.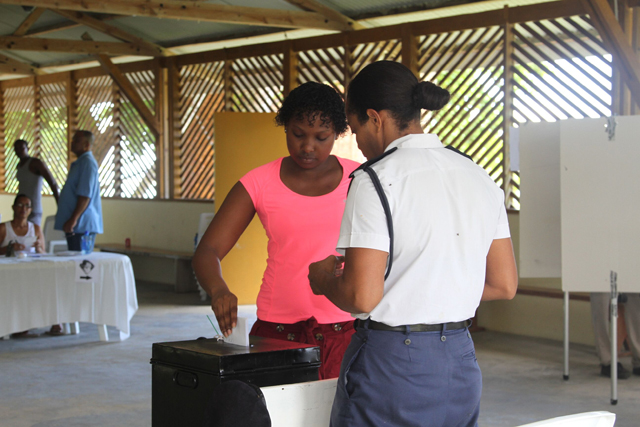 Voting at the special polling station on the Seychelles third largest island, Silhouette. (Seychelles News Agency) Photo License: CC-BY
"I am originally from Mahe and since I cannot go there to vote tomorrow I have come here instead…," Dereck Pierre, who voted at the special station at Baie Ste Anne, one of the two district on the second most populated island, Praslin, told SNA.
"We came by boat as we needed to cast our vote in this special station. It is better for us this way as it costs less and of course it allows all of our four locals working on the island to cast our vote in one day without the hassle of leaving work for a long period of time….," said Uzice Samedi , the manager of Aride Island who also voted on Praslin this morning.
The main island of Mahe also has four such stations. They are found at Perseverance, North East Point home for the elderly, English River for essential services and Montagne Posee prison for remandees.
For the run-off vote, new facilities have been set up, said Gappy. At English River, a central district on Mahe, voters travelling overseas are able to cast their ballots.
"All registered voters travelling within the next three days can vote. As the turnout was more than we expected we had to set up a separate voting table," he said.
Another notable change, the Chairman of the Electoral Commission said, is the marking of the fingers with indelible blue ink. This will be done on the thumb of the left hand. He said that faster services will now only apply for elderly, disabled and expecting mothers.
For the first two days of the second round some 5,500 voters are expected to cast their ballots. The main election will take place on the islands of Mahe, Praslin and La Digue on Friday.
Politics
» Be a reporter: Write and send your article
» Subscribe for news alert