Curieuse island beaches a humanless haven for sea turtles, report says
A Hawksbill turtle laying eggs on the beach at Curieuse ( Seychelles News Agency)
Send to Kindle
(Seychelles News Agency) - The more remote beaches on Seychelles' many islands see few human visitors -- and that's good news for sea turtles.
That's the case for the island of Curieuse just off the northern tip of Praslin, Seychelles' second-most populated island. According to a report in the October Marine Turtle newsletter, the beaches inaccessibility and remoteness have helped double the number of hawksbill and green turtles there.  
The report was compiled by partners managing and monitoring the two species on Curieuse, one of the 115 islands of the Seychelles archipelago in the western Indian Ocean.
The green turtle -- Chelonia mydas – was nearly wiped out from the Seychelles' inner island group. The turtles went on the red list of threatened species of the International Union for Conservation of Nature (IUCN) in 2004.
Data collected from 2010 to 2015 show an average of 53 individual female hawksbills and 3.4 female green turtles nesting annually on Curieuse. This is between a 50 percent and 100 percent increase in population since 1984, making the island the most important hawksbill nesting site amongst the inner islands of Seychelles.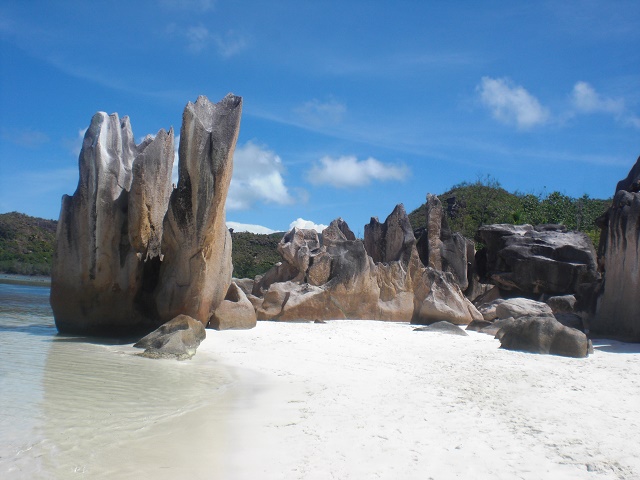 The beaches inaccessibility makes it safer for turtles to lay their eggs ( Seychelles News Agency) Photo License: CC-BY
"This is good news in spite of constant reports of killing and poaching from neighboring populated islands such as Praslin," said Jeanne Mortimer, one of the co-authors of the report.
Baie Laraie and Anse Jose, two locations on the southern side of the island, welcome thousands of fee-paying visitors every year whilst the rest of the island remains uninhabited with limited access, thus providing a perfect condition for sea turtles to nest.
"Visitors on the island also need to be educated about sea turtles as often especially in the case of hawksbills, they come on shore in broad daylight on the other beaches that are frequented by tourists on the island," said Mortimer.
Tagged hawksbills from other islands were also encountered throughout the four seasons of monitoring on Curieuse, confirming the regular migration of sea turtles within the 115 islands of the Indian Ocean archipelago.
But the report also highlights that with its fine grained sand and crystal clear waters, the beaches -- especially Grand Anse and Anse Papaie -- could be potential sites for development.
One of the remote beaches on Curieuse island ( Seychelles News Agency) Photo License: CC-BY
"It is important that these beaches are earmarked as critical habitat for sea turtles in Seychelles and that they are given legal protection which currently as a national park does not exempted them from commercial development," added Mortimer.
Designated as a National Park since 1979, Curieuse has a handful of rangers from the Seychelles National Park Authority (SNPA) managing the island. The rangers are based at Baie Laraie and assisted by a permanent group of foreign volunteers from the Global Vision International based at Anse Jose.  
Conservation
» Be a reporter: Write and send your article
» Subscribe for news alert