Dinner for two – under the sea! The underwater restaurant that will leave your head swimming
Ithaa undersea restaurant is the first and only all-glass underwater restaurant (Conrad Hotels- Maldives)
Send to Kindle
(Seychelles News Agency) - Next time you're in the Maldives and have an extra $320 doing nothing in your pocket, you might just be in for the experience of a lifetime if you drop by the Conrad Maldives Hotel on Rangali Island for lunch.
The luxury resort hotel has spent over $5 million building the world's first all-glass underwater restaurant where guests can dine on five-star European cuisine five metres beneath the Indian Ocean.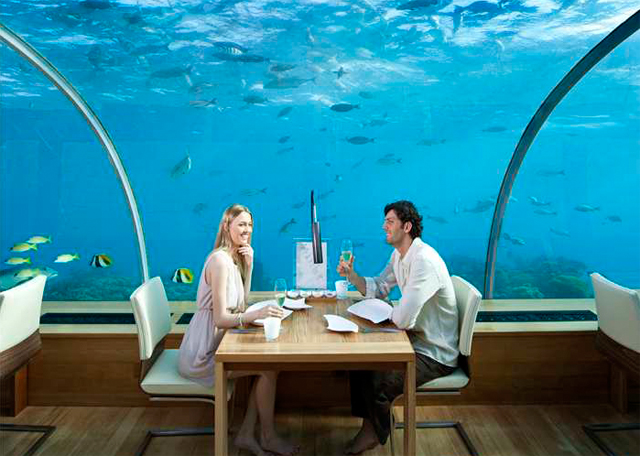 Ithaa Undersea Restaurant (Conrad Hotels- Maldives) Photo License: Attribution 
Dining in the avant-garde Ithaa restaurant – which means 'mother of pearl' in the Maldivian language of Dihevi – offers unrivalled views of sharks, stingrays, turtles and of course, plenty of fish, all designed for those with a burning desire to simltaneously eat their food and experience the rich biodiversity and beauty of the Indian Ocean – and all without getting wet.
Ithaa was designed by New Zealand consultants M.J. Murphy Ltd, who specialize in designing large aquariums. It was constructed and assembled in Singapore and shipped in one piece to the Maldives on a massive ocean barge equipped with its own crane. The 275-tonne structure was then lowered into the water and stabilized with 85 tons of sand ballast.
The restaurant, which was opened in 2005, has been rated 'the most beautiful restaurant in the world' by the New York Daily News this year, seats up to 14 people and offers a six-course set dinner menu, including caviar and lobster.
The restaurant also offers a lighter lunch menu as well as mid-morning cocktails – and it can be booked for special events such as weddings or sleepovers.
Luxury hotel The Conrad Maldives is a five-star resort, boasting the world's first underwater restaurant (Conrad Hotels- Maldives) Photo License: Attribution 
Indian Ocean
» Be a reporter: Write and send your article
» Subscribe for news alert