Last taste of paradise before departure: Café opens at airport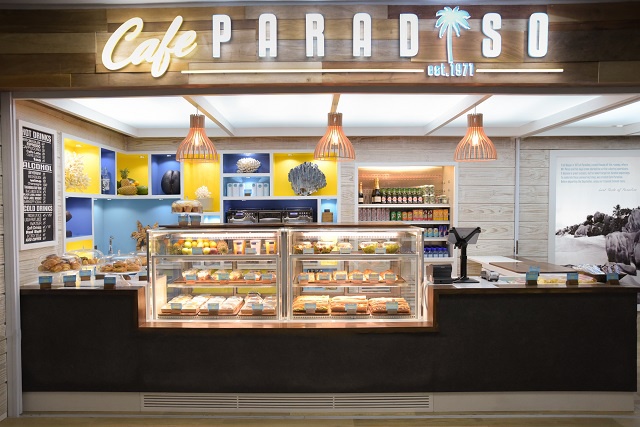 The newly opened cafe Paradiso at the departure lounge at the Seychelles International Airport. ( Georgia Van Heyste)
Send to Kindle
(Seychelles News Agency) - Colorful pastries and the aroma of fresh juices await travelers leaving Seychelles' airport following the opening this month of a new departure lounge café.
The contemporary island-style café is the dream of interior decorator Georgia Van Heyste, daughter of the late Panos Papakokkinos, the founder of Skychef Servair.
Van Heyste told SNA in an interview Friday that in the spirit of celebrating her father's pioneering times - the café has been named Café Paradiso, the namesake of the house he rented near the airport.
"It's very moving. I am very proud and honoured to be continuing his legacy, to be continuing his hard work and dedication in Seychelles," she said.
A variety of snacks on sale at the Cafe. ( Georgia Van Heyste)  Photo License: CC-BY
Panos Papakokkinos, passed away in August 2012. Papakokkinos arrived in Seychelles before the first jet aircraft landed on Mahe in 1971. He rented a small house at the airport where he started the international firm Skychef Serviar, the company responsible for catering food on flights from the Seychelles. Cafe Paradiso is managed by Skychef Servair.
The snack bar is designed with the vibrant colours of the Seychelles'  islands. The café is decorated in panels of yellow, turquoise and blue, colours that recall the sunshine, ocean and clear blue sky of the western Indian Ocean archipelago
The café sells items such as crunchy banana chips, passion fruit mousses, banana cakes, coconut water and local fresh juices.
"We use local ingredients so that tourist can take away their last taste of paradise so they have it as a nice memory of their trip here," said Van Heyste.
The daughter of Papakokkinos next to the panel on the left saying how it all started. ( Georgia Van Heyste) Photo License: CC-BY
Van Heyste told SNA that the café has been receiving positive feedback from tourists and locals since its opening on the 18th January this year.
"It's very colourful and draws the eyes straight away to it," she said. "We are very excited to how well it's going."
The last taste of paradise at Cafe Paradiso. ( Georgia Van Heyste) Photo License: CC-BY
Tourism
» Be a reporter: Write and send your article
» Subscribe for news alert