Fishmonger: Turning a necessity into a tasty delight in Seychelles
An assortment of different fish on display. ( Seychelles News Agency)
Send to Kindle
(Seychelles News Agency) - Preserving food may not be the necessity it once was before the arrival of refrigerators in Seychelles, but the tradition of consuming dried and salted fish is still a delicacy of the Creole cuisine.  
Reginald Bill, a resident of Baie Ste Anne on Praslin, Seychelles' second-most populated island, chooses from a variety of salted dry parts of different kinds of fish.
"Every time I have extra money I come here to buy a piece of salted shark head," Bill told SNA as he was choosing a large chunk of shark head that had been flattened to a thin layer of meat and thick skin.
The delicacy will be used to make a curry accompanied with coconut milk, one of the most sought-after dishes in the Seychelles, Bill said.
Dried salted shark meat seen here drying up, is a delicacy in Creole cuisine. ( Seychelles News Agency) Photo License: CC-BY
Unlike in some other countries, fishermen in Seychelles exploit different types of sharks and use the whole fish including the fins, which are considered a delicacy in Asian cuisine.
However, other types of fish such as vyey plat (blue and yellow grouper) and kordonnyen (rabbit fish) are also salted in the traditional way by fishmonger Darrel Green.
"We catch our own fish and then we dissect them and salt them. They are left to dry for at least five days and then they are good to be collected and sold to passers-by and others," says Green while pointing to his elevated netted tables displaying his products.
Apart from salt, turmeric is sometimes added also to give the yellowish colour to the products as well as a spicy taste.
Salted fish in tumeric. (Seychelles News Agency) Photo License: CC-BY
To ensure fish are dried correctly, Green says the dry salted parts are turned on its side several times a day.
When his boat comes ashore, Green says his place is filled with onlookers and visitors who come to see the traditional salting of fish.
"This is a cultural attraction as well and during a day we get as many as 15 tourists who visit us whilst we work and ask questions or sometimes they want to taste it too!" he said.
To cater for the local demand, Green also sells fresh fish in a small shop on his family premises at Baie Ste Anne. Often, he also has to buy fish from other boat owners in order to meet the high demand.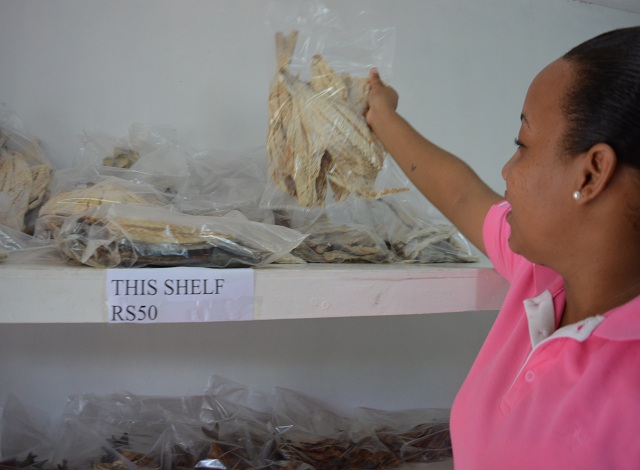 Also a popular product on local shelves. ( Seychelles News Agency) Photo License: CC-BY
Green, who also chairs the Praslin Fishermen Association (PFA), a local not-for-profit organisation representing fishermen of the island, has travelled in many countries and islands of the Indian Ocean and points out that Seychelles still enjoys a good stock of fish.
"Some countries buy their fish from others whilst some have to supply to big industries and hence do not have enough for the communities to salt and dry like we are doing," says Green.
Fisheries
» Be a reporter: Write and send your article
» Subscribe for news alert