Take a picture with the world's tallest man! Magic Circus of Samoa returns to Seychelles
People in Seychelles can enjoy over 2 hours of fun and entertainment by the Magic Circus of Samoa until March 21. (Louis Toussaint, Seychelles News Agency)
Send to Kindle
(Seychelles News Agency) - It was all thrills and giggles at Freedom Square in the Seychelles capital Victoria on Friday night as acrobats, jugglers and clown performed in the Magic Circus of Samoa.
Currently touring the Indian Ocean, the circus from the South Pacific islands, has also brought the world's tallest man, Sultan Kösen, as one of the main attractions on its second trip to the island nation in three years.
On top of seeing him up close, Seychellois fans can be photographed with Kösen, and obtain a souvenir photo for around $10.
The 33-year-old Turkish national currently holds the Guinness World Record for tallest living male standing at 2.54 metres.
"There must be thousands of acrobats and jugglers in the world but when you start talking about Sultan Kosen, you are talking about only one out of 7 billion people on this planet," Bruno Loyale, the CEO and ringmaster of the circus told SNA.
Sultan Kösen is greeted by the Seychellois public. (Louis Toussaint, Seychelles News Agency) Photo License: CC-BY
According to the Guinness World Records, Kösen suffers from "pituitary gigantism" resulting in an overproduction of growth hormone.
It's the tallest man's second time joining a circus after making it to Tahiti in 2013. Although he is not so fluent in English, he told SNA that the crew of the Magic Circus of Samoa is like family.
Kösen, who also holds the world record for the largest hands of a living person, is a part-time farmer. He explained to SNA that being tall allows him to see things from a great distance and help his family with chores such as changing light bulbs and curtains.
On the downside, he said that it is hard for him to find clothes and shoes that fit.
The Magic Circus of Samoa first came to the archipelago of 115 islands in the western Indian Ocean in 2013.
While some regular performers are making a reappearance, Seychellois fans are being promised an all new show featuring a woman sword swallower, aerial acts by trapeze artists, funny performances by Toetu the clown and martial arts from Manipur, India.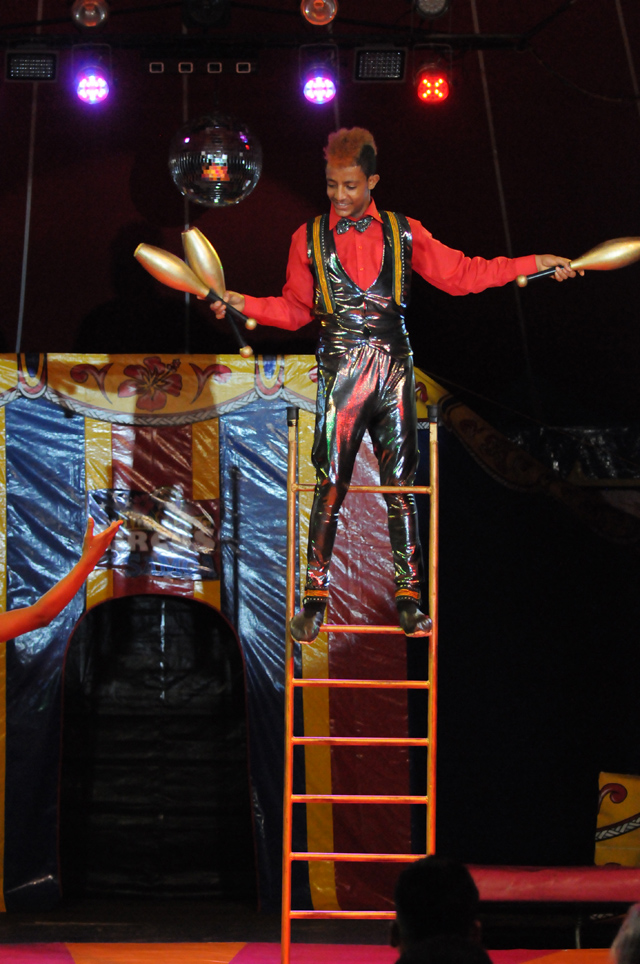 Circus lovers can enjoy seeing acrobats, jugglers, clowns and martial artists perform in the over two hour show. (Louis Toussaint, Seychelles News Agency) Photo License: CC-BY
"We don't bring back the same show because we know that the same people come again, and they don't want to see the same thing," Loyale told SNA.
Originally planned for Thursday, the opening night was pushed to Friday due the heavy rains on previous days. Nevertheless, the Seychellois public will be able to attend daily shows of over two hours until March 21, all shows start at 7 pm. Tickets starts at $14 up to $28.
The venue, a large tent set up at Freedom Square in Victoria, can accommodate over 500 people.
From Seychelles, the Magic Circus of Samoa with some 10 nationalities represented will bring their performance to the neighbouring Indian Ocean island of Mauritius. The Indian Ocean tour will also bring them to Reunion island and the Maldives.
SNA presents a collection of photos showing some of the performances by the Magic Circus of Samoa taken by (Louis Toussaint, Seychelles News Agency) Photo License: CC-BY
Arts & Culture
» Be a reporter: Write and send your article
» Subscribe for news alert