6 delicious delicacies to feast on in Seychelles
(Joe Laurence, Seychelles News Agency)
Send to Kindle
(Seychelles News Agency) - Although the majority of visitors to this island nation undoubtedly come for the world-class beaches, guests on the archipelago cannot help but fall in love with the islands' creative and unique cuisine.
Blending Asian flavours from China and India with the European palette of Britain and France, Seychellois food is also rooted in the African continent, meaning everyone can find something to enjoy.
Being surrounded by sea of course makes the local cuisine based to a large extent on seafood, and since the tropical islands abound with coconut trees, coconut milk is often combined with spices like ginger and garlic.
As we like it hot and spicy, curry powder and chillies are also added to the mix. When you next visit the Seychelles, here are some of the Creole dishes you will want to try:
Octopus and smoked fish salads (salad zourit and pwason fimen)
Boiled octopus or smoked fish mixed with green peppers (capsicum), fresh tomatoes, and onions. Like other local food you can create your own version by adding more fresh greens if you so desire.
Octopus curry in coconut milk (kari koko zourit)
This is a dish that is included in every island celebration. Boiled and diced octopus (zourit) cooked in coconut milk and curry powder with a whole lot of added spices like garlic, ginger and eggplant. Every family has its own style of cooking it.
(Joe Laurence, Seychelles News Agency) Photo License: CC-BY
Grilled fish  (pwason griye) – red snapper (bourzwa) of the rabbit fish
If you have fresh catch, all the better, if not you can use other fresh fish. The local favourite is the red snapper (bourzwa) and the rabbit fish (kordonnyen) cooked with chillies either in a hot oven or on open fire. It's another must-have at celebration events. Careful though, it can be quite hot and spicy.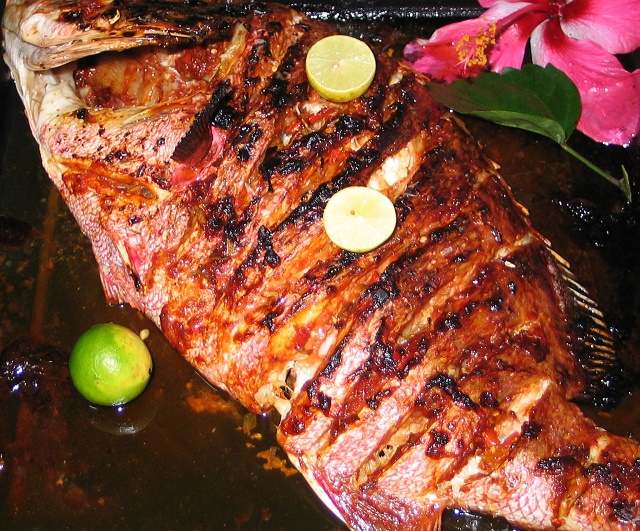 (Joe Laurence, Seychelles News Agency) Photo License: CC-BY
Fish curry (bonito)
Another hot and spicy mix! Any fish that won't fall apart when cooked can be used for this one, but here we love using chunks of the bonito (bonit). It is a fiery mix of curry powder, curry leaves and turmeric. We do at times use other paste to dampen the spicy and hot taste.
(Joe Laurence, Seychelles News Agency) Photo License: CC-BY
Shark chutney (satini reken)
This one has a distinctive sour taste. It's boiled shark mashed and mixed with local lime juice or the bilimbi as it is commonly known with onions, pepper and other spices.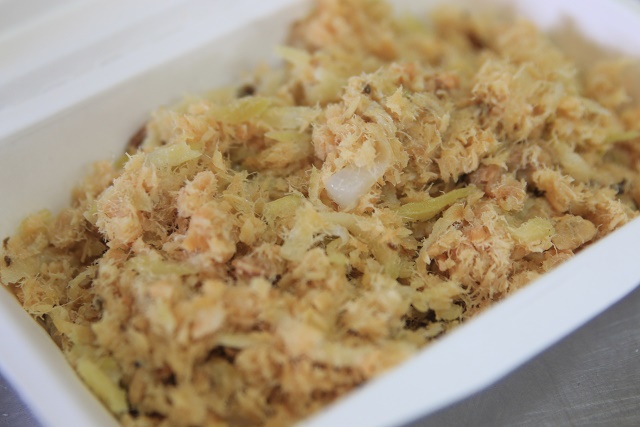 (Joe Laurence, Seychelles News Agency) Photo License: CC-BY
Now for the dessert!
Banana in coconut milk (ladob banann) 
This is usually large ripe plantain cooked with coconut milk and sugar.
It's a definitely a must-taste dish.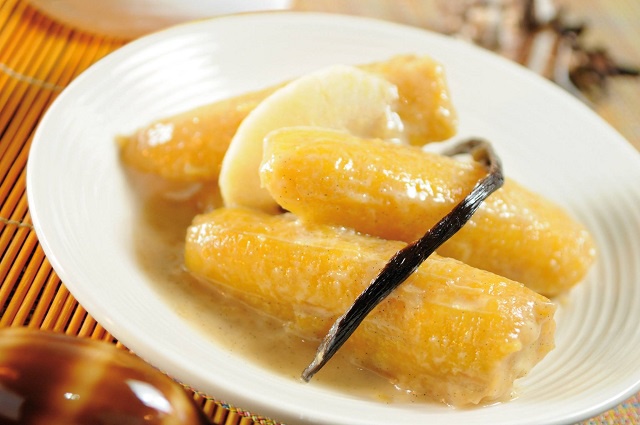 (Preshella Fabre) Photo License: CC-BY
Seychelles Buzz
» Be a reporter: Write and send your article
» Subscribe for news alert