Seychelles triathlete Nick Baldwin finishes 3rd at Ironman Australia
Baldwin finished 3rd in Ironman Australia which attracted 1700 international athletes (Delly Carr)
Send to Kindle
(Seychelles News Agency) - Seychelles' first professional triathlete Nick Baldwin managed a career best performance last week when he finished in third place in Ironman Australia triathlon on May 04, two weeks after he managed to come out fifth in the Taiwan challenge on April 19.
In an e-mail interview with SNA, Baldwin described his attempt at two long distance events in two weeks as a big challenge.
"The result from the first race in Taiwan was a little disappointing, as I went into the race with aspirations of finishing on the podium. A fifth place finish wasn't a terrible result, but it's always disappointing when you don't perform to your full potential," said Baldwin.
In total, 370 athletes took part in the Taiwan Challenge while Ironman Australia gathered 1700 international athletes.
Judging his overall results after the two races Baldwin says he is extremely satisfied.
"Even though the result in Taiwan wasn't what I was aiming for, I was able to learn from the race and apply myself appropriately at the next race two weeks later. Of course, to finish third at such a historic race as Ironman Australia was a great feeling and an achievement I'm certainly proud of," said the Seychellois triathlete.
Since January this year Baldwin who is backed by some Seychelles-based sponsors, has been busy preparing for his 2014 season by training in Arizona, USA, an opportunity he has described as being a huge advantage.
"The infrastructure and facilities for triathlon training in Arizona are fantastic, as well as there being other high quality athletes to train with. When you're in an environment such as this you can't help but raise your game and I certainly took my fitness to an all-time high.
Following his participation in two major international events Baldwin is slowly getting back to training which will eventually build up to over 30+ hours over the coming weeks in preparation for two major races later this year which will cover the 2.4 mile swim – 112 mile bike – 26.2 mile run.
The first is Challenge Vichy in France on August 31, followed by Ironman Wales in the UK on September 14.
"Again, a two week turnaround between races will be tight, however I can apply what I have learned from Taiwan and Australia and hopefully be in a position to improve upon my results" said Baldwin.
2014 is his eighth season in the sport and only his second year as a professional triathlete.
An Ironman triathlon is long-distance triathlon race organized by the World Triathlon Corporation. It consists of 3.86 km swim, a 180.25 km bicycle ride and a marathon 42.2 km run, in that order and with no break in between.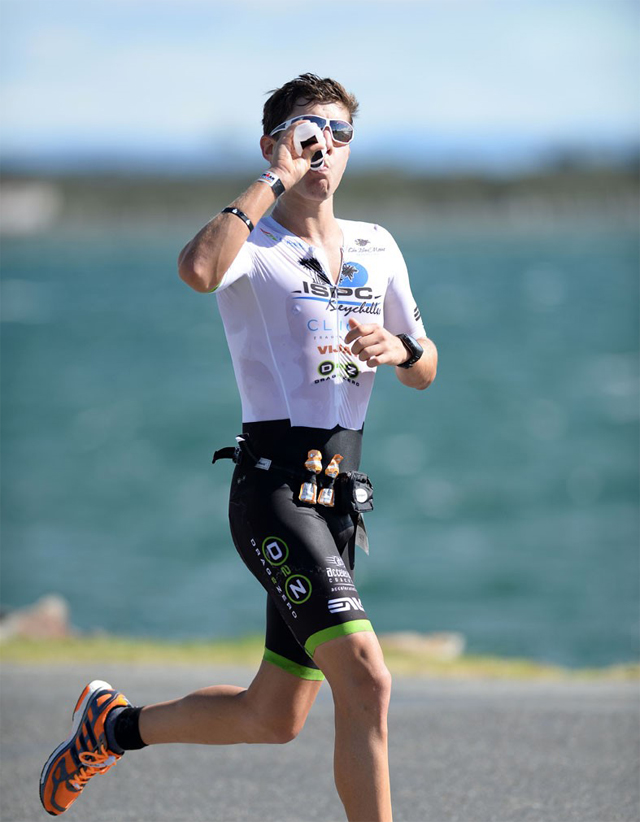 Nick Baldwin is Seychelles first professional triathlete (Delly Carr) Photo License: Attribution
Sport
» Be a reporter: Write and send your article
» Subscribe for news alert