Newly accredited Vatican ambassador is keen on promoting Seychelles-Holy See relations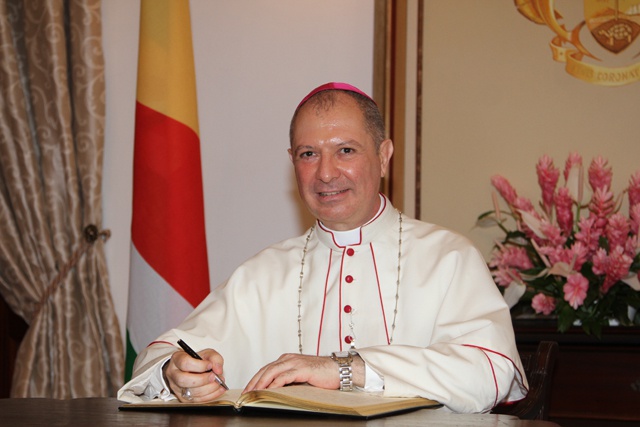 Archbishop Paolo Rocco Gualtieri pictured at State House. (Mervyn Marie, Seychelles News Agency)
Send to Kindle
(Seychelles News Agency) - The strengthening of relations between Seychelles and the Holy See was discussed on Tuesday, during talks between the Vatican's new Apostolic Nuncio to the island nation and President James Michel.
Archbishop Paolo Rocco Gualtieri who was appointed in September last year, was at State House to present his credentials to President Michel
Climate Change, the promotion of family values and issues relating to the youths were also highlighted in the meeting. 
Archbishop Paolo Rocco Gualtieri presenting his accreditation documents to President James Michel, Tuesday morning. (Mervyn Marie, Seychelles News Agency) Photo License: CC-BY
"The role of the apostolic nuncio is to promote good relations between the state and the church, as well as the civil society and the church. I intend to develop a close working relationship with the Bishop [of Port Victoria Denis Wiehe] and the priests," Archbishop Gualtieri told the local press.
He noted that good relations already exist between the Seychelles government and the Holy See, and said he was satisfied with the involvement of the Roman Catholic Church in the island nation, including its work with the young people.
Roman Catholics make up the majority of the archipelago's 93,000 population, with the Seychelles National Bureau of Statistics putting the figure at 76.2 percent. President James Michel has been on three visits to the Vatican since he became head of state.
Archbishop Gualtieri, who is also the Apostolic Nuncio to other Indian Ocean islands, is based in Madagascar's capital, Antananarivo.
He is planning to come back to Seychelles shortly to meet with all the Catholic priests serving the 115-island archipelago in the western Indian Ocean.
Diplomacy
» Be a reporter: Write and send your article
» Subscribe for news alert