'Probable gunshot wound' investigated as autopsy report of deceased Seychellois inmate is released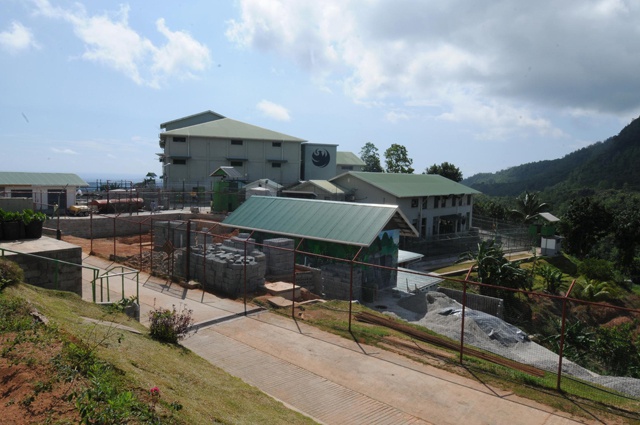 File Photo: The Montagne Posee prison, situated atop the mountains in the central region of the main Seychelles island of Mahe. (Patrick Joubert, Seychelles News Agency) 
Send to Kindle
(Seychelles News Agency) - More investigation is needed to determine the exact circumstances that led to the death of a Seychellois inmate, after autopsy results revealed he most likely died of gunshot wound.
Robert Banane died at the Seychelles hospital over the weekend, succumbing to injuries sustained at the main Seychelles prison at Montagne Posée. 40-year-old Banane was serving a two-month sentence for not respecting an order of the Family Tribunal.
The detention facility located in the lush tropical mountains leading to the western part of the main island, Mahé, had been the scene of a riot between last Thursday and Friday.
According to initial reports Banane had fallen from the roof top of the prison and suffered some serious injuries.
The Seychelles Home Affairs Minister Charles Bastienne released results of an autopsy carried out on the body of deceased prisoner, during a press interview on Monday.
"Autopsy results reveal that he died from hypovolemic shock, multiple intra-abdominal injuries, probably gunshot wound," said Bastienne.
"Who fired the shot, which as the autopsy says it was probably a gunshot that hit him, will be established during the investigation. The investigation will determine who exactly, what kind of bullet and which type of gun could have caused the death of Robert Banane," said Bastienne.
The Prison Superintendent, Maxime Tirant said on Saturday that the riot at the detention facility started on Thursday last week after 3 inmates of the high security wing had tried to escape. According to Tirant, the trio's actions were detected by security cameras and they were brought back to their cells.
In the press interview on Monday, Minister Charles Bastienne confirmed that there was a 24 hour stand-off between the prisoners at the high security wing and law enforcement officers, before the prisoners were finally locked-up in their cells on Friday afternoon. A total of 68 convicts are being detained at the high security wing.
Trouble however spread to the main prison block on Friday, where there are over 600 inmates including over a 100 detainees on remand.
According to the home affairs minister upon request of the prison authorities the Commissioner of police had deployed up to 40 officers at the prison on Friday to help restore law and order.
"When we conducted the operation the commissioner of police assured me the officers who were sent to the prison, originally 10 men then reinforced to amount to 40 men, they went with non-lethal weapons including tear gas, smoke gas and rubber grenades," said Bastienne, while adding that there were senior officers armed with pistols as well as Ghurkhas armed with AK47 riffles.
President James Michel on Saturday ordered an inquiry to determine the circumstances leading to the death of Robert Banane. Minister Bastienne has said that a commission will be set up later this week to investigate the incident and decide on a course of action.
General
» Be a reporter: Write and send your article
» Subscribe for news alert