Q&A: Seychelles' 14-year-old tennis phenom hopes to play a Grand Slam
Young and upcoming Seychellois tennis player Damien Laporte aspires to become a professional player but also dreams of becoming a pilot. (Joe Laurence, Seychelles News Agency)
Send to Kindle
(Seychelles News Agency) - Damien Laporte became the first Seychellois to win gold in the under-14 category at the 39th African Junior championship in Pretoria, South Africa, last month.
A resident of Mare Anglaise in the northern part of the Seychelles' main island, Mahé, the young and upcoming tennis player has been taking part in competitions in the region, Africa and Europe for several years now.
Although he will only turn 14 on Wednesday April 6, Damien has been playing the sport for ten years, having been introduced to tennis at the age of 3 by his father Mervyn.
The dad, who Damien also considers to be his mentor, tells SNA that he hopes to see his son training at an international academy in 2016.
He spoke to SNA at the tennis court at Roche Caiman on the outskirts of the capital, Victoria, where SNA also caught up with Damien, who is already back in training for more international competitions. During a short time-out, the youngest of five siblings spoke about his life as a young sportsman and his hopes of becoming a professional player.
SNA: You recently became the first Seychellois tennis player to reach and win an African Junior championship final in Pretoria, South Africa. Was it an easy achievement?
DL: It was definitely not easy because it was competing among all the top six players in Africa, so I knew going into this tournament that I would have many challenges.
SNA: How does it feel to be the best in Africa in the under 14-category?
DL: It's almost sank in but you can't describe the feeling of how happy I felt winning this tournament. It really means a lot to have won this.
SNA: You started playing tennis at the age of 3 after your parents introduced the game to you. Did you easily adapt to the sport?
DL: It wasn't easy at all. It took many challenges to go through and my parents took a lot of time bringing me places to play tennis. During the course of those years I adapted myself to the sport and I found the love for the sport.
SNA: Is playing tennis a family thing?
DL: My dad plays tennis and I have a sister, Cloe Romain, who used to be the No. 1 woman tennis player in Seychelles. She still plays tennis now but it's a bit hard with work.
Mervyn (standing on the right) was the one who introduced his son Damien to tennis at the very young age of three. (Joe Laurence, Seychelles News Agency) Photo License: CC-BY
SNA: If you were to choose for yourself, would it still be tennis or another sport?
DL: I always loved football, but now that I've got 10 years in tennis and I've adapted myself just to this sport, I think I've made the right choice.
I do play many other sports such as football. I swim a lot, cycling, and sometimes I go for runs. So you can say that I can adapt myself to a lot of sports.
SNA: What does it take to be a good tennis player?
DL: It takes time because you can't just come and then say tennis is easy, it will take time and commitment. For you to reach the level where I'm at now you have to train as hard as you can.
SNA: How often do you train?
DL: Nowadays I train about one hour every day per week, sometimes even on Sundays if I have competition. Most of the time it's one hour a day from Monday to Saturday.
SNA: You are still a teenager and need to go to school. How do you cope with the all training, travel and study at the same time?
DL: Every time I travel I would take work with me in advance so that when I come back I would still be at the same level as my classmates. I try to complete my school work overseas as I know full well that I also have to make time for my studies.
SNA: What's next following the African championship?
DL: In June there will be a five-week European tour, which would be held in I think five different countries and there will be competitions there. Then in October we should be going to Mauritius for competition for two weeks and then still haven't decided on the rest of the year.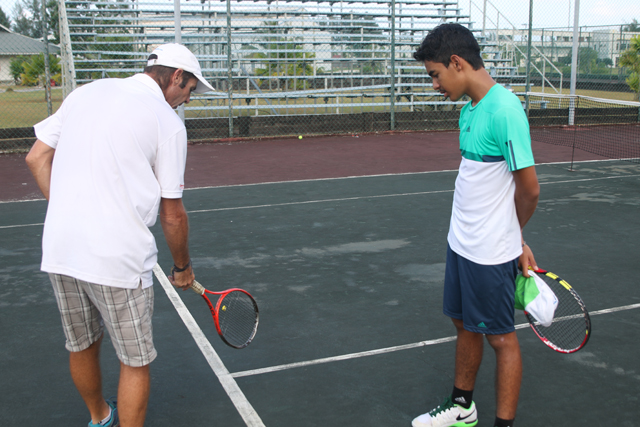 Damien receiving advice from one of his tennis coach Tim Horpinitch as he prepares for more international competitions in 2016. (Joe Laurence, Seychelles News Agency) Photo License: CC-BY 
SNA: You have been named Seychelles' best tennis player in recent years including in 2015. Are you aiming to win the title again this year and any hope of winning the overall young male athlete title?
DL: I'm going on my sixth year trying to win the overall Junior Sportsman of the year title, I haven't won it yet but this year I'm hoping it's going to be my chance to win.
SNA: How far do you want to go in tennis?
DL: My dream is to become a professional player. I know that it will take time and that I must go for higher levels, get more experience and that's how my level will improve. I also hope to one day get into an academy where I can train to become a professional tennis player. My goal is to play one Grand Slam.
SNA: Do you think this is really possible?
DL: I hope so.
SNA: Any tennis player worldwide that has inspired you or that you look up to?
DL: For many years the Spanish player Rafael Nadal has inspired me and been my idol, and I hope to be like him one day.
Playing one grand slam -- that's on the wish list of Seychelles' young and upcoming tennis player. (Joe Laurence, Seychelles News Agency) Photo License: CC-BY
SNA: Would you encourage other young people to take the sport?
DL: Yes,I would encourage other young people to play the sport because although it's hard it's also fun and if you want to go far in sports, tennis is one that can take you there.
SNA: Apart from tennis do you have any other career interests?
DL: Apart from tennis, I've also dreamed of becoming a pilot and that has always been one of my main goals, study hard to become a pilot.
SNA: If you had to choose between becoming a pilot and a professional tennis what would it be?
DL: I wouldn't be able to decide, but I think tennis would be the best option.
The Interview
» Be a reporter: Write and send your article
» Subscribe for news alert