Five-time Olympic qualifier! 'Lifetime achievement,' Seychellois sailor says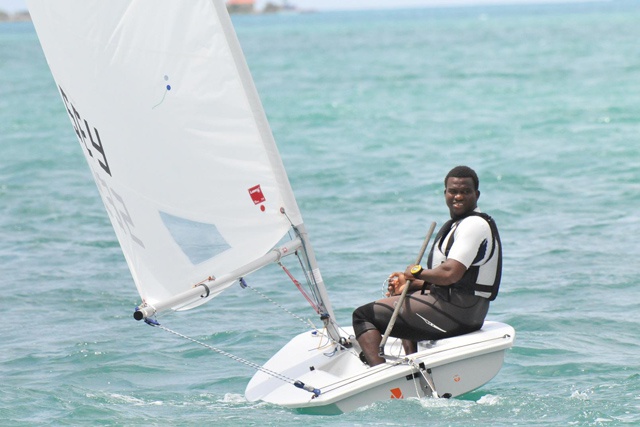 Allan Julie - a five-time Olympic athlete (Patrick Joubert)
Send to Kindle
(Seychelles News Agency) - You can now call Allan Julie a five-time Olympic athlete.
The Seychelles' resident is the island nation's first athlete to qualify five times for the Olympic Games. He earned a spot in the Rio Games this year after a competition in Mallorca, Spain that ended over the weekend.
An ecstatic Julie told SNA on Monday that qualifying for the Games for the fifth time is a lifetime achievement.
"For me, it represents a lifetime achievement because five cycle of Olympics equals around 24 years and for me to stay competitive and at this level for all this time is a major achievement," he said.
Julie previously qualified in 1996, 2000, 2004 and 2008.
Julie is the third sailor from Seychelles, an archipelago in the western Indian Ocean, to qualify for this year's Olympic Games, after Rodney Govinden and Jean-Marc Gardette.
The chair of the Seychelles Sailing Association, Alan Alcindor, told SNA that Julie's qualification is a great achievement for sailing, especially as his qualification is a continental qualification.
Julie won nine straight victories over Tunisian Karim Esseghir in the Finn category in the 47th Trofeo Princesa Sofia IBEROSTAR sailing competition that took place March 25 to April 2.
For the first time since he started sailing at 12 years, Julie did not participate in the Laser category but opted for the Finn category, using a single-handed heavyweight dinghy, and it took some time to get used to it.
"It's the first category I compete in that I had to put on weight, almost 100 kg. The qualification itself was not as challenging as getting used to the new boat, to be able to manoeuvre and understand it in a short time," said Julie.
The 39-year-old from Au Cap in the east of the main island Mahe, said he trained for only a month before the competition but had the help of one of his sailing friends to get used to the heavyweight dinghy. 
"I was lucky to have the help of one of my sailing friends from Slovenia, who is also competing in the category, he more or less helped me with research so I just worked on the adjustments," said Julie, adding that the adjustments are important as they make an impact on his speed.
The Seychellois sailor says that the Finn category is more physical than Laser, which meant a lot of fitness and endurance preparation which is what he will be focusing on in the almost three months left.
"For Rio  I have around 100 days left, and as we do not have this boat here in Seychelles, I will work only work on my fitness here and then I will participate in one or two competitions before the Olympics," he said.     
Aside of three sailors, a Seychellois boxer Andrique Allisop has also booked a spot in the 2016 Olympic Games.
Sport
» Be a reporter: Write and send your article
» Subscribe for news alert