6 fabulous locales to score exotic gifts from Seychelles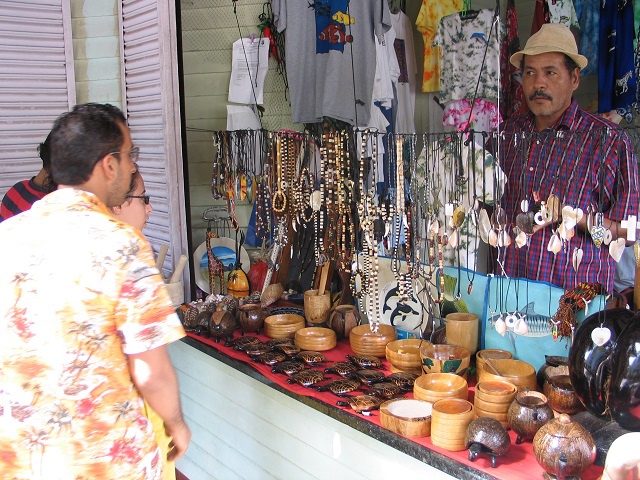 (Joe Laurence, Seychelles News Agency)
Send to Kindle
1. Kreolor jewels & crafts
A local jeweler for 25 years, Kreolor offers unique 18-carat gold pieces made of coconut shells and other natural beauties from Seychelles like seashells. Its craft works use Takamaka wood and coconut shells to make combs, bracelets and other unique pieces.
http://www.kreolorseychelles.com/products.html
(Kreolor) Photo License: CC-BY
2. Ricardo Carbognin Jewels
Only the jeweler Ricardo Carbognin will remind you this much of the coco de mer nut found exclusively in the World Heritage Site of Vallee de Mai on the Seychellois island of Praslin. The shop's founder and namesake is an Italian man who fell in love with the Seychelles. On offer is a variety of colorful coco de mer-shaped jewels from rings to necklaces and more.
(Joe Laurence, Seychelles News Agency) Photo License: CC-BY
3. Black Pearl of Praslin
Apart from having a wide variety of marine species in its waters, Seychelles also possess sea gems. The black pearl is found on the second-largest island of the Seychelles archipelago, and it is a 100 percent Seychelles-produced item. The Norwegian family who owns the business also manages its pearl hatchery, which you can tour for a small fee. 
http://www.blackpearlseychelles.com/
(Seychelles News Agency) Photo License: CC-BY
4. Michael Arnephie designs
Michael Arnephie is a renowned local artist who has been greatly been inspired by the sea. He now owns his own clothing design. It features a brand of beach wear for male and female as well as other accessories such as coasters, and beer holders. The brand is decorated with colorful images of sea creatures found only in Seychelles.
https://www.facebook.com/marnephieseychelles/
5. Coco Seychelles
This is a fairly new business which produces t-shirts made from organic cotton with beautiful scenes and sea creatures printed on them. The business has a sustainable goal in mind. They also use low-impact water based ink and recycled materials while producing their wonderful t-shirts. Coco Seychelles also ships internationally for orders received through its website.
6. Bonjour Seychelles cosmetics
Bonjour Cosmetic produces 14 different perfumes named after some of the 115 islands of Seychelles. Three of the Bonjour fragrances are for men and five for women. The perfumes come in 30ml, 50ml and 100ml bottles and cost between $25 and $34. 'Parfum des Seychelles' and 'Felicite' fragrances for women are the best sellers among locals and tourists.
 bonjourcosmetics.seychelles@gmail.com
(Joe Laurence, Seychelles News Agency) Photo License: CC-BY
Seychelles Buzz
» Be a reporter: Write and send your article
» Subscribe for news alert