Former coup leader Assoumani elected Comoros president
Moroni, Comoros
|
April 16, 2016, Saturday @ 14:28 in
World
»
INDIAN OCEAN
|
Views:
2849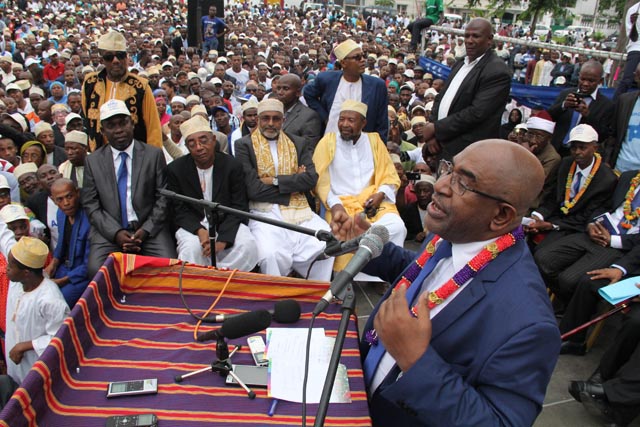 File Photo: Former Comoros president and presidential candidate Azali Assoumani addresses his supporters during his first presidential elections campaign meeting on January 24, 2016 in Moroni, Comoros. (Ibrahim youssouf / AFP)
Send to Kindle
(AFP) - Former coup leader Azali Assoumani was narrowly elected president of the Comoros archipelago islands, according to official results released Friday, after a tense wait for ballots to be counted.
Sunday's election was a contest between Assoumani, his main rival Vice President Mohamed Ali Soilihi -- known as Mamadou -- and Mouigni Baraka, the governor of Grande Comore island.
The islands, situated between Madagascar and Mozambique, have been plagued with coups and political instability, and the result could be disputed by losing candidates if allegations of fraud emerge.
Assoumani, 57, won 40.98 percent of the vote, ahead of Mamadou with 39.87 percent and Baraka behind on 19.15 percent.
The outcome from the second-round vote was announced two days after the expected date, with no immediate comment from the candidates.
Nineteen of the 25 candidates who contested the first-round vote demanded a recount over alleged fraud, but the Constitutional Court ruled against them, upholding the results.
Campaigning was marked by personal attacks and allegations of corruption between Mamadou and Assoumani, who was boosted by the support of the opposition Juwa party, which had no candidate in the second round.
Assoumani first came to power in 1999 after ousting acting president Tadjidine Ben Said Massounde in a coup.
He then won the presidential election three years later, stepping down when his term ended in 2006.
The first-round vote took place only on Grand Comore island, in line with electoral rules to choose the president on a rotating basis from the three main islands.
Comoros' system was established in 2001 after more than 20 coups or attempted ones, four of which were successful, in the years following independence from France in 1975.
The three islands that make up the Comoros -- Anjouan, Grand Comore and Moheli -- have a population of just under 800,000 people, nearly all of whom are Sunni Muslims.
The fourth island of Mayotte voted against independence and is still governed by France.
Assoumani takes over from outgoing President Ikililou Dhoinine, who completed his five-year term in office.
The islands export vanilla, cloves and ylang-ylang perfume essence, but suffer widespread poverty.

© 1994-2016 Agence France-Presse
Indian Ocean
» Be a reporter: Write and send your article
» Subscribe for news alert