Carnaval International de Victoria: UK's Notting Hill helps Seychelles designers get creative
Notting Hill would like to see people in Seychelles get more creative and showcase floats that celebrate the diversity of the people of Seychelles. (Vanessa Lucas, STB) 
Send to Kindle
(Seychelles News Agency) - While Seychelles hosts the sixth edition of Carnaval International de Victoria this weekend, Notting Hill Carnival from the UK is once again helping local designers get creative for next year's carnival. 
Notting Hill has participated in the event since its beginning in 2011 and they are giving something in return by facilitating a workshop for around 20 local seamstresses and designers for the 2017 edition.
Members of the Notting Hill Carnival delegation participating in the 2016 Carnaval international de Victoria, including steel band, giving a pre-carnival performance at the Deepam Cinema on Thursday. (Vanessa Lucas, STB) Photo License: CC-BY
"We try to give something back to Seychelles because we consider it a very special relationship. Each year it has grown and the whole idea of the workshop is to make Seychelles' people enthusiastic about producing their own carnival that reflects Seychelles," says Claire Holder, the chief executive of the Notting Hill Carnival road show company.
The training was organised by the Citizens Engagement Platform Seychelles (CEPS).
"It is the third year running that CEPS organises this activity. The two previous workshops have proven to be very productive as the 50 or so participants are currently sewing costumes for this year's event. This is a fresh group we are working with," said communications and marketing manager Tessa Henderson.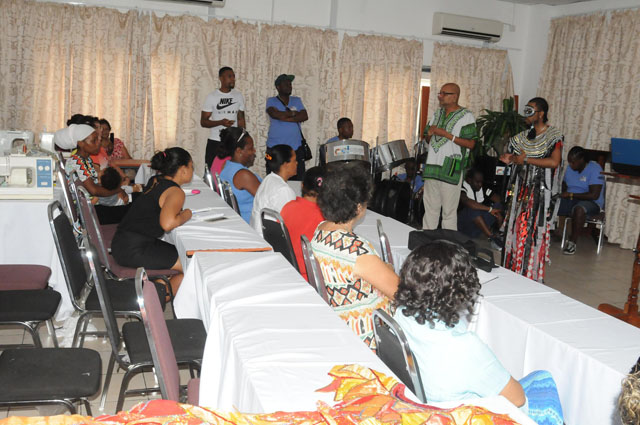 For a third year Notting Hill carnival has partnered with the Citizens Engagement Platform Seychelles to help local designers to get creative when making costumes for the next carnival. (Louis Toussaint, Seychelles News Agency) Photo License: CC-BY
In the training participants learn how to develop, shape, mould, and produce within the context of carnival thus giving the Seychelles' carnival a distinctly Seychellois flavour which, according to Holder, is currently missing because not enough come forward to produce. 
The Carnaval International de Victoria takes place every year in Seychelles, a group of 115 islands in the western Indian Ocean. It started in 2011 in partnership with Reunion, another island in the region. This year South Africa is also co-hosting the event which opened on Friday 22 and will close on April 24.
Holder said a major evolution she has noticed is that more children are participating, and this is something important because they are the next generation and will help the carnival evolve further.
"Notting Hill Carnival wishes to inspire the Seychellois children to be part of the carnival experience and grow it the way in which they see their future and that of their nation, how they see themselves contributing to the growth of Seychelles, not anyone else," said Holder.
Notting Hill is taking part in the Seychelles Carnival for the sixth consecutive year. The UK Carnival road show company has won the best international float title four times except for 2014 when China took home the trophy.(Vanessa Lucas, STB) Photo License: CC-BY
The Notting Hill chief executive shared her experience working with the Seychelles' carnival and said that it is important for the country to be reflected in the floats. They are not supposed to be used solely for advertising but rather to say something about a nation and its people, therefore, in this case, floats that celebrate the diversity of people of Seychelles.
"You all come from so many different backgrounds to form one Seychellois culture and we want to see that reflected in the floats. We want to see your beautiful flora and fauna because Seychelles has so many beautiful attributes as a country, but all of these things must be reflected in the carnival floats," Holder said.
The Carnaval International de Victoria has already carved a unique place in the world of carnivals by being one that brings different cultures from the world together. 
Arts & Culture
» Be a reporter: Write and send your article
» Subscribe for news alert