China chemical blaze put out after 16 hours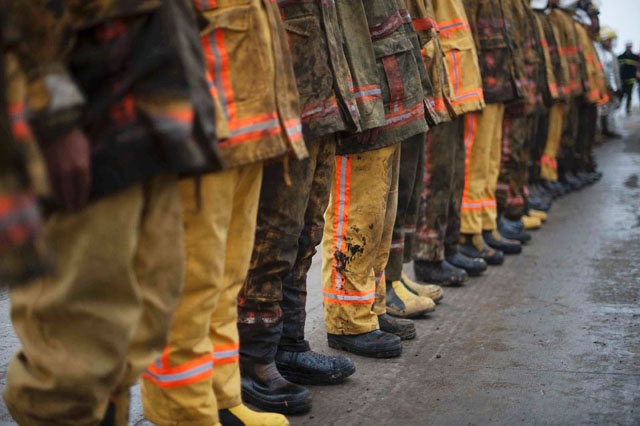 File Photo: Industrial accidents are common in China where safety standards are often lax (AFP Photo)
Send to Kindle
(AFP) - A fire caused by an explosion at a facility storing chemicals and fuel that rocked the Chinese city of Jingjiang was finally put out on Saturday, 16 hours after it started, state media said.
The initial blast, which took place Friday morning, recalled huge explosions caused by improper storage of chemicals in the northern city of Tianjin last August, when at least 165 people were killed and fears were raised of toxic contamination.
No casualties in Jingjiang had yet been reported, the official Xinhua news agency said Saturday.
The accident was at the premises of a company called Jiangsu Deqiao Storage, which is authorised to keep hazardous chemicals and fuel, reports said.
Its parent is a Singapore-listed company called Hengyang Petrochemical Logistics.
Photos and videos of the accident posted online showed an enormous pillar of black smoke towering above a blaze of orange flames.
Some 400 firefighters were mobilised to fight the flames, fed by petrol storage tanks on the site, the fire department under the Ministry of Public Security said on its microblog.
Many were brought in from the neighbouring cities of Shanghai, Nanjing, Nantong, Suzhou and Wuxi, Xinhua said.
They initially had difficulty approaching the blast site because the contents of destroyed chemical storage tanks had spread over a wide area, but were eventually able to curb the fire once an oil pipeline was shut off, it added.
Industrial accidents are common in China where safety standards are often lax.
But the massive blast in Tianjin, which caused over $1 billion in damages and left at least 165 dead, sparked widespread anger over a perceived lack of transparency by officials about its causes and environmental impact.
The findings from a government inquiry into the Tianjin accident released in February recommended 123 people be punished.
© 1994-2016 Agence France-Presse
General
» Be a reporter: Write and send your article
» Subscribe for news alert