Seychelles quota system for recruitment of foreign workers comes into force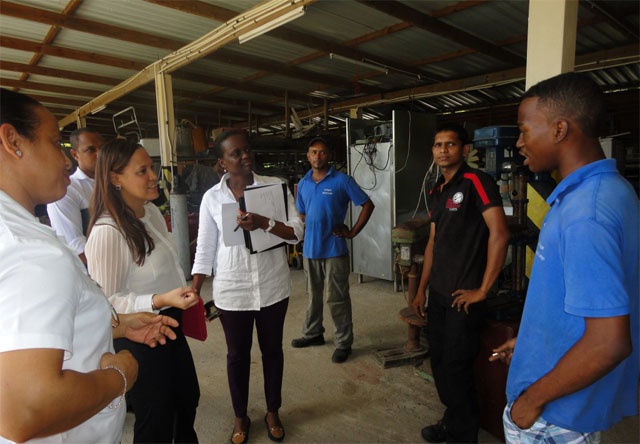 Minister Alexander and officials of the Labour Ministry discussing with workers of the maintenance unit at La Digue island lodge Hotel (Ministry of Labour and Human Resources Development)
Send to Kindle
(Seychelles News Agency) - A new quota system came into force in the Seychelles islands this week as part of the government's strategy to safeguard jobs for Seychellois at the same time facilitating the procedures for recruiting and managing non-Seychellois workers.
Employers from the tourism sector, those in financial services trade and commerce as well as domestic work were the first to be introduced to the new quota system regarding the recruitment of foreigners to work in a series of meetings with the Ministry of Labour and Human Resources Development this week.
One major change for employers is the introduction of an entitlement certificate for the foreign workers quota, which means employers in the sectors of tourism, construction, agriculture, manufacturing, fishing and financial services, can recruit workers from overseas within the quota limit without needing to advertise jobs in Seychelles, which was the procedure in the past.
Labour and Human Resources Development Minister Idith Alexander who is at the helm of the series of meetings has told SNA that all recruitment of non-Seychellois in jobs must always be aimed at imparting required skills and know-how to Seychelles citizens.
A series of meetings led by Minister Alexander has started to explain the new quota system to recruit foreign workers (Ministry of Labour and Human Resources Development) Photo License: Attribution
Minister Alexander explained to operators from the financial services sector during a meeting Thursday afternoon, "that it is important that both the government and the private sector work together and trust one another to ensure the success of this system."
Alexander explained that the quota system has come into being because since last year, the ministry also has been evaluating the granting of Gainful Occupation Permit (GOP) applications and that they have looked at the trend in demand and supply of labour to see which industries are being affected the most. 
With the quota system in place all employers will know exactly how many posts they can apply for permission to recruit, she says.
Alexander nevertheless stressed on her ministry's policy that requires all businesses to submit their plans for localization of posts, where training is provided for Seychellois staff to take over jobs of foreign staff once they have completed their contracts. They also have to submit plans for training of employees to ensure a higher level of staff retention.
The a new quota system for expatriate workers which is part of strategies laid in a new employment policy to help Seychellois get more jobs was announced this week.
Figures show 24 percent of the country's 55,083 labour force is made up of foreign workers mainly from India and Bangladesh who work mostly in the tourism and construction sector.
There are 13,413 expatriates who work mainly in the Indian Ocean archipelago's construction and tourism industries, compared to the 41,670 Seychellois in the nation's labour force, according to statistics released to SNA by the Seychelles' Ministry of Labour and Human Resources Development earlier this month.
Labour officials meeting with the management of Indian Ocean Island Lodge a hotel on La Digue to discuss labour issues (Ministry of Labour and Human Resources Development) Photo License: Attribution
New categories, new rules
Under the new system the different businesses and institutions have been grouped under three different categories with specific regulations applying to each category.
Category 1 groups some of the sectors employing the most foreign workers in the archipelago namely tourism, construction, agriculture, manufacturing, fishing and financial services industries which include banks, audit firms, money changers and insurance companies.
The way the new quota system works for this first category is that once a company that is within the prescribed quota for its particular operation has done the necessary to apply for an 'entitlement certificate' issued by the ministry responsible for Labour, they can go straight to the ministry responsible for Home Affairs to apply for a Gainful Occupation Permit (GOP).
These new procedures does not require the applicants from this category to first advertise on the local labour market before recruiting non-Seychellois, as was the case in the past.
Example for the calculation of quota entitlement for an existing hotel establishment:
For existing establishments, the quota rate is calculated based on the current workforce and the number of rooms.
Hotel X has 60 rooms with a current workforce of 276 staff. The quota rate applicable is 45%. The calculation is as follows:
Number of non-Seychellois entitled = workforce x (1-(1/11)) x quota percentage
276 x (1-0.09091) x 45%=113 non-Seychellois entitled
The establishment should not exceed the quota allocated which is 113 non-Seychellois
Two other categories which require local job adverts first
Trade and commerce sectors as well as domestic workers for private elderly homes fall in the second category while the third category is specifically for domestic workers for individual employers.
Compared to Category 1 establishments, Category 2 and 3 applicants have to first test the local labour market to fill in their vacancies and the Labour Ministry has to be satisfied that indeed they cannot find qualified willing Seychellois to fill those posts before they can apply for a certificate of entitlement to bring in a non-Seychellois worker.
The ministry has developed a guideline which lists the industries which fall under each category and if an operator wants to recruit foreign labour for an industry which is not listed in the guideline, he or she has to follow the normal recruitment procedure, meaning they have to submit their application to the Ministry of Labour and Human Resource Development for consideration before issuance of GOP by the Ministry of Home Affairs and Transport.
Compliance and verification of contracts essential
The ministry says that in order to ensure compliance these businesses must, on a monthly basis, submit to the Ministry of Labour and Human Resources Development a list of existing vacancies within their organizations, their establishment lists as well as all new contracts for non-Seychellois workers for attestation.
General
» Be a reporter: Write and send your article
» Subscribe for news alert