UN Secretary-General's visit to Seychelles 'a testament of excellent relationship'
Seychelles President James Michel bidding farewell to the united Nations Secretary General and his wife on Sunday. (Joena Bonnelame, Seychelles News Agency) 
Send to Kindle
(Seychelles News Agency) - United Nations Secretary-General Ban Ki-moon congratulated Seychelles on the number of women in parliament and the nation's work on the Millenium Development Goals at the end of his two-day weekend visit.
"Ban Ki-moon's visit to Seychelles is a testament to the excellent relationship that Seychelles has established with the United Nations," said the Seychelles' Ministry of Foreign Affairs in a press statement on Sunday.
Earlier on Sunday, Ban met with Seychelles' parliamentarians in an extraordinary session and said he was proud to be here as the country celebrates its 40th anniversary as a sovereign nation, and as a Member State of the United Nations.
"The United Nations stood together with you during the turbulent first years of your nationhood. You have amply repaid that support over the last 40 years," Ban told the parliamentarians.
United Nations Secretary-General Ban Ki-moon addressing the Seychelles National Assembly on Sunday. (Patrick Joubert, Seychelles News Agency) Photo License: CC-BY
This year, Seychelles is celebrating 40 years since its independence and joining the United Nations.
Ban commended the Assembly's strong record on democracy which he said was demonstrated most recently by their recent decision to limit presidential terms.
"I congratulate you on this unanimous amendment of the constitution, which can serve as an example for the region," he said. 
The UN Secretary General was impressed with the number of women in the Assembly.
He said that: "The proportion of women in this parliament is fifth-highest in the world, and Seychelles is ranked second for gender equality on the African continent. Women are being appointed to senior roles in the judiciary and as governor of your central bank. I urge you to continue this progress."
Other subjects Ban touched upon included Seychelles' record on the Millennium Development Goals, the environmental legislation to ensure sustainable tourism and fishing, finding innovative sources of funding for climate adaptation and the Blue Economy initiative.
"I congratulate you on your achievements and urge you to build on your leadership role. The United Nations is committed to working together with you, every step of the way," Ban concluded before his departure. 
The United Nations Secretary General had a tete-a-tete with President James Michel before the Seychelles and UN delegations held bilateral talks at State House on Saturday. (Joena Bonnelame, Seychelles News Agency) Photo License: CC-BY
On Sunday Ban also visited the Courts of Justice and met with Chief Justice Mathilda Twomey. He praised the justice for having embraced the challenge of prosecuting international crimes.
Ban also visited the Seychelles Coast Guard and the Botanical Gardens where he planted a Coco de Mer palm.
Ban Ki-moon during his visit to the botanical garden where he planted a coco-de-mer and fed a giant tortoise. (Joena Bonnelame, Seychelles News Agency) Photo License: CC-BY
In his farewell statement, the Seychelles head of state President James Michel said that: "It was a great honour for us to receive his Excellency and Mrs. Ban Soon-taek, which will serve to strengthen our friendship and our determination to build a better world for future generations."  
SNA presents a collection of photos taken during the two-day official visit of the united Nations Secretary General to Seychelles on Saturday and Sunday.
Visit to the UNESCO heritage site of Vallee de Mai on Praslin. (Romano Laurence, Seychelles News Agency) Photo License: CC-BY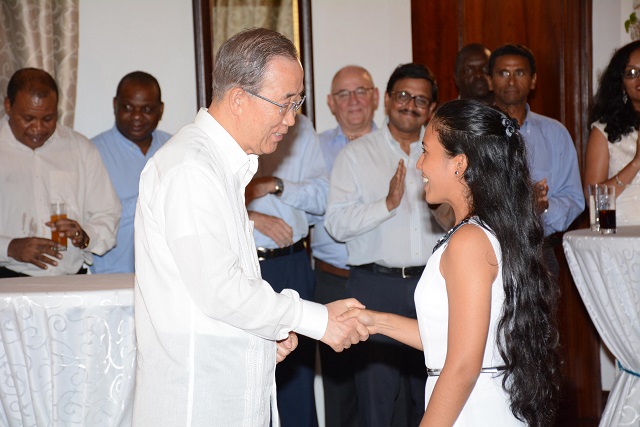 (Above) Ban Ki-moon speaks to Sonam Tsultrim, a young Seychellois who participated in an international competition for the International Year of SIDS in 2014, by writing a letter to Mr. Ban Ki-moon about the need to preserve islands and their environment. (Below) Mr Ban's wife Ban Soon-taek in a souvenir photo with the children during her visit to one of the orphanages. (Joena Bonnelame, Seychelles News Agency) Photo License: CC-BY
The United Nations Secretary General also visited the Seychelles Supreme Court and Coast Guard base. (Patrick Joubert, Seychelles News Agency) Photo License: CC-BY
Diplomacy
» Be a reporter: Write and send your article
» Subscribe for news alert