University of Seychelles holds road show to increase number of applicants for international courses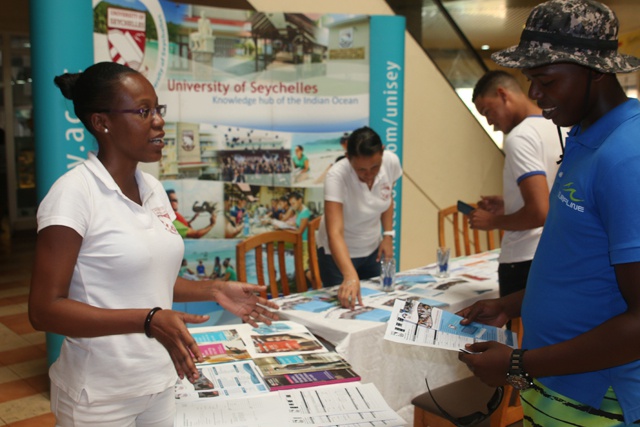 The University of Seychelles' road show was aimed at attracting prospective candidates for its international courses as the May 31 deadline for registration is fast approaching. (Joe Laurence, Seychelles News Agency)
Send to Kindle
(Seychelles News Agency) - The University of Seychelles held a road show on Friday in an effort to boost the number of applicants for its courses as the deadline for enrollment approaches, said a top official.
Dolivette Chang-Ko, the university's marketing executive, said the road show was the first to be organised by the institution.
"International institutions that we partner with have a May 31 deadline for new applications and we are doing the roadshow two weeks ahead to boost up our numbers of applicants," Chang-Ko told SNA.
Chang-Ko added that for local courses students still have time to enroll, although she advised that they should do it as early as possible.
"We have noticed that prospective students wait until the last minute to apply, at times a day before the deadline ends."
The University of Seychelles had targeted at least five strategic locations in the capital, Victoria, for its first road show held on Friday. (Joe Laurence, Seychelles News Agency) Photo License: CC-BY
Chang-Ko said that Friday's road show had a low turnout but those who came were enrolled straight away.
"We had a lot of young people who had just graduated from college who would like to follow a full-time course, as well as in-service employees who are interested in following our certificate and diploma courses," she said. 
The University of Seychelles was established in September 2009 and offers higher educational courses ranging from education, communication, technology, and business.
It has three campuses all on the main island Mahe. The main campus is in the southern district of at Anse Royale, one campus is in the central district of Mont Fleuri,  and one is at Ma Joie called the Guy Morel Institute in the northeast.
Post-Secondary students and in-service employees were among those who showed interest in courses being offered by the University of Seychelles. (Joe Laurence, Seychelles News Agency) Photo License: CC-BY
SNA spoke to several interested applicants at the road show.
Darrel Bristol, a graduate of the Seychelles Tourism Academy, is interested in studying Information Technology (IT).
"I recently worked for a local company specialising in computing and IT and I want to pursue my studies in that field," he said.
Bristol who had already taken a form is now looking at options to finance his course.
"I will seek sponsorship for my course but will contribute to it partly," said Bristol.
Natasha Dodin is interested in the recently introduced Masters in Sustainable Tourism Development.
Dodin holds a certificate in general management and was advised by the university staff to start on a diploma course and eventually follow the course of her dream.
"I would like to work eventually in the tourism sector, specifically with a tour operator and I believe the Sustainable Tourism Development master's programme would allow me to do that," Said Dodin.
Interested candidates were able to fill in enrollment forms straight away. (Joe Laurence, Seychelles News Agency) Photo License: CC-BY
The university's marketing coordinator, Diana Benoit, said the institution got many inquiries on engineering and architectural courses though those courses are presently not on offer.
"All these information will be relayed to our director who will take up the matter at the executive level," said Benoit.
Courses start in September. 
General
» Be a reporter: Write and send your article
» Subscribe for news alert