Puppy love! Seychelles' first pet fun fair raises funds for animal shelter
Dog lovers turned up with various breeds from dalmatians, huskies, American staffordshires, cane corsos, rottweilers and German shepherds at the pet funfair. (Joe Laurence, Seychelles News Agency)
Send to Kindle
(Seychelles News Agency) - It was all about a show of paws, fur and tricks on Sunday at the Grand-Anse playing field as a group of dog lovers hosted the first-ever pet funfair in the island nation.
Ella Rene, chairperson of the Seychelles Animals Welfare Society, SAWS, told SNA that the aim was to raise awareness about the animals and raise funds for the group during the event on the west side of Seychelles' main island, Mahé.
"We want to boost up the canine culture in Seychelles. We want to show pet owners there's a lot of things they can do with their dogs other than the usual walk on the beach," said Rene. 
Members and volunteers of the Seychelles Animals Welfare Society, SAWS, pictured at the first-ever pet fun fair on Sunday. (Joe Laurence, Seychelles News Agency) Photo License: CC-BY
Dogs are among the most popular pets in Seychelles with many of the island nation's population of around 93,000 owning one. Man's best friend is kept as a guard dog, a member of the family or simply as a faithful companion. Sunday's event attracted owners of various local and introduced breeds.
Dalmatians, huskies, American staffordshires -- known as 'am staff' -- cane corsos, rottweilers and German shepherds -- big and small – were able to take part in three main events.
The Seychelles' dog show chose the canine which best represented the local breed while the obedience trial rewarded the one better at executing basic commands, such as sit, stay and come.
Most pet owners welcomed the event as a fun way to spend time with their favourite pets. Dennis Hardy brought Leo and Millie, who were adopted from a rescue centre two years ago.
"Dogs are lovely pets and I'm happy to have them," Hardy told SNA.
Leo took part in the Seychelles dog category and came out as the judge's favourite. For the obedience trial, Boy, a local breed was the overall winner.
Winners of the Seychelles Dog Category. Leo (middle) won the first prize for the dog that best represented the local breed. (Joe Laurence, Seychelles News Agency) Photo License: CC-BY
Boy's owner, Jean-Marie Croguennec, is a dog trainer by profession. Croguennec, who also owns Joe a 2.5-year-old cane corso-German shepherd mix and a German shepherd named Charlie, said dogs are loving and obedient animals that can learn the basic commands in five lessons.
"My dogs are well-trained for anything and they listen very well to all the commands," he told SNA.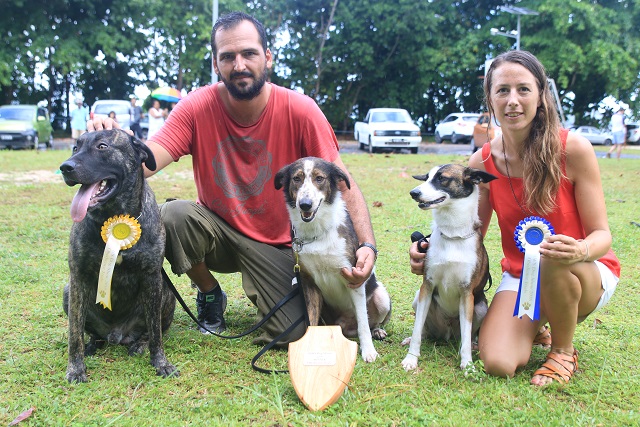 The three most obedient dogs. Jean-Marie Croguennec's local breed named Boy (middle) and 2.5-year-old Joe, a cane corso-German shepherd mix (far left) was the category's overall and third place winners respectively. (Joe Laurence, Seychelles News Agency) Photo License: CC-BY
The breed show was won by a rottweiler who beat out such breeds as the great dane, am staffs, cane corso and a husky.
While some people backed out at the last minute and the event did not start on time as planned, Rene said that SAWS was general satisfied "with the dogs themselves" and that in spite of a few hiccups the animal welfare group would like to see the pet funfair become an annual event.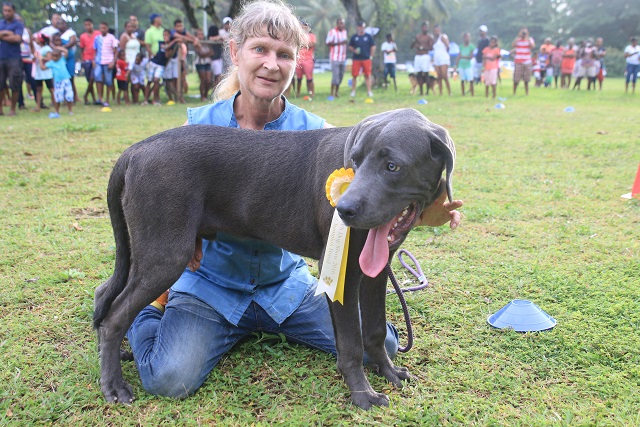 Winners of the Dog breed Category pictured in the order of 1st to 3rd prize winners. (Joe Laurence, Seychelles News Agency) Photo License: CC-BY
Other than raising awareness, SAWS also plans to build a new animal shelter. An entrance fee of $1.80 for adults, $0.75 for children and a horse-riding fee of $5 was among ways of raising money for the project through Sunday's activity.
"We need a shelter for our animals to house our dogs which are now being fostered at different homes and there's little space to cater for all of them," Rene told SNA.
SAWS' next project is what has been dubbed a 'dog sponsored walk'. 
SNA presents a collection of photos taken at Sunday first-ever pet fun fair in Seychelles. (Joe Laurence, Seychelles News Agency) Photo License: CC-BY 
Lifestyle
» Be a reporter: Write and send your article
» Subscribe for news alert