Getting the big picture: Drone project will aid conservation on Seychelles atoll
Due to the difficult terrain of the St Joseph atoll drones have been used for the mapping exercise that is expected to aid future conservation efforts of the Seychelles island. (Sonja Betschart/Drone Adventures)
Send to Kindle
Drones have been used to create maps of one of the Seychelles atolls, St Joseph – a first for 115-island archipelago in the western Indian Ocean.
The scientific director of a research centre based on the nearby d'Arros island, says drones were necessary to get high quality maps that are vital for conservation.
Rainer Von Brandis who works for Save Our Seas Foundation, explained that it took four unmanned aircraft remotely-guided for two hours to fly the length of St Joseph.
"Several drones were deployed simultaneously, each flying along a set path," Von Brandis explained to SNA. "As the drones fly along they capture high resolution images at set intervals so that the entire atoll was photographed," he said, adding that the images were then pieced together by specialised software.
St Joseph Atoll includes 12 uninhabited islands that surround a biodiversity-rich lagoon. It is part of the Amirantes group of outer islands, located some 250 km southwest of the Seychelles' main island, Mahé.
Declared a marine reserve in 2014, over the last few years the atoll has been used by Save Our Seas Foundation, a Geneva-based not-for-profit organisation, to conduct research on several marine species such as sting rays, turtles and sharks.
It's due to the difficult terrain of the atoll that drones have been used for the mapping exercise. The expertise of Switzerland-based Drone Adventures, a not-for-profit organisation that has worked in several parts of the world to collect data for local communities was sought for the project.
On their blog, Drone Adventures describe their first experience working in the Seychelles since late last year as 'exciting' but 'logistically challenging.'
An aerial view of the St Joseph atoll. the entire atoll has been photographed thanks to the use of drones. (Michael Scholl- SOSF ) Photo License: All Rights Reserved
Von Brandis says drone mapping is a new method for creating aerial maps that help scientists and researchers to understand an ecosystem by providing the "big picture" from above.
"In the past we relied on satellite images or aerial photographs to create these maps. Drone mapping is opening up new doors for us because it gives us very high resolution images to work with and is also quite cost effective."
According to Save Our Seas Foundation, SOSF, the detailed aerial maps will be a vital tool for future conservation programmes and will allow researchers to overlay spatial features of the atoll with GPS points.
"They allow us to delineate habitat types more accurately and integrate other geographic information systems (GIS) data," said Von Brandis, adding that the new maps have allowed SOSF to electronically count certain marine animals such as turtles, stingrays, mantas and sharks.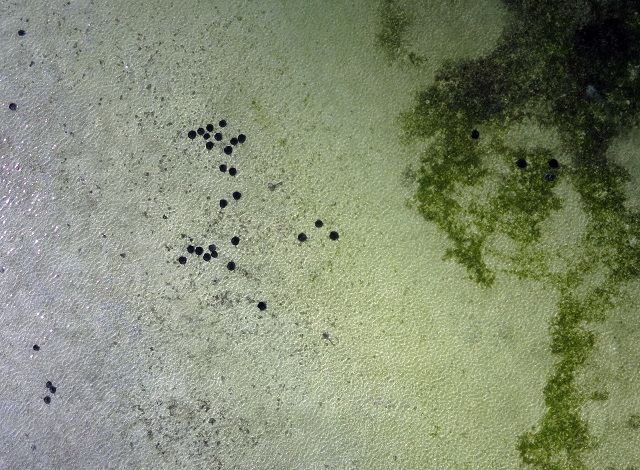 Stingrays seen from above. The use of drones can allow researchers to electronically count the number of such species that use St Joseph as their habitat.  (Sonja Betschart/Drone Adventures) Photo License: All Rights Reserved
Infrared cameras on the unmanned aircraft were also used to show how much work has been undertaken on the atoll, as part of a terrestrial rehabilitation project that aims to replace coconut plantations with indigenous forests.
Following the success of the first drone mapping on the St Joseph atoll, SOSF hopes to conduct this exercise annually to monitor changes in marine life, as well as geographic changes in the physical landscape of the atoll. 
Save Our Seas Foundation is planning to have such mapping exercise on an annual basis.(Michael Scholl- SOSF ) Photo License: All Rights Reserved
Research
» Be a reporter: Write and send your article
» Subscribe for news alert