New ambassador of Cyprus to Seychelles aims to extend cooperation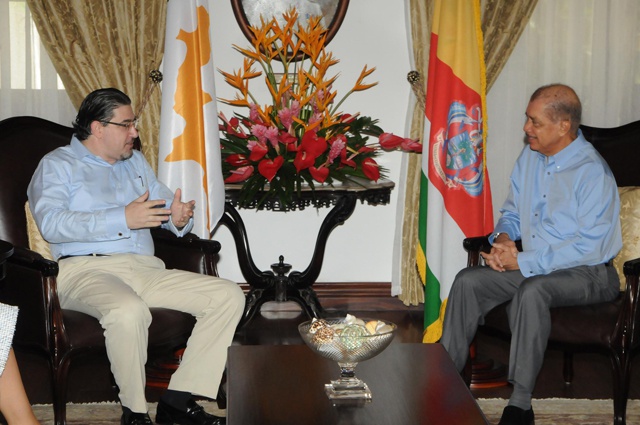 Ambassador Andreas Panayioto discussing further bilateral cooperation with Seychelles' President Michel at State House on Tuesday. (Louis Toussaint, Seychelles News Agency)
Send to Kindle
(Seychelles News Agency) - Seychelles and Cyprus will extend bilateral relations to the fields of tourism, trade and commerce, the blue economy and environment, the new ambassador said Tuesday.
After presenting his credentials to President James Michel at State House, Andreas Panayioto said that relations between the two countries date back to the time of the exile of the first President of Cyprus Archbishop Makarios.
Makarios was deported to the Seychelles, an archipelago in the western Indian Ocean, by the British authorities in March 1956 for his involvement in the country's fight for freedom. He was released a year later and upon his return to Cyprus he was elected as the first president in 1959.
As part of Cyprus' commitment, Panayioto has started negotiations with the Seychelles' Ministry of Foreign Affairs for an air service agreement which will allow international commercial air services between the two countries.
The new ambassador added that the two countries have made commitments to develop the existing relations further. The next course of action will be decided jointly with the foreign affairs ministry.
Panayioto will serve three to four years as the Cypriot ambassador to the Seychelles. He is based in Oman.
Diplomacy
» Be a reporter: Write and send your article
» Subscribe for news alert