Contact Group on Piracy to continue work; Seychelles retains chair for 2017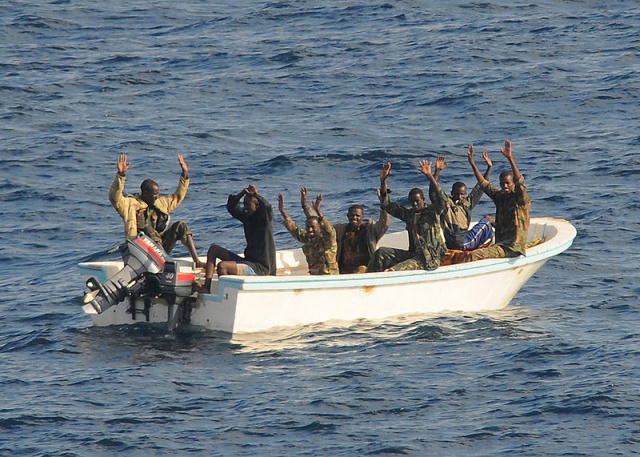 File photo: Somali pirates surrender at sea when a US Navy ship approaches them, February 11, 2009. (Jason R. Zalasky, US Navy) 
Send to Kindle
(Seychelles News Agency) - The Contact Group on Piracy off the Coast of Somalia (CGPCS) is here to stay, and Seychelles retains the chairmanship for 2017.
That was the outcome of the 19th plenary session of the Contact Group on Piracy off the Coast of Somalia (CGPCS) at the end of last week in the Seychelles' capital Victoria.  
Although pirate attacks in the region have subsided considerably, members of the group have agreed to preserve the work and the brand name.
The head of CGPCS' Secretariat in Seychelles, Raymond St Ange, said a number of proposals were made on how to streamline the group, and these would be discussed at the next plenary session in 2017.
The Seychelles' archipelago -- 115 islands in the western Indian Ocean -- has been on the forefront of the fight against piracy since 2005, when the scourge began expanding, adversely impacting the nation's tourism and fishing industries.
The Seychelles' Minister for Foreign Affairs and chair of the Contact Group, Joel Morgan said at the closing ceremony that: "Stability and peace in the Indian Ocean are paramount, and while acts of piracy are indeed down, there is still much work to do."
Referring to last week's terrorist attack in Somalia's capital, Mogadishu, claiming 16 lives, Morgan said Seychelles condemned the "callous attacks of terror" and such attacks strengthened CGPCS's resolve to end violence in the African country.
"Allow me to reiterate that as a group these attacks only serve to strengthen our resolve to end all forms insecurity in Somalia," he said.
Morgan added that "the plenary has highlighted the urgency for members of the international community to act together to not only support Somalia in this endeavour but to also ensure that security in all of its forms reigns supreme."  
Set up in January 2009 in New York, the CGPCS is an international mechanism which facilitates discussion and coordination of actions among states and organisations to suppress Somali piracy.
Somalia's Deputy Prime Minister, Mohamed Omar Arte, thanked Seychelles for its efforts and leadership in the fight against piracy.
"My government continues in its fight to end piracy, and that effort must not be spared to provide economic opportunities for the people of Somalia. Illegal fishing and combating those who exploited the natural resources within the EEZ of Somalia remain priorities for my government," said Arte, referring to the country's exclusive economic zone.
According to a press statement, the plenary noted that despite no successful pirate attacks in 2016, there were still 42 persons being held hostage by pirate gangs and that efforts to secure their release should continue.
The statement continued in saying that some ships were not observing the best practices to ensure their safety, especially within areas of high risk and that: "Members agreed that the industry must continue to abide by best management practices within the high-risk area." 
General
» Be a reporter: Write and send your article
» Subscribe for news alert