Seychelles' National Assembly approves ambassador nominations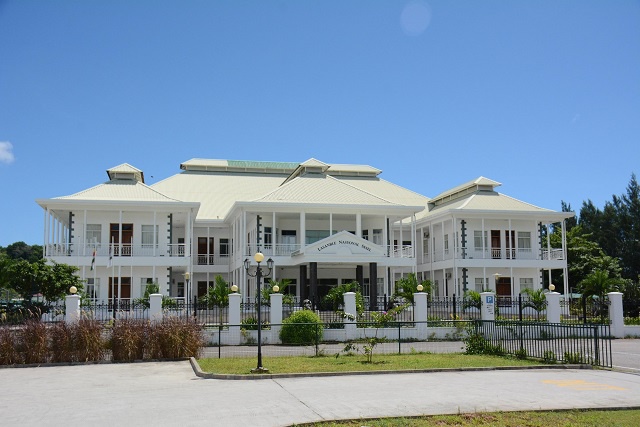 The Seychelles National Assembly building at Ile du Port. The parliament on Tuesday approved the nominations of two ambassadors. (Joena Bonnelame, Seychelles News Agency)
Send to Kindle
(Seychelles News Agency) - The Seychelles National Assembly on Tuesday approved the nominations of two new ambassadors: Marie-Antoinette Rose and David Pierre.
Rose was formerly the leader of government business while Pierre was the former leader of the opposition in the National Assembly.
Rose told SNA that it was an honour to be appointed as an ambassador and that she's looking forward to working in the field of diplomacy.
"This appointment shows the confidence President James Michel has in me to continue representing my country," said Rose.
"As a politician I represented Seychelles in parliament and I welcome this new post which will now allow me to do the same internationally."
Rose joined the Seychelles parliament as a proportional member of the ruling Parti Lepep in 2006. She became leader of government business in 2012, a post she has occupied until her resignation last month.
For his part Pierre said he was happy and satisfied with the appointment, which he says will now give him the chance to work more for his country and its people.
"All along in my political career I have always had my country's interests and that of its people at heart and I always worked for the betterment of my country," he told SNA. 
David Pierre and Marie-Antoinette Rose are the former leader of the opposition and former leader of government business in the national assembly respectively. ( www.nationalassembly.sc) Photo License: CC-BY
Pierre has dismissed comments especially on Facebook that he has been appointed for showing allegiance to the ruling party.
"This is not a political appointment. It is an opportunity for me to work for my country and my people and I am therefore very comfortable in this new position".
Until recently Pierre was the leader of the opposition in the National Assembly, as well as leader of an opposition party, the Popular Democratic Movement (PDM).
He resigned both positions last month. Before setting up his own party in 2011, Pierre was formerly the deputy secretary-general and proportionately elected member of the National Assembly for another opposition party, the Seychelles National Party, SNP.
It is not yet known where the two new ambassadors will be posted.
According to the Ministry of Foreign Affairs, currently Seychelles has embassies in eight countries and equally the same number of ambassadors, as well as an ambassador for climate change and small island states.
The motion calling for the parliament's approval of the new diplomatic nominations was presented by Charles De Comarmond, who was presented on Tuesday as the new leader of government business in the assembly, replacing Rose. 
Charles De Commarmond -- the new leader of government business in the national assembly. (www.nationalassembly.sc) Photo License: CC-BY
De Comarmond said that Rose has the necessary qualities to represent Seychelles internationally, describing her as dynamic, disciplined and determined.
"Her hard work is now taking her to another level of her professional life. Rose has gained a lot of experience during her time as a parliamentarian which will allow her to speak on Seychelles' behalf overseas," said Comarmond.
Addressing Pierre's nomination De Commamond said: "Seychelles needs all its children irrespective of their political beliefs," and described him as "a true patriot."
"Pierre is a person who always puts Seychelles first and works for its advancement and as such he deserves a place in our country's government," he said, adding that Pierre has the political knowledge and experience to speak for Seychelles at the international level.
General
» Be a reporter: Write and send your article
» Subscribe for news alert