Seychelles stumble 1-0 in opening COSAFA Cup football match against Madagascar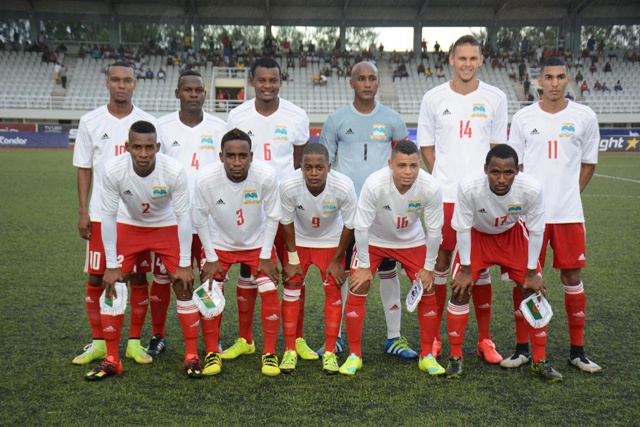 File Photo showing players of the Seychelles national team ahead of a match against Nigeria in the Africa Cup of Nations (AFCON) 2017, played in the island nation last week. (Patrick Joubert, Seychelles News Agency)
Send to Kindle
(Seychelles News Agency) - The Seychelles' national football team lost 1-0 against Madagascar in their first match of the  COSAFA Castle cup tournament on Saturday at the Sam Nujoma Stadium in Namibia.
The only goal of the match came 21 minutes in the first half after Claudel Fanomenza beat the Seychelles' off-side trap, making it 1-0 at the break.
Before the match, Seychelles national team coach Jean-Louis said, "It's going to be a very difficult match for us against Madagascar. We have 10 players who were at the last edition of the COSAFA Castle Cup and we expect to showcase Seychelles football."
The boys of coach Ralph Jean-Louis despite being under heavy pressure in the second 45 minutes managed to tighten their defence line, leaving the score 1-0.
COSAFA Castle Cup is a competition organised every year by the Council of Southern Africa Football Associations. This year it is taking place in Namibia, the current champions.
The team from Seychelles, an archipelago of 115 islands in the western Indian Ocean, is in group A, together with Zimbabwe – four-time winners of the tournament, and Swaziland. 
Madagascar, currently at number 108 on the FIFA ranking, is leading the group after Saturday's match with three points. Zimbabwe and Swaziland have one point each after a 2-2 score in their first match.
Seychelles' next match is on Monday against Swaziland at 8 pm local time, and they need a win if they want a chance at progressing to the next stage.
Sport
» Be a reporter: Write and send your article
» Subscribe for news alert